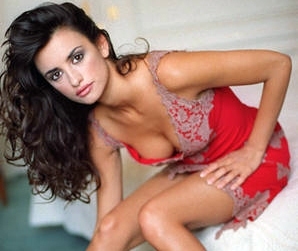 You're pretty excited about Nine… How come?
Singing and dancing! I was a student of dance for many years, but Nine is the first time that I sing in a movie and the first time that I do a musical. I love the character. I saw it in Broadway. I can't believe I got this role. I did five castings to get the movie – because of the dancing and the singing. It was a lot of fun, but it was scary also. 
Is it a sequel to Fellini's 8 ½?
Yes, it's a fresh and new thing, but it's 100 percent inspired by 8 ½. The story is the same one of Guido and his creative crisis. I play Carla, the mistress of Daniel Day-Lewis' character. Most of my scenes are with Daniel Day-Lewis. He's incredible. Such a gentleman.
Did you know Pedro Almodovar said you're the only woman he'd like to have a child with?
What?
That's what he told us…
When he tells me that, I think he's joking. But then he says it to all of the press! So… I think he was probably joking. But I don't know. I will ask him again if he was joking. I mean, I know he's joking. It's Pedro!
Do nude scene and sex scenes bother you?
It's difficult to answer. I have fear, always on the set.
Always?
Yes, always I feel like that! Insecurity to the point where the first week I always think I could be fired. I think that's a fear most actors have. But Pedro can intimidate me more than anybody. Because I care so much about him and I don't want to disappoint him.
How do you overcome your nerves?
I don't. You just get used to working while you are nervous and insecure. It doesn't change that much after the second week or the second month.
Has your life changed since winning the Oscar for Vicky Cristina Barcelona?
I feel everything has gone very fast. And I need to take a few months or a year away from work. To really digest the whole thing, this whole adventure.
Is it true that you take your Oscar everywhere with you?
No, not now. But I did it for three weeks, I took it everywhere with me. I even took it to the beach one day. Because I was so excited! I would wake up and look at it and say, 'No, that's not mine. How could this happen?' Because when you're doing all the campaigns, I was crossing the Atlantic every six days – for months. So you're so tired, you don't even know which city you're in. And then the day after the whole thing, I woke up and it was there. I thought maybe it is one of those that my friends have given me before, like Best Friend, Best Daughter, Best Sister! [laughs].
Who's your favourite actress?
My favourite actress is Meryl Streep. Oh, and Anna Magnani.
How about directors? Who would you love to work with?
I want to work with Ang Lee, Wong Kar Wai and Scorsese. .. I have a very long list.
Do you still want to work with Lars von Trier?
Well, I haven't seen Antichrist, but yes I still want to work with him!
Would you like to direct a movie yourself?
Oh, no. For now, no. For the future, I don't know how I will feel 10 years from now. It's something that maybe in the future I will explore. But right now, I feel like my plate is full. I have no energy or time to think about any other thing than acting.
Aren't you planing to making your own films with your production company?
Yes. But the things I am starting to develop, I don't want to talk about them. Because they are still very green. When they are closer to production, I will.
We heard you're planning to direct a biopic…
Yeah, there is one. That's one of the projects that we are developing. But I won't tell you it! Because then I feel like I am talking about it too soon instead of putting my energy into doing it.
In the meantime, do you still practice photography?
Well, I have only done it as a hobby. The main thing for me is to remember to bring a camera with me. Because if I have it with me, I use it. Like on the set of Nine, there were so many beautiful moments. And when you are shooting, it's very difficult to be able to get on the other side. But it's just a hobby.