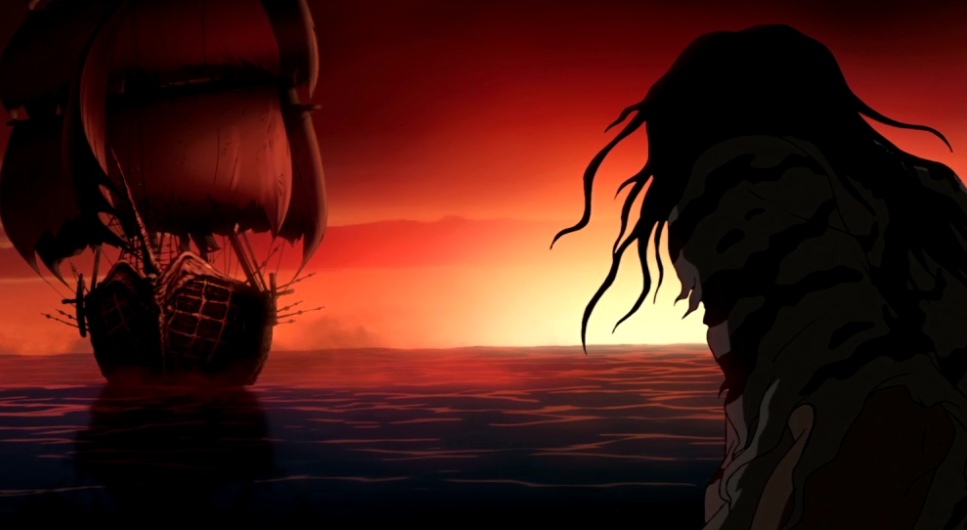 Guts spilling from bloated corpses. Blood clouding the ocean. Gulls picking out eyeballs. For sure, it's not squeamish. Just 20-odd minutes long, Watchmen
's meta-comic Marooned floats on to the screen Animatrix
-stylee to complete Zack Snyder's adap and Alan Moore's annoyance.
Spliced into issues three, five, eight, nine, 10 and 11 of the Moore's serialised graphic novel
, Marooned followed a frazzled mariner's (voiced here by Gerard Butler) horrific journey of murder and madness to warn his hometown of the marauding Black Freighter that decimated his own ship and crew.
Surprisingly, the style here is traditional old-school animation. Mimicking '80s animation is cute move, given Watchmen's setting, and Black Freighter is never less than dark and diverting. What goes adrift is the richness and texture of the book's fetid artwork. Moore intended Black Freighter mainly to foreshadow the story of Adrian Veidt, who uses the deaths of his former allies as a vehicle to save humanity. But seen on its own, the allegorical wallop vanishes too.
Far fleshier is the 40-min faux-documentary, filling in for Hollis Mason's autobiog excerpts about the Minute Men. Mason wistfully talks about Silk Spectre. She dodges questions about her assault at the hands of The Comedian. Her husband/agent Laurence Schexnayder is enjoyably oily. Witty vintage adverts for Seiko LCD watches and Sani-Flush ("Cleans inside the bowl and right round the bend!") break up the TV show.
It's fun, but barely scrapes the surface of Mason's heroism and heartbreak. Then again, you can't beat scratchy news-reel footage of booze-hound Mothman swigging quickly from a hipflask as he kneels on a subdued thug.
EXTRAS: Under The Hood documentary, Story Within A Story: The Books Of Watchmen, Watchmen Motion Comic Chapter 1 and First look at the Green Lantern.
FILM: [rating stars="3″]
DISC: [rating stars="3″]

TRIVIA! Weirdly, Black Freighter was co-directed by the titles director on Mr Magorium's Wonder Emporium
and the man who creates the title sequences for Futurama
.
Publication: SFX.