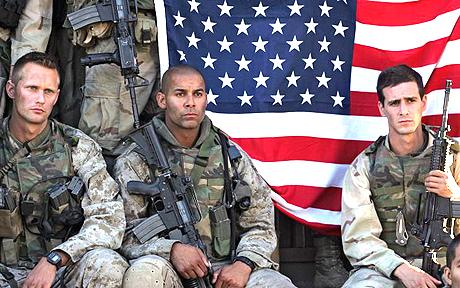 Desert. Humvees. Marines. Military jargon. Machinegun fire. Searing yellow explosion. Man down, man down… Just as they did with their magnificent cop/crime epic The Wire, writer / producers David Simon and Ed Burns drop us neck-deep into Generation Kill
's Iraq war saga without a word of briefing. "We wanted you to be disorientated," says Simon, on the first episode yak-track of this three-disc set. "We're willing to let you catch up on your own terms."
Makes perfect sense: Rolling Stone writer Evan Wright was embedded with the Marines' First Recon Battalion, publishing his insider account
of the marines' tip-of-the-spear Iraq invasion in 2003.
Ambitious, demanding and constantly absorbing, Simon and Burns' seven-part HBO adap wastes no time targeting the alpha-male boredom and bravado of parched pre-combat. But as First Recon heads for Baghdad, jarhead weariness rapidly shades into a brilliant study of the chaos, incompetence and emotion of conflict. Powered by fast, funny dialogue, a superb acting ensemble and a sandstorm of detail, Generation Kill's drama proves a gripping straddle of deft cinematic style and compulsive docu-reality. As a grunt's-eye view of history's most documented war, it doesn't get better.
Packed audio commentaries with Simon, Burns and directors Susanna White and Simon Cellan-Jones are strapped to each episode, along with mission maps and an fascinating interview with Wright and some of the real First Recon marines.
RATING: [rating stars="5″]
EXTRAS: [rating stars="4″]
Publication: Total Film.