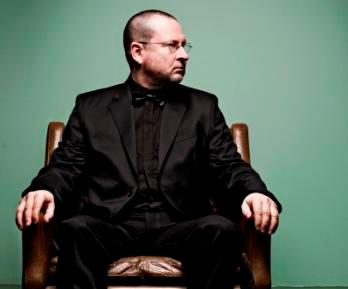 To hell and back with the Danish bad-boy's most controversial film…
Lars von Trier opens the fridge and lifts out a beer. "I think you should have one," he says, handing over a bottle as we take an armchair opposite him. "I really think you should."
Perching on a well-worn sofa, von Trier looks at the cosy clutter around his room. Big TV, piles of papers, PS3 still in the box. "And this is the deer that I shot," says the director. A deer's head hangs on the wall. The deer does not look like it's forgiven him. "No, it looks extremely mad!"  he laughs. "Every time I feel good, I look at this and I feel bad again."
It's 2007 and the Danish auteur has invited us to visit him at his Zentropa filmmaking complex in Copenhagen. He wants to tell us about Antichrist
. "It's a good title," he nods. "I would call it a horror film. The script is up there on the wall, but you can't read Danish, thank God." One of von Trier's assistants can – and will later tell us it's "truly perverted". But right now, we can only decipher the chapter headings pinned to the wall: 'PAIN', 'GRIEF', 'DESPAIR'… Happy days, then. "And another deer," says von Trier, pointing to illustration above the script. This one is alive. But something, something large and very strange, is emerging from its arse. "It's not an eel coming out of its anus," grins von Trier. "That's the clue… It's not an eel. You will see in the film. You will see!"
This summer, we saw. Many critics at the 64th Cannes film festival stumbled out of Von Trier's eighth film wearing a similar expression to the deer hanging on his wall. In the two years since we spoke, von Trier has made "the most important film of my career" and the most controversial in the history of Cannes.
He made Nicole Kidman cry. He made Bjork hide in the woods and eat her costume. He wanted John C Reilly to kill a donkey. Now Lars von Trier is suffering.
After winning Cannes' Technical Prize for his debut The Element Of Crime
, winning the third-place Jury Prize for Europa
, the second-place Grand Jury Prize for Breaking The Waves
and the gold-medal Palme d'Or for Dancer In The Dark
, the Danish provocateur unleashed his hotly anticipated 11th film on the world's biggest film festival.
And he got battered. Having watched Willem Dafoe and Charlotte Gainsbourg grind through hardcore sex, bloody ejaculation, scissor-circumcision, strangulation and – most shocking of all – a talking fox, some flustered reviewers began bleating out one-star reviews while others attacked von Trier to his face at the press conference.
We reunite with von Trier in slightly calmer surroundings: the sun-splashed seafront gardens of the famous Hotel Du Cap – safe from the creepy woodland setting of his movie and the madness of the Croisette critics. As ever, Lars is gentle, friendly, funny and disarmingly open. But he grips the arms of his chair gently as we ask about the jagged reaction to Antichrist. "Any reactions are, of course, good," he says, eyes cast down. "But I have felt a hostility that I didn't expect. It's not pleasant when people don't like the things you do. You know, you come to your mother with a little drawing, she say, 'that's wonderful', it means she loves you."
Funny von Trier should mention his mother. Women in his films – from Kirsten Olesen in Medea to Bryce Dallas Howard in Manderlay
– have suffered lovingly and at agonising length. But no one, arguably, has been forced to go through the grinder quite like Gainsbourg. Even Bjork didn't have to frig herself off against a tree. "I think it was quite hard for Charlotte, actually," nods von Trier. "She is a very shy person, but this was a decision she made when she read the script. A decision to be there and go all the way. Again, I've been gifted with a very good actress."
How, exactly, does he find these women? "Well, she was the first one to say yes!" smiles von Trier, warmly. "We approached Eva Green and I think she wanted to do it, but her agents definitely didn't. We wasted two months on this. It was ridiculous. I was so mad, because you can't wait two months. And then Charlotte came in and saved everything. It was fantastic."
Ask the filmmaker about the scenes of extremo harshness that had audiences audibly crying out during screenings and he has a simply defence. "I think whatever you can imagine, you can shoot," he says, simply. "Otherwise the medium wouldn't make any sense. If there were limitations to the medium. If you can think some perversity, or whatever, cruelty, I think, yes, it's possible to can shoot it."
Even a talking fox? "No, but it's more complicated than that," explains von Trier. "The fox comes from these Shamanic journeys that I did. You can do them without drugs and without getting on a plane! You have this drum beat that takes you into this parallel world. And there, I talked to this fox and it demanded to have a line. So, what can I do?"
We're not arguing. This shocking sensationalism comes from deep within the guilty night-terrors of von Trier's own psyche. Raised by ultra-liberal nudist parents and anointing himself "von" at film school, the Dane has spent his audacious career pouring his private fears into public places. It's resulting in dazzling, devastating cinema, as von Trier rewrites and rips up the cinematic rulebook again and again.
He's the mischievous master imp of world cinema: radical (the Dogme manifesto), ironic (casting Ron Howard's daughter as his latest violated heroine in Manderlay), dazzling (100 cameras to capture Dancer In The Dark's musical showstoppers), fearlessly experimental (swapping sets for a chalk floor-plan in Dogville) and contrary (letting a computer direct The Boss Of It All).
Von Trier drove everyone crazy along the way. Including himself. Severe depression knocked him for six shortly after finishing – of all things – his comedy The Boss Of It All. It left the Dane unsure if he would ever made a film again. More than anything, Antichrist is a deeply expressionist realisation of Von Trier's own dark psychological journey. "The source behind it and all the words that they two characters use are from my own experience," he reveals.
Does he think there's a way out of the woods? " If there's a way out…" he ponders, before trailing off. "Of course, that it what is very important: to try to trick yourself and say there's a way out. But I've been trying since I was six to find a way out. The only thing I can say to people is, don't be afraid to take pills." He laughs. "Yeah. Because I had four very good years on medication. Very good years. But then it stops working, unfortunately…"
No wonder von Trier believes it's his most important film. Not for you. For him. "I'm not referring to for an audience, I'm just referring to the fact that I made a film without any fear. I wasn't afraid of making it kitsch and bad taste and politically incorrect. I think because of this thing, this mental thing, this breakdown I had, it was not important. I suddenly had a freer access to some of the things that I've experienced before."
Not that we can say Lars is cured, alright. "No… I don't think so," he admits, again gripping the chair-arms lightly. "I don't think so. It was very helpful for me. I had to start working, to do something." Moviemaking as therapy? "Yes, because it's kinda almost religious experience. It's like when you put these things together, the images and the sound, and suddenly, things work. It's a fantastic feeling. It's sex, a little bit." Or like being God? "Yeah, I can be God!" he laughs. "And in this universe, I'm not afraid."
Publication: i-D.