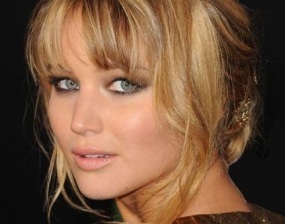 After Jennifer Lawrence's first audition, talent agents told her mother it was "the best cold-read by a 14 year old they had ever heard". Six years later, she was scorching down the red carpet at the Academy Awards in a Calvin Klein dress looking hotter than the sun. Oscar-nominated in indie drama Winter's Bone, blockbuster babe in X-Men: First Class and now starring in her own killer franchise The Hunger Games… Lawrence is raising the temperature in Hollywood.
The Hunger Games sounds like the anti-Twilight…
Thank you! That's the first time I've heard that! Normally it's being compared to Twilight, which is totally understandable given the size and they're both books turned into movies. But yeah… definitely not Twilight.
Do you worry about whether you can keep your feet on the ground given all the attention you'll get?
Of course, nobody ever goes into this going, "Yeah, I bet I'm going to become a drug addict and go off the deep end." But this is just a job. It's a weird job, but it's a job. I don't think me, Jennifer, is any different from you.
So you're not worried about The Hunger Games having a Twilight-style effect on you?
If I make this huge franchise about myself, then that's a lot of pressure. And I also don't read things. I think Googling yourself is the worst idea ever.
So you've never done that?
I have, that's how I know! I went onto the comments of my IMDb page. Never do that!
What did it say? Bad stuff?
I can't even remember, it was just, you know, being in high school: "She's not that pretty!" I was like, "Oh my god!" And then – this was a few years ago – I called my mom, crying, "These people say that I have a round face!" She said, "Don't read that!" It's just terrible.
Do you think reality shows could ever go as far as The Hunger Games?
When you live in a world in which history repeats itself… Think about the ancient gladiators – humans have watched other humans die as entertainment. Given, it was a thousand years ago, but I do think it could happen.
How real did it feel real on set?
If I look exhausted in the movie, that's definitely real! Running, free running, track, hand-to-hand combat, stunt training and archery. It was hard as hell but really fun.
Could you handle yourself in a real fight now?
I think if somebody stood really still I could probably!
Are there any gross-out scenes?
There's actually a squirrel. I'm eating a squirrel.
Wait, you did that in Winter's Bone. Is this your thing?
Yeah, I texted my friend that and she wrote back, "Find a new Oscar trick." I'm skinning another squirrel!
Was it surreal to be at the Oscars for Winter's Bone?
Well, yeah! I mean, we made that movie… I hoped that it would even get released, that it would see daylight, and to think that I was at the Oscars and people had seen the movie … it was so bizarre! It was the most bizarre experience of my whole life.
That was an amazing dress…
Thank you! I'm so shocked that I get compliments on it, because the Oscars are the last of the awards season and I was so sick of corsets and trains that I had given up. That's what that dress was: I was going, "I'm done." I thought, "They're going to say bad things about me but I don't care, I can't be uncomfortable any more." And then everybody was like, "Love the dress!"
Who are your acting idols?
I love Gary Oldman. It's because I never realise it's him. I never see him in a movie and think, "Oh, it's Gary Oldman." I'm always, "Who is that?" I think that's just so impressive. Tilda Swinton is one of my favourite actresses. I also love Bill Murray and John Cleese.
Have you ever been starstruck?
I didn't meet them, but I saw Brad and Angelina at the Golden Globes and they stopped my heart. I've just worked with Robert De Niro and that was probably the most starstruck I've ever been.
That was on a David O Russell film's The Silver Linings Playbook – what was it like meeting De Niro?
I couldn't even process it. I had two choices. It was either, "Taxi Driver, OMG!" and get on my knees and cry, or I go in totally the opposite direction. So I completely ignored him! I was so rude! I was too shocked…
What do you do to relax outside of work? Any other ambitions?
No ambitions. Nothing. When I'm not working I'm not working. My friend told me I have the soul of Homer Simpson – I can stay on the couch for 15 hours straight.
Can you tell us something surprising about yourself?
I'm unbelievably clumsy. It seems as if I'm putting it on. I spill everything, I fall down all the time, it's so annoying. It's like endearing and cute for, like, five minutes.
Publication: i-D