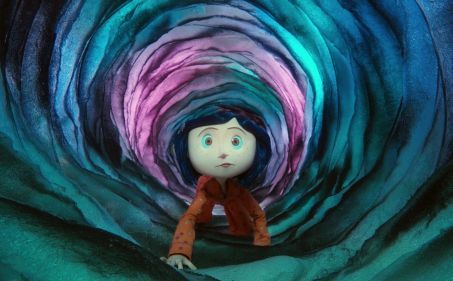 Fairytales are dangerous places. That's why children ask adults to read them: it's not safe to be alone. Deep, dark and scary on such a surprising, mind-burrowing level, Coraline is a fairytale (read: horror film) that makes us feel like we're all still frightened children.
Sixteen years after The Nightmare Before Christmas
, writer/director Henry Selick adapts Neil Gaiman's book
to prove he's not just a stop-motion magician but a master storyteller too. As a sinister lullaby floats over the opening credits, we forget the strange button-eyed ragdoll that's disembowelled by sinister, spindly hands almost as soon as we meet Coraline Jones (Dakota Fanning).
Newly moved into a old Victorian house and unloved by her workaholic parents, this bored, bossy 11-year-old girl is thrilled to discover a secret door that opens to an umbilical cord snaking down into a magical mirror-world.
Gorgeously, intricately conjured by Selick, it's everything her real life isn't. Insect furniture, talking cats, midnight gardens, trained mice, an eight-foot-tall Russian acrobat (Ian McShane), burlesque twins (Jennifer Saunders and Dawn French) who perform at a circus for an audience of Scottie dogs… Best of all, Coraline's Other Parents lavish her with affection.
There's just one catch. Everyone in this world has big black buttons where their eyes should be. If Coraline wants to stay, she must put her own eyes to the needle too. If fact, her Other Mother (Teri Hatcher) might not give her a choice… And like that, Selick's wonderland warps unstoppably into a nightmare you can't wake up from. Freudian monsters burst through the floorboards and every quirky character is unmasked as demon in disguise.
To escape, Coraline must go deeper into her fears and desires – and so must we. Selick isn't just a macabre fantasist with genius sixth-sense for the grotesque. Yoking digital 3D technology to his near-superhuman stop-motion skills, he's become the master-builder of an immersive, wraparound netherworld that sucks us through the looking-glass like few other movies. Enter, but be brave. 
IN SHORT
Rich, ingenious and frighteningly close to home, Selick's new nightmare puts him closer to Guillermo del Toro and David Lynch than Tim Burton. See it in 3D. Then go to sleep with the light on.
RATING: [rating stars="4″]
See This If You Liked: