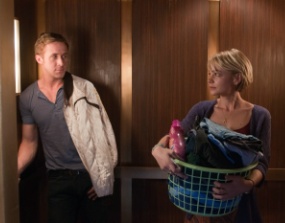 He has no friends, no past and no name. "I drive," he says. He does. Opening with its coolest set-piece – an intense, tightly constructed stop/start getaway – Drive immediately shows us how.
Having spun the story of Brit criminal Charles Bronson into a 21st-century Clockwork Orange, hotshot Danish director Nicolas Winding Refn joins forces with Ryan Gosling to take a classic American genre-engine– a girl, a hero, a dark lord, cars, guns, dirty money – and give it a gleaming new Euro-cool chassis. Crazy to think this was meant to be a Neil Marshall blockbuster vehicle for Hugh Jackman.
Just as Refn streamlines his movie for pure vibe, Gosling stylises his own performance right to the brink of absurdity – and makes it mesmerising instead. He's a Hollywood stunt racer who moonlights as a getaway driver (or is it the other way round?), wearing a strange half-smile and a scorpion-embossed satin jacket. He's gentle, beautiful, almost wordless in a dreamy first-half love story with sweet mom Carey Mulligan, who's lovely as the innocent pixie-princess in a role that's hardly there. He gazes at her, we gaze at him. Mulligan summarised shooting Drive as "staring longingly at Ryan Gosling for hours each day." We get it. He doesn't even need to whip his shirt off to make us swoon this time.
But Gosling's lonely mystery-man says so little, you almost start wondering if he's right in the head. Turns out, he's not. Not at all. As Mulligan's jailbird husband (Sucker Punch's talented Oscar Isaac) brings ruthless gangsters crashing into their world, Gosling's soft-eyed chivalry is suddenly revealed as unblinking psychosis.
Underneath those handsome looks, he's a dangerously unstable cut'n'shut of Travis Bickle (socially weird, prowling the streets at night alone, burning fuse to power-keg violence) and idiot-savant Raymond 'Rain Man' Babbitt (he's an excellent driver). Gosling's nameless "Driver" is also the most modern descendant of Jean-Pierre Melville's noir loner Le Samourai. Seems odd that the lean screenplay (adapted from James Sallis' 2005 pulp novel) was written by a writer best-known for his Oscar-nominated work on The Wings Of The Dove. Odd, until you discover Hossein Amini's next script is Keanu Reeves' feudal Japanese adventure 47 Ronin.
Sure enough, Drive shifts like a Samurai movie as Refn constantly feathers the accelerator pedal for maximum tension. Clocked to the adrenaline pulse of a Cliff Martinez's excellent techno-pop score – College's 'Real Hero' already feels iconic – the hypnotic rhythm is detonated by sudden, shocking eruptions of violence.
If the romance is chaste, the action sure isn't. When Refn slams his foot down for the first-time, a breakneck road battle jack-knifes into a slo-mo motel shootout that leaves your jaw hanging. That first smack of a leather driving-glove on a woman's face is a stinger. Once someone's head explodes at the end of a shotgun, it's open season. Gosling impales his first victim with a shower rail, goes for some DIY dentistry with a hammer, then stomps clean through a skull – in the same breath as a dreamy slo-mo smooch with Mulligan.
It's right at this point you start wondering if the entire movie is really taking place inside Driver's unhinged mind. "I used to make movies in the '80s," says comedian Albert Brooks, amping up the menace as a sinister crime-lord. "Action films, sexy stuff—one critic called them European." Nods to Michael Mann, Clint Eastwood, Steve McQueen and Ryan O'Neal are all there. But we can go even further back.
In the 1968, English director John Boorman's made his American debut with art-noir masterpiece Point Blank about a reluctant heist gone wrong. It starred Hollywood hero Lee Marvin as a man named 'Walker', who barely spoke and glowered with the promise of brutality to transform a seemingly simple story into an existential quest for meaning.
For all the parallels, that film had Marvin's emotional sad-core to anchor its cerebral stylistics. We can't say the same about Gosling's unknowable charismaniac. Truth be told, Drive doesn't have anywhere to go with him. In the second half, it has no more set-pieces for us, no psychology for Gosling and pretty much forgets about Mulligan completely in this male world of machismo and violence.
Refn has suggested that his American debut is both a fairytale and – brilliant, this – an ultraviolent remake of Sixteen Candles. But what's really under the hood? There are no emotions here, just moods. Stripped down for pure style, Drive is content to cruise on a retro-mythic mojo that feels different to anything else you've seen this year.
That's not enough for greatness – the coolest B-movie of 2011 fades on second viewing.  But playing a man with no name, no friends and no past just made Ryan Gosling the hottest name in Hollywood with a lot of fans and a big future. Cross your fingers and maybe he can persuade Refn to do the next Fast And Furious.
RATING: [rating stars="4″]