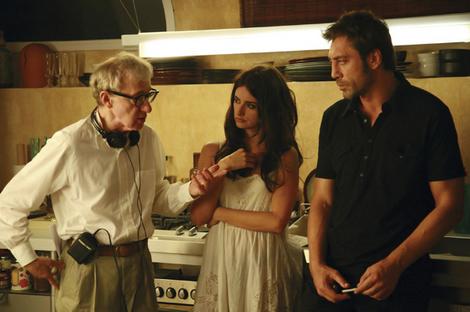 Spanish sun and Sapphic snogs… How Woody Allen cooked up his hottest ever rom-com.
Woody's not here. Ten minutes pass. Woody's still not here. Twenty minutes. "Woody's having his pudding," explains his agent, as we wait patiently. Thirty minutes. She adds seriously, "Woody does love his pudding…"
Of course, after 73 years and 39 movies, no one could deny Woody Allen as much time (or pudding) as he wants. And when he does finally amble into the hotel room booked at the 56th San Sebastian Film Festival, Allen looks as quizzical, as warm and as iconic as ever. "I'd never had any desire to come to Spain till I did a jazz concert here," he says, peering out from behind his heavy-rimmed glasses. He beams emphatically. "But Spain is a big treat actually. The food is always great!"
Pudding is not the (only) reason Woody returned to Spain. Once again venturing outside his beloved New York – following a failed attempt to shoot in Paris and return trips to England with Match Point and Scoop – the writer/director has finally found a fresh shot of creative juice under the Mediterranean sun. Breezy, witty and fresh, Vicky Cristina Barcelona
is his most purely enjoyable film in years and a long-awaited return to form for the septuagenarian filmmaker.
So what it is that's given Woody give groove back?  "I like the idea of shooting abroad," he nods. "I've loved the three films I made…" He quickly pauses, corrects himself. "Not the three films, but the experience of doing three films in London. And Barcelona is a very, very pretty city. There's a lot of modern things but there's a huge amount to old things too."
For sure, the same could be said of Vicky Cristina Barcelona. The story is vintage Wood: on holiday in Barcelona, two young  American women become romantically entangled with a wealthy bohemian Spanish lothario. But get this: with an injection of hot Spanish blood, Woody Allen just brought sexy back. Say goodbye to Allen's canon of clumsy romantics. Say helloooo to Javier Bardem and Penelope Cruz.
Swapping No Country For Old Men
's bowl haircut and killer stare for an open-necked shirt and designer stubble, Bardem struts on to the screen with a heartstopping charisma that almost seems to make Allen's camera swoon. Then Cruz gatecrashes as Bardem's suicidal ex-wife, igniting molten fireworks of passion and jealously. It's the fieriest, funniest babble-of-the-sexes motormouthing ever seen in Allen's five-decade career. "Now that I liked," he nods vigorously. "Because, you know, I just dumped it in their lap and they did it. I gave them the script, they knew what it meant and they brought a real talent to it. I just photographed them doing it. And they're full of interesting quirks and mannerisms."
Indeed, busting out of his comfortable NYC setting and repertory cast seems to shaken Allen out of his increasingly creaky formula. "When you work with someone new, there are the pleasant surprises that you're not looking for that you get," he admits. And Javier and Penelope were so good at that. And even to the point where I was letting them ad-lib freely."
So that thrilling banter isn't scripted? "I would never be able to write that," he exclaims. "It was just them speaking in rapid Spanish. I don't know a word of Spanish! But they improvised and you can tell from looking at them while they're doing it that they're getting it right. You know, the look on their faces and their eyes and their bodies. But I didn't know what they were saying until we started to put the subtitles in." So what were they saying? "Oh, they were arguing!"
The international cast-combo is completed by Brit starlet Rebecca Hall (The Prestige
, Frost/Nixon
) and Scarlett Johansson. The blonde bombshell's third date with Woody installs her firmly as the filmmaker's new muse. "The fact that I can work with Scarlett is always fun to me because I know her so well now," explains Allen. "Years ago I used to work with Diane Keaton all the time, or it would be Mia Farrow for a dozen pictures or so. You get to know the actress, what they can't do what they can do."
Our guess? Scarlett and Woody are getting pretty comfortably now. Because we don't remember him ever directing Keaton or Farrow in a cheeky Sapphic snog. Critics at last year's Cannes film festival were clambering over each to catch the film's lip-lock between Johansson and Cruz, which, truth be told, is a blink-and-you-miss-it impulse moment. Hard to remember the last time a Woody Allen film got the headlines frothing. "Yeah, it's so funny, that's something that got so out of hand in the press," says Allen. "It's a big nothing. In the course of the story – the story's not about that – they kiss. I only did two takes. I'm a two-take person. And you would think that there's a whole reel of sexual material!" It's not Vicky Christina Caligula, after all. "No, no, no. It was not. I kept saying, 'It's nothing like that! You're going to come to the picture and be disappointed!'"
Of course, he would say that. Try getting Woody to agree it's his best film in year. Try getting him to admit it's just good. "I don't think of it that way particularly," he shrugs. "I have my own personal favourites. I mean, I don't dislike the film." Which is about as close as you're likely to get from the man who disliked his romantic masterpiece Manhattan
so much he offered to direct his next film for studio United Artists for free if they shelved it for good.
Some sour critics have poked Allen's latest for being as thin and well-worn as a postcard from the Costa del Sol. They have a point. But Vicky Cristina Barcelona riffles through stereotypes like a pack of playing cards, shuffling them, showing them and knowingly dealing them out. "Yeah, yeah," nods Allen. "Yes, the only thing I was missing, for me, and that's because of the way the politics have gone there, was the bull fighter. I wanted the guitar players and the Spanish hot-blooded artists. I wanted everything that you think of when you think of Spain in a romantic way. It's what I've done in New York all the time, gone for not the realistic thing but the romanticised version."
Truth is, things are the same as they always were. Praise him or pan him, Woody still doesn't care. "I ignore it. People revel in the fact they're called a genius. They get depressed when they're called an idiot. To me, it makes no difference. None of that means anything except the work."
So who does he listen to? "Well, when I finish a movie I generally screen it for a couple of friends and they point things out to me," explains Allen. "Sometimes I listen to them because it makes sense. Other times, I ignore them completely because it doesn't make any sense to what I think. I'll screen it certainly for my wife."
She must have enjoyed it. "She enjoyed it… You know, she enjoyed Cassandra's Dream
more. But she enjoyed it." She must have enjoyed Javier. "Yes, she did enjoy him. It's hard not to like Javier. But Javier has become a heartthrob to women, because he's coming off that picture where he played such a sinister grotesque. Such a psychopathic killer." He leans forward in his seat. "But you know it's interesting, because a lot of the heartthrobs of the golden days of Hollywood started off as villains," he adds. "Bogart and Cagney started as bad guys and then they became heroes."
In an age of superheroes and digital blockbusters, Allen's reverence for cinema, his cinema, has made it harder and harder to get movies made and seen. Two years ago, he was forced to scrap plans to shoot a rom-com starring Michelle Williams in Paris. While Scoop, like 2002's Hollywood Ending, didn't even manage a theatrical release in the UK. That changed with Vicky Cristina Barcelona. "Everybody wanted to buy it before it came out," remembers Allen. "Probably because Javier had just won an Academy Award, Penelope Cruz the hottest thing around and Scarlett is a hot number. That doesn't happened to me very often." And again, not that he's bothered. "I've always had a little problem getting my films seen. Always. Even pictures of mine that have got tremendous reviews, tremendous, and even won Awards for screenplays or Best Picture or Best Director. Even Annie Hall
was not well-attended."
Audiences come and go, critic acclaim ebbs and flows, but Woody remains the same. And that's the way he likes it. "You know, it's not a terrible thing to get up in the morning and walk in and there's Scarlett and there's Penelope," he smiles. "A guy that works in an office or drives a cab has got a routine. But I get up early in the morning, I'm in Barcelona or London or New York." He leans forward, with a conspiratorially twinkle in his eyes. "And then the girls come on and they're so pretty – and you get a chance to touch them when you move them to their mark! It's not a bad way to make a living…"
Admittedly, writing the screenplays is still a struggle. The process doesn't change, doesn't get any easier. He goes into his bedroom, shuts the door, sits down and… agonises. "You're just sitting trying to get an idea. You know, it's  exhausting. I sit there for while. Then I pace. Then I take a shower. Then I sit back down. Then I go for a walk. And this can go on for weeks! And that's just agony. And then when you have the idea, it's very pleasurable to write it. But when you don't have the idea, which is very often, it's a terrible, terrible thing."
Luckily, Woody has his next idea – and his next script. Booking a return flight to his native New York, Whatever Works is about a grumpy old man (Larry David, the Seinfeld
star's second team-up with Allen after New York Stories
) and a young girl (Evan Rachel Wood, Marilyn Manson's squeeze who was last seen dazzling in The Wrestler). Sound familiar? Well, like we said, you can't blame Allen for that.
Especially when pudding in New York is so good. "I like a malted milk," he chuckles. "That's vanilla ice cream, chocolate syrup, half and half. I grew up loving it. You can't do it too often. But if you do it every now and then, it's heaven."
Publication: Total Film.