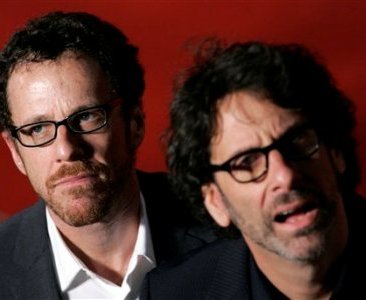 Joel is taller, wears dark suits. Ethan is shorter, dresses down. Joel looks over to your left shoulder while he's talking. Ethan looks over to your right shoulder. Sometimes they'll interrupt each other. Sometimes they'll finish each other's sentences. They're, y'know, kinda funny lookin'. No one really understands the Coen brothers or their movies. But everyone loves them. Their latest movie is called A Serious Man. It's about… well, try asking them.
How do you even begin to describe A Serious Man?
Joel: A Jewish movie. Yeah. We used to call it The Jew Movie before we a had a name. Um… It's, it's… I don't know what you would call it. It's comedic, but it's not a standard Hollywood Judd Apatow comedy. It's not I Love You, Man
.
Ethan: Yeah, we do have kids smoking marijuana and yet it's not one of those movies… 
You seem drawn to black comedy. Can we call it that?
E: I don't think we thought we were doing a black comedy. We just thought, 'All right, there's this guy and a lot of bad things happen to him. And that can be funny.'
J: Yeah, it's a pretty time-tested formula! A guy who's constantly being put upon or who's constantly tripping on banana peels.
It's pretty uncommercial… Do you worry whether anyone will see it?
J: Well, I don't know, there are no movie stars in Avatar either so we can always hope that it will relieve some pressure in this business!
Have you seen Avatar yet?
E: No, I've seen the trailer, which I thought, 'Oh, ok, well, it's a trailer… I don't know…' And also maybe it's not my thing. I don't know. Also, 3D… I don't know… I think, it's just, not my thing. Not my thing.
So we're not going to see a Coen brothers movie in 3D?
E: Probably not…
J: Avatar comes out when? In December?
E: Are there any Jews in it?
Probaby not as many as in your film.
E: Haha… Who's got more Jews?!
Well, you've probably made the most Jewish movie ever.
E: Ah, yeah. But not in 3D. It remains to be done, the most Jewish movie in 3D. I love the idea of the Yod coming right out of the screen…
J: Haha… Some of that stuff could have been really good.
How do you think you're viewed in Hollywood?
J: In Hollywood? I think we're just sort of considered small-fry who make an occasionally profitable movie and never really threaten anyone's bottom line.   
Do you ever feel under pressure to live up to a certain reputation?
E: Er, no, not really. I mean, the pressure is commensurate with the size of our fan base – and it's not that big. Haha!
J: Yeah. According to a radio show we did, a young woman in Norfolk who rates our movies.
E: Rachel…
J: Rachel in Norfolk! Yeah.
E: It was a call-in and there was one person who bothered to…
J: …bothered to call in!
E: Haha!
J: So thank you Rachel.
E: We have the one fan. Yes, in a way that's even more precious as it's so much more personal.
J: Maybe we should send Rachel the script to True Grit and make sure it passes muster.
E: …Passes muster!
True Grit is next. How are you tackling the remake?
J: Yeah, but it isn't really a remake of the John Wayne film…  Does that sound defensive?
E: We're doing it with Jeff Bridges, who we've worked with before.
J: Yeah, and Josh Brolin, who we've worked with before. And Matt Damon, who we haven't.
E: …who we haven't.
Is it going to be a black comedy?
J: No, it's not…
E: Well, in a way, in a way all Charles Portis' novels are…
J: Well, it's… Would you call it a black comedy? It's very funny, but, er…
E:  It's very funny… and yet… people die. [laughs]
J:  Yeah. Okay. It's a black comedy! Er…
E: Yes…!
J: I guess we do sort of trade in that. My 15 year old son, when I asked him if he wanted to see this movie, said, 'This isn't one of your movies where all of the people die at the end, is it?' And I said, 'Y…'
E: Hamlet. But with laughs.
J: '…Yeah.'
E: Actually, in our movie, it's not just people dying, it's somebody getting maimed.
J: Well that's true. So there's maiming too.
E: Maiming's always good.
J: There's maiming and dying. And a lot of laughs.
E: Haha!
Will you ever make movies independent of each other?
E: Ha… We don't do that!
J: We don't that. Well, yet… We haven't so far. Um, it's been a godawful fucking long time we've been working with together. But it works. I don't see it happening, but you never know.
E: We always asked, people apparently are always hoping!
Who would you like to work with?
J: Um…
E: Um…
J: Johnny Depp. Who else? Sean Connery.
Really? Why?
J: I don't know… You know. He's, you know, James Bond!
So any chance of you doing a Bond movie?
J: Yeah, if we can get Sean to come back and do it again. Although, you know, I like Daniel Craig. He's another one. Just saw him on stage, as a matter of fact. Very good actor, really interesting.
E: I'll tell you what he has is duck lips.
Duck lips?
E: Yeah.
J: Yeah… But that's something you could really chop some wood with! Um…
E: Hahaha…
So that's a good thing?
J: That's a good thing. We tend to like duck lips and big ears.
E: Yeah. Big ears.
Do you have a favourite movie?
J: No, I don't think we… Well, I don't do that.
E: Actually, my favourite movie would be Night Must Fall. The one with Albert Finney in it. That was a good movie. Best ever. He keeps an old lady's head in a hat box. It's good.
Publication: ShortList