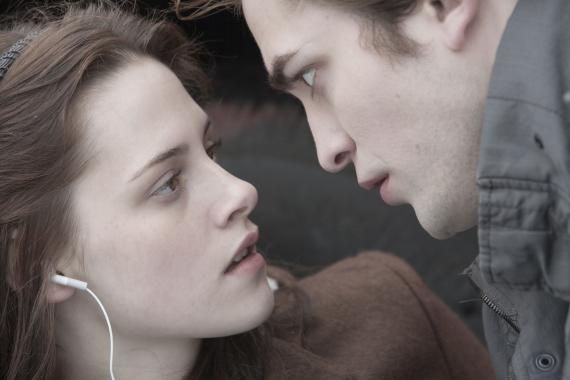 You didn't used to recognise Kristen Stewart. The porcelain 18-year-old was one indie cinema's secret stars. After replacing Heroes
cheerleader Hayden Panettiere in David Fincher's thriller Panic Room
at the age of 12, she's specialised in small, interesting roles for maverick filmmakers like Mike Figgis
, David Gordon Green
and Sean Penn
.
That kinda changed.
Swooning vampire romance Twilight
turned Stephanie Meyer's bestselling series of novels
into a planet-shaking phenomenon and switched Stewart from bright young thing to full-beam megastar. "It's weird," she admits. "I thought this was a little cult movie. But people are flipping out. Every time I get on a plane somebody's reading one of the books."
Stewart plays Bella, a high-school girl whose pure beauty proves an irresistible lure for Robert Pattinson's heartthrob teen vampire. "Something happens when he touches me," she explains. "If feels unlike anything in this world. It takes him over completely. And he needs to subdue his thirst for my blood…" Fair to say, a tad darker and more grown-up than Harry Potter. "Definitely," says Stewart. "It's dealing very adult concepts. Like life and death. And mortality. And love. And…" Sex? "Oh yeah, we deal with that quite a bit!" she laughs. "And not being able to have it. Bella's proved that if she were to get bitten and actually turned into a vampire, she would become the Queen vampire."
Evil bloodsuckers corrupting a beautiful young girl forever? It's an easy metaphor for Stewart's predicament. Welcome to Hollywood. She knows its, too. "You get these movies that come out that aren't real movies," she says. "You can see the dollar signs and the emptiness in their faces." But Stewart's ready for the real-life vampires lurking at the windows of her own world. If you don't' invite them, they can't enter. "That's the other thing," she nods. "You have to be very wary of why people are talking to you now. People who just want me in order to get money. Because I'm Bella in Twilight."
Thing is, vampires can't read Bella's mind ("She's impenetrable… They can't affect her"). Nor can Hollywood movie producers, brewing dreams of turning this girl into a plastic LA doll. "I do so many other things, I just don't think that could happen," says Stewart. "Like, now, I'm playing a street-kid stripper. Ha. Yeah."
Publication: i-D.