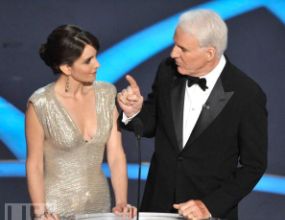 1. Steve Martin
Clever comedy smackdowns are three-time Oscar host Steve Martin's special move. He's taken down everyone from Michael Moore ("It was so sweet backstage, the teamsters are helping Michael Moore into the trunk of his limo") to Meryl Streep (Anyone who has ever worked with Meryl Streep says the exact same thing. 'Can that woman act?' and 'What's up with all the Hitler memorabilia?'"). But his finest moment is this.
2. Jon Stewart
"Normally when you see a black man or a woman president, an asteroid is about to hit the Statue of Liberty." Jon Stewart there, two-time Oscar host and a very, very funny man. Political, sure. But very funny. "Away From Her is about a woman who forgets about her husband. Hillary Clinton called it the feelgood movie of the year."
3. Chris Rock
Motormouth Chris Rock got a standing ovation when hosted the 2005 Oscars. Before he'd even said a word. He duly ordered Hollywood's biggest stars to, "Sit your asses down!" After calling Tobey Maguire "just a boy in tights", he couldn't resist a dap of race humour: "Black movies don't have real names, they have names like Barbershop. That's not a name, it's just a location."
4. Johnny Carson
"Two hours of sparkling entertainment spread over four hours," grinned chatshow host Johnny Carson, who took over from Bob Hope as longterm host. Five-time host Carson was fast, witty, classy and not afraid to have a gentle dig at star vanity. "I see a lot of new faces," he quipped once. "Especially on the old faces."
5.  Bob Hope
Bob Hope hosted the Oscars 18 times. Bob Hope starred in 66 films. Bob Hope won zero Oscars. All of which provided the ammo for some brilliant comic routines – aimed straight at himself: "Welcome to the Academy Awards, or as they're known in my house, Passover."
6. Billy Crystal
Frizzy funnyman Billy Crystal took over in 1990 and became of the Oscars' most successful hosts. On each of the eight times he presented (so far), his favourite gag involved editing himself into key scenes from the year's nominated movies. One year, he was even rolled on stage as Hannibal Lecter.
7.  David Niven
Stand up and be proud. Brit smoothie David Niven instantly became one of the great Oscar co-hosts when he was confronted by a streaker, flashing a peace sign and, er, everything else. Niven just smiled coolly: "Just think, the only laugh that man will probably ever get is by stripping and showing his shortcomings."
8. Chevy Chase
Having already co-hosted with Goldie Hawn and Paul 'Crocodile Dundee' Hogan (seriously), Caddyshack comedy icon Chevy Chase took centre stage in 1988 and manage to put Tinseltown's nose out of joint with his very first line: "Good evening, Hollywood phonies." Everyone tittered politely. Chase wasn't asked back.
9. Frank Sinatra
Women were never safe when Rat Pack rogue Frank Sinatra was on the loose. Even when he was hosting the Oscars in 1963. Even if they were the Mona Lisa. "The chick just sits there and smiles," he shrugged, before introducing Sophia Loren as "the greatest pizza-maker in the world".  What a gent.
10. David Letterman
Eccentric talk-show gaffer David Letterman only hosted the Oscars once. For a reason. When his "Oprah, Uma. Uma, Oprah" joke fell flat at the 1995, he didn't move on. He did it again. And again. Until Oprah boycotted the ceremony for 10 years. Probably the worst Oscars host ever. Which is pretty funny in itself.
Publication: MSN Movies.