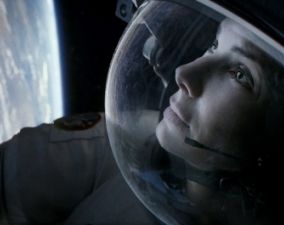 Space is just 80 miles away from every one of us. Closer than most people are to their own national capitals. But it feels much further than it should. NASA's moon landings were meant to be the dawn of an golden age of space travel, lunar bases and missions to Mars. It didn't happen. And Earth's dreams of galaxies far, far away  faded over the next four decades. In his final public interview, Neil Armstrong lamented what mankind really lost: the belief that anything is possible.
Armstrong, though, died a year too soon to see Gravity's bravura 13-minute opening shot – a 375-mile-high launchpad from which director Alfonso Cuarón's spectacular odyssey makes your senses float with new wonder at both space and cinema.
At first, you're marvelling at Cuarón and cinematographer Emmanuel Lubezki's game-changing digital accomplishments. Soon, you just… let go. The 3D technology disappears behind an enveloping sensorial experience that sends us into the void like no other film in history. Never mind whether or not you can "hike" across space with a fire extinguisher. Awe trumps accuracy and quite rightly. It's how Gravity makes you feel that makes it real.
When a mid-orbit disaster leaves two spacewalking astronauts – rookie engineer Sandra Bullock and star cowboy George Clooney – spinning helplessly away into the big nothing, Cuarón's camera hauls us in close. We travel through Bullock's visor. Her face petrifies with full-screen fear. Her gulping breaths fill our ears. Then, audaciously, we turn to gawp through her eyes at Gravity's impossibly poignant backdrop: the endless darkness of space and the gleaming marble of mother Earth.
Micro-plotting their survival saga on the most epic canvas in existence, co-writers Cuarón and his son Jonás leave us hanging right here for the rest of the film – oscillating between contemplation and desperation, astonishment and terror, serenity and anxiety. Not least thanks to recurring maelstroms of lethal space debris from an exploded satellite, arriving unannounced to decimate everything in their path. Death travels in silence. And in these moments, you forget to breathe.
Shame the Cuaróns didn't quite have enough confidence in the sound of silence: our suspension of disbelief is interrupted only by clanging dialogue and the dragging weight of a similarly cumbersome backstory hung around Bullock's neck.
They needn't have tried so hard to force Gravity's spiritual horizon, because heaven can wait when you're figuring out how to read a shuttle manual in Chinese. Cosmic metaphors float easily in this kind of space: a simple story about the human refusal to ever let go of life, even against inevitable, eternal nothingness.
Indeed, Bullock's heavenly body curling into a zero-G foetal position – a simultaneous feat of effortlessly evocative simplicity and gurn-inducing technical complexity – is a spectacle to sit next to Méliès' rocket in the moon's eye and Kubrick's space stations waltzing to Strauss.
Publication: BAFTA