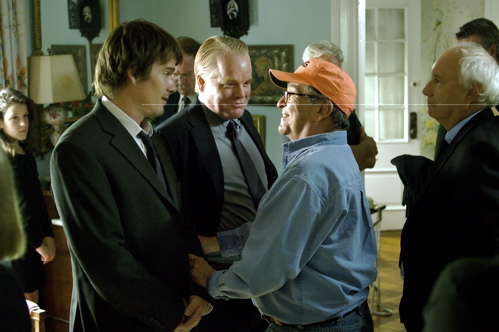 Across six decades and 45 movies including 12 Angry Men, Serpico, Network and now Before The Devil Knows You're Dead, director Sidney Lumet has extracted some of the great performances in US cinema history.
What felt special to you about Before The Devil Knows You're Dead?
The emotional outpouring that had to take place from the actors – because the movie is pitched so highly. It's so wonderfully acted.
Is it still thrilling to see your actors at full tilt?
Oh boy, oh boy… Thrilling is a very little word compared to what happens. It is thrilling. But it's a joy also. It's a joy.
Is there a scene in Before The Devil Knows You're Dead that you're particularly proud of?
There's a scene where Philip Seymour Hoffman breaks down: that went into an area I wouldn't have dared hope for. It has to be extremely painful for him, because there's a tremendous amount of self-revelation going on.
What do you do after you call cut?
I just went over and gave him a hug. That was it.
How do you coax something like that out of an actor?
Well, as you can see, with Philip you don't have to do anything! It's just there. And to a startling, startling degree. It really isn't… Well, maybe it is coaxing. I don't know.
Do you let your actors ad-lib or do you prefer to stick to the script?
It depends if it's good or not. Even among the brilliant improvisers, there's always a limit to what the departure can produce in my view. Usually the result is a lot of self-indulgence.
Did that apply when you worked with Marlon Brando in The Fugitive Kind
?
Brando was completely faithful to the text. He didn't depart for an instant. He had an enormous respect for Tennessee Williams and what he could create.
Do you ever wish you'd done more acting yourself?
No. How's that for a fast answer?! And I have nothing more to say about it. Just no.
Could you talk a  little bit about it?
You know, it's very painful, acting. Because you're exposing yourself all the time. And something in my own psyche just found that not a great deal of happiness was coming from it.
Do you think great acting comes from exposing your soul rather than playing 'let's pretend'?
Always. Always. It's for real. And you're putting what's deeply private up there for everybody to see. That's what makes it painful.
Was that true of, say, Al Pacino in Dog Day Afternoon
and Serpico
?
Ah, totally… Stripped himself down. And not only that, in those days he had to stay in the state that the scene demanded that day. In other words, if it was a scene in which he was losing control, he had to stay out of control for the whole day. That had to be agony for him.
Which current actors would you love to work with?
Oh God, there's gotta be 20 I could name. De Niro, Streep… I wanna work with Angelina Jolie. Oh, she's a terrific actress I think. We're very fortunate, because most of our stars are very good actors.
So why don't great actors always get great roles?
Very often, if they're not doing interesting roles, it's because they're not picking them. Because they are out there. I mean, Bruce Willis is a terrifically talented man. And I think he's doing dopey movies now. I wish he'd do something a little more in line with his talent.
So why doesn't he?
I don't know. I don't know the man at all. For many years he did a television series and that, for sure, can wear you out. So maybe he's just tired, I don't know.
Where do you find the energy to keep making films?
Don't ask me – I don't know! I'm just so grateful that it's there. When you talk to anybody who's gotten a lot of work done in their lives, the word that they keep repeating over and over again is luck. That's part of the answer.
Does it ever bother you that, after all these great films, you've never won a Best Director Oscar?
I… think… if anyone were ever bothered by that, they'd be such a horse's ass. How much more can you ask for? The job itself, which is wonderful, which has terrific pay, which is wonderful, great health benefits from the union, which is wonderful. I mean, my God, what more can one ask for?! Jonathan Crocker
Read the original article at Time Out.