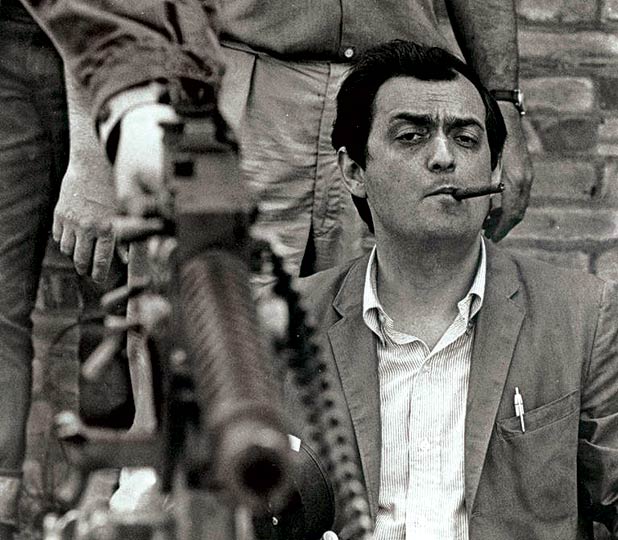 Proudly presenting some remarkable things you may not have heard about cinema's most mysterious master. Including the fact you pronounce his name "Cue-brick" not "Koo-brick". Let's face it: there's never been another like him.
1. Kubrick wanted to be a drummer
As a youngster, Stanley Kubrick loved jazz. Loved it so much, he wanted nothing more than to be a jazz drummer – until little Stanley's dad bought him a Graflex camera for his 13th birthday. Kubrick threw himself into a lifelong passion for images. Instead of spending the next five decades banging drums in smoky clubs. Phew.
2. Kubrick loved animals
During the making of Full Metal Jacket
, a family of rabbits was accidentally killed. Kubrick got so upset he canceled shooting for the rest of the day. He loved animals – big time. Owning numerous cats and dogs, Kubrick even brought them to film sets and editing rooms to spend more time with them. Unlike people, they never disagreed with him.
3.  Kubrick was critical failure
Almost impossible to imagine, but 2001: A Space Odyssey
, Lolita
, A Clockwork Orange
, Barry Lyndon, The Shining
and Full Metal Jacket all got negative reviews from critics when they were released. A few years later? They're celluloid classics. So think about that next time some fool tells you Eyes Wide Shut
is rubbish.
4. Kubrick has a favourite tree
Four days after screening his finished cut of Eyes Wide Shut, 70-year-old Kubrick died of a heart attack in his sleep. Where did they lay the great man to rest? In a monolithic tomb, perhaps? Not even close. Kubrick was buried next to his favourite tree in Childwickbury Manor in Hertfordshire.
5. Kubrick's favourite actor is his daughter
No actor has ever appeared in more than three Kubrick films. No one except Kubrick's daughter, Vivian. She has cameos in 2001 (Heywood Floyd's daughter), Barry Lyndon (a girl at young Bryan's birthday party), The Shining (a party ghost) and Full Metal Jacket (a TV reporter).
6. Kubrick was sacked by Marlon Brando
Well, depends who you believe. Either way, Kubrick was supposed to direct Brando in Western-by-the-sea One-Eyed Jacks. Eccentric geniuses apparently don't mix. After six months of clashes, Kubrick told producer/star Brando, "Marlon, I don't know what this picture's about." Brando told him it was about money. Kubrick left without shooting a frame.
7. Kubrick feared flying but liked The Simpsons
Kubrick was afraid of flying. Bizarre, considering he once held a pilot's licence. But since he refused board a plane, he rarely left England. Problem? Kubrick loved American TV, particularly Seinfeld
and The Simpsons
. Solution? He had VHS tapes posted over from the US for most of his life.
8. Kubrick was planning "the best film ever made"
After wowing with 2001, Kubrick declared his next project would be "the best movie ever made". He wrote the script. Jack Nicholson agreed to star. But 20 years later, Kubrick was still trying to drum up the budget for his epic biopic of Napoleon Bonaparte. He'd read almost 500 books on the subject.
9. Kubrick liked Kubrick films
Look closer… Kubrick films are full of in-jokes for other Kubrick films. You can see the soundtrack album for 2001: A Space Odyssey in the record store in A Clockwork Orange. Peter Sellers makes a joke about Spartacus
in Lolita. A painter called Ludovico – the conditioning process in A Clockwork Orange – is mentioned in Barry Lyndon.
10. Kubrick likes bathrooms
Bad things happen in Kubrick's bathrooms. Jack Torrance meets the ghostly butler in The Shining. Private Pyle shoots himself in Full Metal Jacket. So does the mad general in Dr Strangelove
. Dr Floyd gets scuppered by the zero-gravity toilet in 2001. Alex seals his doom by singing in the bath. Plumbing the depths, indeed.
11. Kubrick has a secret serum
Or, more specifically, a CRM. Dr Strangelove uses a decryption device called CRM-114 and A Clockwork Orange features a medicine called Serum 114. Despite only appearing in these two of his films, this supposed Kubrick 'trademark' has inspired an email spam-filtering system, a prog-rock band, a sound amplifier in Back To The Future
, a catalog code in TV series Heroes
and an episode of Star Trek: Deep Space Nine
.
12. Kubrick didn't win Oscars for actors
Two things you could forget about if you starred in a Kubrick film: compliments and Oscars. Despite forcing his stars through hundreds of takes, Kubrick never praises his employees during shooting (he thought it would make them complacent) and only Peter Ustinov ever won an acting Oscar (in Spartacus, the film Kubrick disowned). Stanley himself was nommed nine times for writing and directing. Wins? Zero.
Read the original article at MSN Movies.