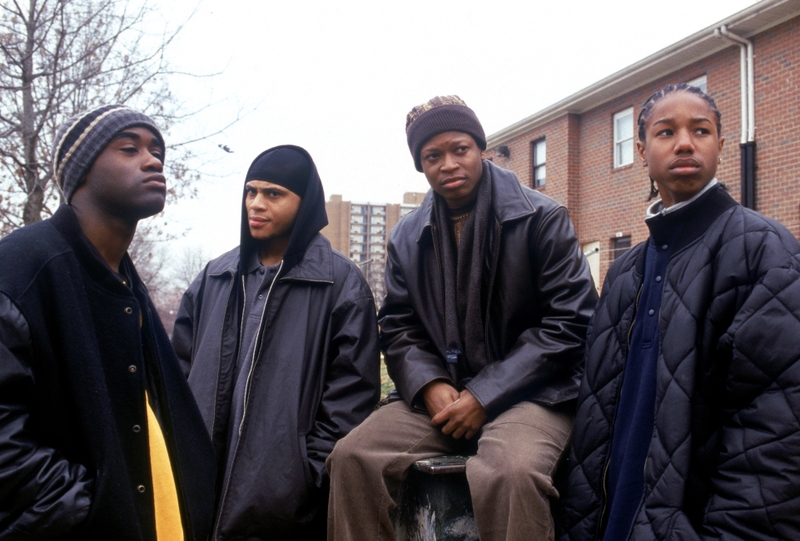 As the greatest cop-drama on TV comes to an end, ShortList taps up creator David Simon on The Wire…
Barack Obama thinks The Wire
is the best show on television. So does the director of WALL-E
. So do the drug-dealers on the street-corners of Baltimore. So, it seems, does everyone. After its six years, 60 episodes and five seasons concluded this summer, the cop drama has become the most critically acclaimed series in the history of US TV.
"I am a little surprised," says creator David Simon. Pause. Exit false-modesty. "Well, after the first season, I thought it would be something special," he admits. "By the way, I didn't know if anyone was going to watch it! And didn't give a shit, really!" Then again, The Wire's success has nothing to do with huge audiences (at best, its viewing figures were a third of The Sopranos
'). Nothing to do with awards (it's never won an Emmy). And nothing to do with other crime dramas that had both ("I've haven't seen The Sopranos," shrugs Simon. "I've watched about 10 minutes of The Shield… I don't watch television. I don't watch anything that has commercials.")
It has a lot more to a drug-dealer who forgot to duck. "I can remember everything about it," says the 48-year-old writer and producer. "It was this drug dealer, name was Kenny, got shot, in the eye, at Walbrook Junction, in January 1989. And I can remember everything about him, the living room, the stuff tacked to his refrigerator… It was the first time I spent time in a room with a dead body and I remember the entire scene."
David Simon was 27, a crime reporter for the Baltimore Sun newspaper, and one month into a year he would spend shadowing the city's homicide unit. Cutting his long hair to blend in with the detectives ("I became a piece of the furniture"), he worked six- and seven-day weeks following the detectives through crime scenes, suspects' apartments, courtrooms and morgues. Simon's year on the Baltimore mean streets had birthed two books, Homicide:
Life On The Killing Fields and The Corner
, both adapted into TV dramas. But 11 years after he saw Kenny on the slab, he pitched HBO something else: a cop show so realistic that "that no one who sees its take on the culture of crime and crime-fighting can watch anything like CSI
or NYPD Blue
or Law & Order
again without knowing that every punch was pulled on those shows."
It was some pitch. This wasn't a cop show. This was a the great American novel. "It was in the making of The Corner that I realised I might be able to put together everything I felt having reported on Baltimore for almost 15 years and using it the basis for a narrative depiction of urban America," says Simon. "This was a means to tell a story about what was almost an assembly line of violence. Other cop shows were just entertainment. We were trying to tell a story about the end of empire."
By now disillusioned by the print media's ability to tell the truth, Simon teamed with former homicide detective Ed Burns to co-write an epic five-series arc in which each season would focus on a different faultline snaking through Baltimore: the drug trade, the death of the working class, the city bureaucracy, the school system and the media. Eavesdropping us on to the way poverty, politics and policing interweave in the urban struggle, The Wire's complex, innovative plots evolved with the scope, detail and density of great literature. "It's no wonder that when it came to hire the writing staff, I didn't hire TV writers, I hired novelists," says Simon. "I wasn't interesting in making anything episodic. I only want to work in chapters, not as anything that can stand alone. I want it all to be part of the book."
Simon calls it "stealing life". It's what gave The Wire its unique bite: the rich characters, ghetto dialogue, potent violence and funny, believable scenes were plucked direct from Simon and Burns' time following real homicide cases. "We stole heavily," he says. "Many events took place blow-for-blow and a lot of characters are roughly based on people we knew." Considering the worst criminals in The Wire are oddly tragic, human characters and the best cops are either bumbling, brutal, arrogant or handcuffed by red tape, you'd think Baltimore's detectives might have something to say to Simon. "After the first season, I went police union bar and I expected to have my head handed to me," he laughs. "But I bought the first round and didn't buy a beer afterwards." Everyone knew Simon was telling the truth. "And anyway, you can't sue for likeness," he adds. "Two or three of them might be combined in a single character. That's the joy of fiction. You get to chew it up and spit it out. We don't use anybody's real name, but there's nothing untrue."
What's more, The Wire uses real-life cops, criminals, mayors, drug-users, journalists and councilors to fill out its cast. "The face and voices of the real city," as Simon puts it. Example? As a detective, Ed Burns put Baltimore drug kingpin Melvin Williams in jail on a 34 year sentence in 1984. Two decades later, Burns was writing salty dialogue for him, after casting him as a West Baltimore community leader.
Fact and fiction continued to blur as the series evolved. Once, a man was shot just yards from where The Wire was filming in a rough Baltimore neighborhood. Oozing blood, he staggered on to the set to be treated by the show's medic. Word reached Simon that bootleg DVDs were circulating through the poor neighborhoods of West Baltimore: criminals were watching the show to learn how to counter police investigation techniques. But they got the biggest stamp of approval when a shabbily dressed man edged on to the set and quietly passed a bag of heroin to actor Andre Royo, dressed in character as junkie police-informant Bubbles.  "Man, you need a fix more than I do," he whispered.
It's most realistic crime drama ever created. And Simon knows it. "Because it was written by someone who covered the drug trade in a given American city for 15 years and by someone who policed that drug trade for 20," he says. "But you know what makes me really proud? You're gonna laugh. It's the humour. Otherwise it'd be too heartbreaking to watch. Some of that shit was Lauren & Hardy good. Two detectives arguing about which guy would you fuck if you could fuck a hot girl afterwards – that's the stuff that makes me happy."
Now, though, Simon has closed the case on Baltimore – or Bodymore, Murdaland, as the graffiti in The Wire's title sequence daubs it. Next stop? Iraq. Generation Kill
is Simon and Burns' upcoming miniseries adap of Evan Wright's non-fiction book about his experiences as a reporter joining a US Reconnaissance Battalion during the first 40 days of the 2003 Iraqi invasion. "I thought it was the best war reporting since Mike Warner's dispatches," says Simon. "Evan did a marvellous job of depicting these young men and the nature of modern warfare." This time, Simon's staying out of the field: "There's no researching: it's about squeezing Evan's brain. It's what's on the page and what's in his head. It's not a matter of picking up and going back to Iraq!" No chance of going back to The Wire, either? No chance. "We built it for five seasons, all part of a singular argument. That's our five seasons." He shakes his head. "We're done."
Publication Shortlist.com.