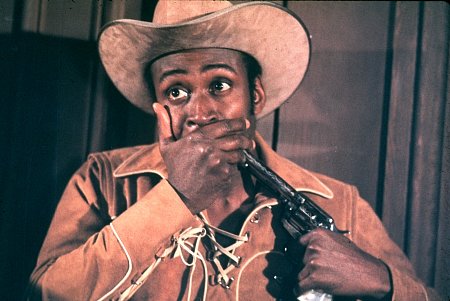 "Never Give A Saga An Even Break!" hollers the tagline to Mel Brooks' swipe at Hollywood's most sacred genre. After succeeding by setting out to fail with The Producers
, Brooks wasn't going to print the legend. He was going to wipe his boots on it. Summoning just about every one of the Western's stock clichés for a merciless parodying, Blazing Saddles
balances an irreverent backslap at Hollywood prejudice with a tireless, irresistible vulgarity.  
The Old West here becomes a platform for Brooks' central theme of racial discrimination, as black slave Bart (Cleavon Little) escapes his redneck railroad bosses to become sheriff of frontier town Rock Ridge. Needless to say, the white citizens aren't best pleased. But with the town under threat from the corrupt governor, Sheriff Bart and boozle-sozzled gunslinger The Waco Kid (Gene Wilder) are their only hope…
Crucially, the cast are provide real ballast, with panto mugging from Wilder and Little, Slim Pickens laying on the Method, Madeline Kahn landing an Oscar nod for her Dietrich riff and Brooks himself making three cameo turns – most memorably as a Yiddish-spouting Indian chief. But one can only imagine what might have been had Warner Bros not been too nervy to allow Richard Pryor (then at the height of his blunderbuss motormouthing) the lead role. Instead, Pryor was restricted to spilling ink on the script – one of five screenwriters credited. And how it shows, the humour slaloming erratically from harrumphing slapstick to highbrow satire. Brooks fires out as many duds as he does zingers, but he just keeps firing them all the same, from cinema's most famous fart-gag to the vitriolic little-old-lady ("Up yours, nigger!").
Inevitably, ideas and laughs start drying up as the pace canters in the second half, the movie eventually collapsing into a whacked-out climax that sees the entire cast custard-pie-fight their way through Warner Studios before busting out into contemporary Hollywood. Still, with Brooks' career now face down in the dirt, best to cherish his rare brand of anarchic burlesque.
VERDICT: [rating stars="3″] 
Brooks' biggest box-office smash lacks anything like the savvy affection of Young Frankenstein
, but it's tough to beat as an outrageously phlegmy deposit in Hollywood's spittoon.
EXTRAS
Commentary by Mel Brooks
'Back In The Saddle' featurette
'Intimate Portrait: Madeline Kahn' featurette
'Black Bart' TV pilot
Additional scenes
Theatrical trailer
Supposedly a 30thAnniversary Special Edition, this new DVD release is a passable but uninspired affair. For starters, don't get too excited about the Mel Brooks commentary: the filmmaker's sit-down is entirely non-scene-specific and only lasts for about an hour of the movie. Of course, this being Brooks, even the background chatter's sparky stuff, but there's little to learn that isn't rehashed in the 26-minute 'Back In The Saddle' Making Of featurette.
Still, the 10 extra minutes of additional scenes are decent value – most bizarrely when we see the campfire scene played out with every flatulent utterance dubbed out by a horse's neigh. Another oddity comes in the shape of the complete pilot for TV spin-off sitcom Black Bart. Sadly, it's a complete duffer, as stale as the canned laughter. All that remains is a brief tribute to the late Madeline Kahn and a theatrical trailer.
Read the original article at Channel 4 Film