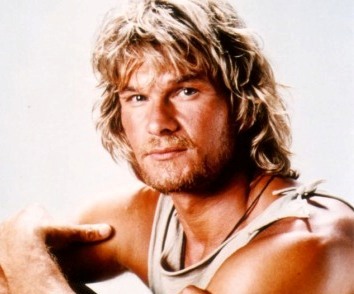 Remembering an actor with all the right moves…
They bullied Patrick Wayne Swayze at school. While other young Texas dudes were shotgunning beers and swapping punches, he was perfecting his brisé and chassé. "I had to fight my way up from the days I was little," remembers Swayze, who was shoved face-first into ballet by his mother, a dance tutor who would choreograph Urban Cowboy
. As soon as he could walk, Swayze could dance. And the bullies learnt fast – he could do beer and bruises too.
But it would be years before movie-goers discovered Swayze's unique mix of grace and grit. Living off scraps in LA, he was 27 by the time he scored his first movie role in roller-staking actioner Skatetown, USA (1979) and already in his 30s when Francis Ford Coppola cast him alongside hot young things Tom Cruise and Rob Lowe in teen drama The Outsiders. He was too old to be part of the Brat Pack, but scored the lead in another cult '80s youth flick, bossing a gang of small-town teenagers (including a debuting Charlie Sheen) who fight back when the USSR invades America in John Milius' violent Cold War actioner Red Dawn
.
No one was ready for what happened next. Shot for a paltry $5 million and pegged for a straight-to-VHS disappearing act, coming-of-age romance Dirty Dancing
exploded Swayze's star suddenly and spectacularly. He was bad-boy dance teacher Johnny Castle, falling in love with his posh teenage pupil Frances "Baby" Houseman (his Red Dawn co-star Jennifer Grey). He was rocking the screen with steamy dance moves and graceful agility. He was whisking Grey into a finale spectacular dance scene with the iconic words, "Nobody puts Baby in a corner!" He was everything Hollywood had been looking for: masculine, sensual, graceful and rebellious. Producers gulped at the memory they'd offered the role to Val Kilmer. 
Thanks to the booming home-video market, Dirty Dancing was a shock phenomenon, the first movie to sell one million copies on VHS and scoring Swayze his first Golden Globe nomination. But, just as he'd continue to do throughout his career, Swayze swerved a clear path to stardom. Refusing to be the "dance dude", he signed up for Kurt Russell's role in Tango And Cash
, then pulled out to play a bouncer in cult B-movie Road House
. Instead of watching him slink across the floor on his hands and knees, Dirty Dancing fans were suddenly watching him rip a man's throat out with his bare hands. Road House and Next Of Kin saw Swayze earn the rare honour of going head-to-head with himself for Worst Actor at the Razzies.
Then some of the biggest stars in Hollywood did him a massive favour. Tom Hanks, Tom Cruise, Kevin Bacon, Al Pacino, Nic Cage, Johnny Depp, Chevy Chase, Mickey Rourke, Alec Baldwin, Paul Hogan and Bruce Willis all said, 'No thanks' to the role that would that would turn Swayze into a megastar. Director Jerry Zucker thought the 38-year-old Texan was completely wrong for the role of a yuppie banker who comes back from the dead to protect his girlfriend and avenge his own murder.  But with every other leading man in Tinseltown laughing off the project, Zucker decided to throw him an audition. Swayze hit it out of the park – then turned Ghost
into an even bigger hit than Dirty Dancing.
Rubbing up Demi Moore in the most/only erotic pottery-moulding scene in cinema history to the croons of the Righteous Brothers' 'Unchained Melody', Swayze also convinced Zucker to cast Whoopi Goldberg – she duly won an Oscar and thanked Swayze personally. Swayze's character in Ghost summed up the unique, fascinating contradictions in his persona: American footballer and master ballet dancer; tough brawler and sensitive lover, macho rebel and gentle romantic. Not freakishly muscular or over-pretty, he looked like a new kind of American for the '90s.
If Ghost made Swayze a megastar, Point Break made him a cult hero. Who else could have pulled off the role – and his own sky-diving stunts – as a surfing bank-robber (!) opposite Keanu Reeves in Kathryn Bigelow's action smash-hit? Swayze was now a piece of pop-culture. His surname even became a slang term for leaving ("This party sucks, I'm Swayze"). 
But once again, just as superstardom was his, Swayze tossed it away. He didn't want to be the "action guy" any more than he wanted to be the "dance dude". Swayze was a distant cousin of the great William Holden and some of that thespian blood must still have throbbed in his veins. So he played an American doctor working in the slums of Calcutta in Roland Joffe's City of Joy instead of Danny Glover's role in Predator 2
. "The only plan I have is that every time people think they have me pegged, I'm going to come out of left field and do something unexpected," he explained, after reportedly turned down an offer of $7 million to appear in a Dirty Dancing sequel. 
When People magazine named him as Sexiest Man Alive, Swayze mocked his own hunk-with-a-heart image by playing transvestite Vida Boheme in To Wong Foo, Thanks For Everything Julie Newmar
. He bagged the role by improv-ing a 30-minute monologue inspired by the bullying he suffered at school. Before filming the scene in which Sheriff Dollard (Chris Penn) pulls his car over at the roadside, Swayze secretly placed a corn cob down his underwear. Penn's expression of shock when he puts his hand up Swayze's dress is as real as it comes.
That performance won a third Golden Globe nomination, but behind his chiselled physique and on-screen energy, Swayze's life wasn't what it seemed. He'd been drinking heavily since his father's death a year before The Outsiders was released and chain-smoked cigarettes at a heroic rate. When his sister committed suicide by overdose, Swayze hit breaking point.
"I had been sucked into the blockbuster, box-office mentality and it was destroying my sense of purpose in life," he explained. "I made a conscious decision to break away from big films when I got alcohol out of my life. The loneliness of fame was messing with my head. Once you've been famous for a while and told your story, it can sound like a lie. You don't know what's true. It sounds like an article someone wrote rather than the essence of who you are. You feel you've somehow pulled off an enormous hoax and that your whole life is a lie. All the hype wound up making me cynical and I turned into a not-very-pretty drunk."
Disappearing off the screen, Swayze retreated to a five-acre spread called Rancho Bizarro outside of Los Angeles to breed Arabian horses. "One of the reasons I bought my ranch was because I didn't want to hear the hype.  Your horses don't lie to you." Ironically, it was a horse that kept Swayze out of action in the late '90s. While shooting Letters From A Killer, a horse threw him into a tree – both his legs were shattered and it took 12 operations to rebuild them. He bounced back in style: that terrific turn in Richard Kelly's stylish mind-bender Donnie Darko
as a creepy self-help guru and closet paedo Jim Cunningham was, according to Kelly, Swayze jumping at the chance to "take a flamethrower to his image".
With Darko adding another massive cult hit to his career, his fitness revived and his alcoholism seemingly under control, Swayze looked primed for a Travolta-esque 21st-century comeback. But as he celebrated New Year's Eve with his wife in 2007, Swayze suddenly felt ill.
"I tried to have champagne and it would be like pouring acid on an open wound," he remembers. In the blink of an eye, he dropped 20lbs in weight. "When you see it in the mirror, when all of a sudden, you pull your eyes down and the bottom of your eyes go yellow and jaundice sets in, then you know something's wrong."
Something was seriously wrong: Swayze was diagnosed with advanced pancreatic cancer. It was claimed he had just weeks to live. But by the summer of 2008, he was still there. "I'm cooking, I'm a miracle dude," he said. "Watch me! You watch what I pull off."
Refusing to take painkillers in case they impaired his performance, Swayze took the lead role in US TV series The Beast
. "It's a battle-zone I go through," he admitted. "Chemo, no matter how you cut it, is hell on wheels. How do you nurture a positive attitude when all the statistics say you're a dead man? You go to work." But the show was cancelled after 13 episodes and Swayze finally began to fade following a final role in indie drama Powder Blue
with Jessica Biel.
Twenty months after being diagnosed, Swayze died at home on 14 September. By his side was his wife Lisa Niemi, the childhood sweetheart he'd been married to for 34 years and the inspiration for 'She's Like the Wind', the song he co-wrote on the Dirty Dancing soundtrack
.
"My big regret is the physical damage I've done to my body," said the actor before he died, who could still be seen puffing cigarettes to the end. "I can do almost anything physically and I used to believe I was invincible, breaking bones over and over, playing football, doing gymnastics, diving, ballet, doing my own stunts, kick boxing, staging fights… It all seems a little stupid to me now."
But in 57 years, Swayze had done it all: from erotic pottery to sky-diving, from throat-ripping to cross-dressing. Nobody put Swayze in the corner. "I've had more lifetimes than any 10 people put together," he said as he slid into that final dance with death. "It's been an amazing ride. So this is okay."
IN HIS OWN WORDS
Dirty Dancing
"What made that movie famous wasn't me shaking my butt. It was the fact that the young, funky Jewish girl gets the guy not because she's the hottest girl on the block, but because of what she's got in her heart. That's what's worth falling in love with."
Roadhouse
"It was one of the first opportunities for me to put out there my passion for being a peaceful warrior: to be highly-skilled, but to avoid violence at all costs, unless you have no choice. In the fight scenes, none of us were pulling our punches, except for the ones to the face."
Ghost
"It was one of those films that come along and an alarm goes off in my body. It passed what I call 'the goosebump test'. When that happens, I know I have to do a film. By going back to very simple truths, it seemed to resonate with a lot of people around the world."
Point Break
"Bodie is in many ways a lot of who I am. I definitely have the adrenaline junkie in me. That's a big part of the reason why I wanted to do the role, to exorcise it from my life. And it only got worse! Now I jump out of planes and stuff…"
Publication: Total Film