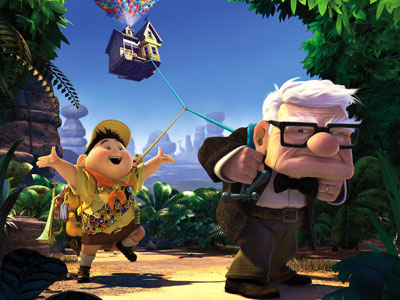 PIXAR'S UP SOARS…
Michael Haneke and war-trauma. Lars von Trier and sex-horror. Gaspar Noe and Tokyo nightmares. Packing its most hardcore line-up in years, the 62nd Cannes film festival raises its curtain with… a Pixar 'toon. Obviously.
Not only that, but Pixar's (and Cannes') first ever 3D 'toon. Filing into the Debussy cinema, LWLies joined the rest of the world's most battle-hardened film critics. We donned funky 3D goggles. Then we started crying.
Speeding through the life and love of 78-year-old balloon salesman Carl Fredricksen (voiced by TV journeyman Edward Asner) inside the first 15 minutes, Pixar's 10th movie lifts off with the most heartbreaking montage you'll ever see. This wordless sequence of romance and regret left the entire audience audibly choking on their own tears. Not something that happens often in the cinema. Not something that happens often (ever?) in Cannes.
Funny, sad, sweet and – yes – uplifting, Up sees Carl slumping through his twilight years, lost in guilt and sadness at the death of his beloved wife. Until… He suddenly decides to fulfil his lifelong dream of great adventure by tying thousands of balloons to his house and floating away to South America.
From this moment of outlandish imagination, Up soars from gentle, real drama to wondrous fantasy. Joined by an eight-year-old stowaway explorer, Carl embarks on an incredible voyage in which he'll face talking attack-dogs, a giant rainbow-coloured bird (called Kevin) and a villainous mad-genius adventurer.
Probably the most moving 'toon we've ever seen. But Pixar's best? Surprisingly, no. Over its full stretch, Up never quite feels as fully formed as their true masterpiece Finding Nemo. Pixar seem cautious to plunge entirely into their beautifully etched adult emotions, always pulling back for a helter-skelter set-piece that perhaps doesn't quite match up the glorious dazzle we've seen in The Incredibles and WALL-E.
All of which is mad quibbling, really. Gorgeously rendered in subtly immersive 3D and full of organic cinematic nods (everything from About Schmidt to The Wizard Of Oz), this is a rare, wondrous story of true love and dream-catching. Of holding on and letting go. You will believe a house can fly.
So, frankly, we'll need some skull-busting cinephilia to level us out. What to expect tomorrow?  Oscar-winning Brit director Andrea Arnold's coming-of-ager Fish Tank and Oldboy helmer Park Chan-wook's vampire thriller Thirst.
Get back here tomorrow for the latest news, piping hot from the Croisette. More films, less crying. Hopefully.
Read the original article at Little White Lies.