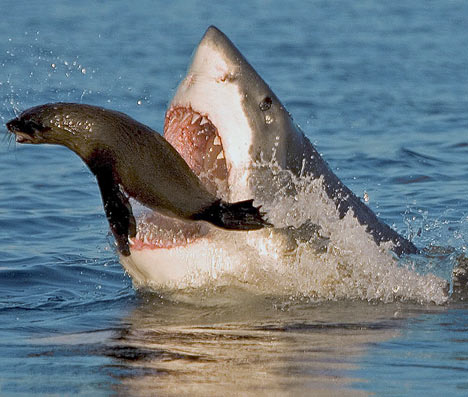 1. Planet Earth

Shot on HD cameras and a £16 million budget, David Attenborough's nature mega-doc might be Blu-ray's most breathtaking visual experience: every colour, every hair, every tiny air-bubble and fish-scale leaps off the screen and hits your retinas like a drug.
2. Iron Man

Impossible to see where the CG starts and the live-action footage ends on Iron's Man's HD transfer. But it's the lossless Dolby TrueHD 5.1 audio that really amazes: skip to Tony Stark's first flight and feel your surround-sound ripple.
3. Casino Royale

The most incredible looking and sounding Bond film in the franchise's history. Colours and details are so full they're almost 3D, while the soundtrack is packed with startlingly realistic effects. Grab the two-disc set, not the earlier single-discer.
4. Blade Runner: The Final Cut

Polished with digital rendering that smoothes out the grain without scrubbing it off, Blade Runner's drizzle and dazzle has never been this atmospheric before. Also includes the brilliant Dangerous Days documentary.
5. How The West Was Won
This epic '60s 'Cinerama' Western was shot using three 35mm cameras side-by-side to create a super widescreen experience on a curved screen. Blu-ray's "Smilevision" option seamlessly fuses the three reels and recreates the effect with spectacular resolution.
6. Sleeping Beauty

Trust us: you've never seen traditional animation look like this. Rescanned frame by frame and presented in a never-before-seen expanded version, Disney's Blu-ray debut unleashed the format's amazing potential. A theme park of extras include John Lasseter's yak-track, PiP and BD-Live.
7. The Dark Knight

How black can black get in hi-def? THIS BLACK. Watch the aspect-ratio switch from letterbox (2.35:1) to full widescreen (1.85:1) as Blu-ray maxes out the full sharpness and depth of Christopher Nolan's IMAX scenes.
8. 300: The Complete Experience
Upgrading one of the most gorgeous Blu-rays on the shelves, 300
's "The Complete Experience" edition adds three interactive PiP tracks and BD-Live features to a bulging stack of bonus supps. The catch? It won't hit the UK till next year.
9. 2001: A Space Odyssey

Even Blu-ray can't recreate the ultimate trip of the original 70mm film, but Kubrick's monolithic sci-fi spectacle has never looked this stunning in your living room. Cleaned up for HD, every sequence is a treat for your ears and eyes.
10. Band Of Brothers

Crisp whites, deep blacks and practically perfect detail give breathtaking dimension to the muggy, debris-strew battlegrounds of Spielberg's awesome WWII miniseries. HD extras don't come much better either: PiP, interactive timeline and archive footage for every episode.
11. The Ultimate Bourne Collection

BD-Live: My Movie Commentary allows you to record your own PiP video commentary using a webcam, before share it with others online. Plus, these Blu-rays superbly capture Paul Greengrass' whip-verite camerawork and slam-bang editing without a hint of blur.
12. Sin City

Transferred directly from the digital source, Sin City looks flawless. Splaying dialogue and effects across the surround-sound channels, it's also astonishingly immersive. Then there's 'CinExplore', split-screening the film to show it being taken from page to (green)screen while you watch.
13. The Godfather Trilogy

Francis Ford Coppola and DoP Gordon Willis worked on this HD restoration for 18 months, recreating the Technicolor look and refusing to polish out the grain. Result? Subtleties, shadows and atmosphere that feels totally new.
14. Coraline

An extraordinarily enveloping Blu-ray experience. Sucking you in with dimensional depth, gorgeous colour, sonic atmospherics and incredible fine detail, Henry Selick's stop-motion fairytale gets a true second life on HD. Even includes the 3D version, too – not that you need it.
15. The Curious Case Of Benjamin Button

Just like Zodiac
– another brilliant Blu-ray – Fincher's epic was shot in 1080p hi-def using the groundbreaking digital Thompson Viper FilmStream cameras. Meaning? A spectacular digital-to-digital transfer that's utterly perfect. Sharpness, detail, textures, depth, colours, soundscape, everything… Just perfect.
16. The Matrix Trilogy

One of the most exciting, explosive sonic experiences in home cinema, the Matrix Blu-rays also reveal the films' full visual personality. Watch how the palette subtly tints: the Matrix (green), the real world (blue), Zion (sepia). Great PiP track, too.
17. The Searchers

One of the finest vintage HD restorations ever. Presented at 1080p in a 1.78:1 aspect ratio, John Ford's magnificent revenge Western now looks clearer and bolder than some modern Hollywood DVDs released 50 years later.
18. Crank 2: High Voltage

Popping off the screen with ferocious accuracy – you can see every drop of blood and sweat, every follicle and wrinkle  – Crank 2 is a simply electrifying Blu-ray experience. Sound is fabulous reference-quality, too. Warn your eardrums in advance.
19. WALL-E

With Cars
and Ratatouille
, Pixar set the bar for Blu-ray 'toons. Then they released WALL-E. And electronics shops all over the world started selling a lot of HD TVs. Possibly the best-looking, best-sounding, best-equipped Blu-ray ever.
20. No Country For Old Men

Intensely cinematic and sweating with startling detail and realism, the Coens' neo-noir Western is in a class of its own on Blu-ray. The sweeping desert vistas, terrifying gun battles and vivid characters just drag you right in.
21. Master And Commander: The Far Side Of The World

Sound designer Richard King's Oscar-winning audio engineering was a landmark in cinema history. Only Blu-ray has the power to reveal why: the blending of harrowing cannon fire, splintering wood, splishing footsteps, creaking planks and crashing waves is nothing short of phenomenal.
22. Rambo

Stylishly muted yet lush and colourful, Rambo's transfer is bloody detailed. But it's the enveloping, powerhouse sound that's truly awesome: your rear speakers effortlessly pick out screams and gunshots against the head-shaking boom and shudder of the carnage.
23. Cloverfield

Proving Blu-ray isn't just about pristine beauty and dayglo colours, this shaky-cam monster movie demos how the format works magic with the tricksiest of film styles – from its astonishingly textured  visuals to the complex, thrilling Dolby TrueHD 5.1 soundscape.
24. The Proposition

The Australian landscape becomes a mystic hell on this gorgeous, eerie Blu-ray transfer of John Hillcoat's fearsome Oz Western, which also captures the every blood-flecked detail of the arid carnage while screenwriter Nick Cave's soundtrack
soars.
25. The Departed

Totally eclipsing the DVD release, Scorsese's gangster thriller hits BD boasting a terrific new depth and detail. Most crucially, though, it hangs on to a lovely thin layer of grain, giving the visuals a beautiful filmic feel.
26. Close Encounters Of The Third Kind

Skip straight to Richard Dreyfuss' first close encounter, crank up the volume and watch your living room shake like an earthquake just slammed it. Subwoofer orgasms aside, Spielberg's first movie on Blu-ray is as vibrant and clear as it's ever going to look.
27. The Seventh Seal
Bergman on Blu-ray? Believe it. Buy it. Rescrubbed and de-blemished on HD, the only black-and-white movie on our list takes a huge jump above the DVD and looks startlingly fresh-faced some five decades on. A real treat.
28. Black Hawk Down

Colourful. Glossy. Polished. A few words we can't use to describe this stylised BD war-blast. Instead it brilliantly locks down every muted speck of grit, every snazzy post-production filter – while dunking you into one of the most mindblowing, terrifyingly immersive sonic ordeals ever.
29. Pan's Labyrinth

Lit up on HD, Guillermo del Toro's stunningly textured world now feels even more beautiful, ominous and /alive/… Check out the throbbing imagery (all womb-like corridors and ovarian entrances) and chilling creature work (Pale Man = new trousers, please).
30. Mad Max 2: The Road Warrior

One of the very first, very worst DVD releases, The Road Warrior is reborn completely on Blu-ray. Perfect, it ain't. But until now, you just couldn't see the film properly. Literally – entire scenes have been rescued from the darkness.
Publication: TotalFilm.com