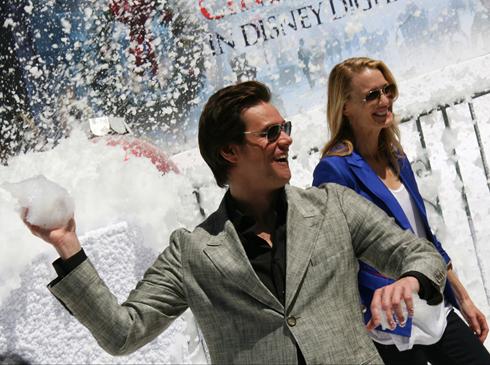 Big, fat flakes of white snow suddenly began tumbling down in the roasting afternoon heat of the Cannes film festival. It's wasn't global warming. It was just Cannes. Because here, you can do that. The festival is its own Field Of Dreams: if you pay for it, it will come. You want Christmas in May? You got it. You want Jim Carrey throwing snowballs after being brought in on a horse-drawn carriage? You got that too.
Striding up a frosty red carpet between a set of pumping snow-machines, Carrey, Colin Firth and Robin Wright Penn arrived in style for this scene of meteorological madness to introduce the world's first look at Robert Zemeckis' upcoming 3D 'toon A Christmas Carol.
With all the hype and hush around James Cameron's upcoming stereoscopic sci-fier Avatar, it's easy to forget that Zemeckis is the true godfather of the 3D revolution. After the groundbreaking The Polar Express and Beowulf, his adap of Charles Dickens' classic looks set to raise the bar even further.
"This is the first time we've shown this footage to anyone," explained Zemeckis, as a room of critics and journalists expectantly donned 3D glasses below a giant screen inside the Carlton Hotel.  "Disney have given us the resources to take the performance-capture art form to the next level. Jim used every muscle in his body to drives the look of these character and we're going to re-envision this classic novel in a way that I like to think Mr Dickens envisioned it in his own mind."
He wasn't kidding. The two short scenes of footage that unspooled were, frankly, stunning. Motion-captured with an incredible level of depth and detail, Carrey transforms not only into the wizened, bitter Scrooge but each one of the three ghosts that haunts him. What really stunned was the astonishing facial nuances of the characters – you can see Scrooge's lower lip curl with subtle malice or a malicious twitch of his eye as he talks to Colin Firth's Fred, also rendered with startling realism. Richer, warmer and more convincing than the milky-blind waxworks that have walked around in previous mo-capped 'toons, A Christmas Carol looks to have broken new ground in breathing human life into animated characters.
"It's not just voiceover work, these are complete performance by all of the actors," explained Carrey. "This technology takes it to another place." Firth even called it a purer form of acting. "Once you put on the manhood-cancelling spandex suit and the thing that looks like a bicycle helmet with cameras on it all pointing at your face, you're never off camera," he explains. Sat next to him, Carrey nodded seriously. "When you start out talking out of your butt, it's a long road to get to this place."
From Who Framed Roger Rabbit? to Forrest Gump, Zemeckis has always been a master at shackling new technology to great storytelling. The second thrilling sequence showed how he's used digital 3D to unlocked a gorgeously immersive new depth to the screen. In fact, it's not a screen anymore. It's a window. Warping through a wooden door into Scrooges' room, the infamous Marley's Ghost hurls giant chain-wrapped books crashing through the 3D space and on to the floor around a terrified Scrooge. Then his jaw falls off.
Frightening, funny and spectacular, it looks like just a taster of Zemeckis' visual-effects showstopper: an eye-roasting final teaser then showed Scrooges being rocketed into the night sky by the blazing Ghost Of The Christmas Past before plummeting back down through the clouds toward the cobblestones of 19th-century London. A tiny snowflake drifts through the air in front of the audience and rests on Scrooge's looming, beaky nose. Filling the screen in close up, he squints at it distastefully, then irritably blows it off.  "Baa… humbug."
Read the original article at Rotten Tomatoes.