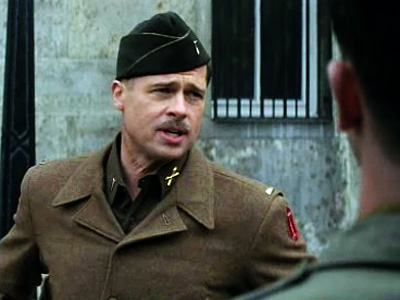 Once upon a time… in Nazi-occupied France. After an eternity of hype and faff, Quentin Tarantino's war romper Inglourious Basterds was finally locked, loaded and unleashed on Cannes 2009. Right from that 'Allo 'Allo title-spelling, QT proves that a film about a crack unit of Jewish-American soldiers who love scalping Nazis just can't be bad.
And it's not. It's fun. Lots of fun. It's also waaay too long. Spilling out over fully 2hrs 40mins, QT's seventh movie sees Brad Pitt sporting a 'tache and a cutthroat scar as the Basterds knife-wielding redneck leader Aldo The Apache. But he's just one jokey part of this blood-black ensemble comedy about a plot to blow up Hitler and the Third Reich all-stars at a local film premiere. Most of Tarantino's skittish curio-cast – Michael Fassbender, Eli Roth, Mike Myers, Diane Kruger – simply pop up to be shot down in short, sudden, bloody bursts of violence.
Not that Basterds actually bothers with much bullet-blasting action – the devil is in the dialogue. And nothing comes close to the killer wit of Nazi uber-villain The Jew Hunter, with Christop Waltz delivering an unforgettably funny, frightening performance to strut away with the entire movie. His opening scene is as good as it gets. And Basterds never gets that good again.
Here's the thing: Tarantino finished this saggy edit in a mad rush to unveil it at the festival. He needs to dive back to the editing room and slash the runtime like a Nazi barnet. He could – and should – chop a full hour to carve out a leaner, tastier movie.
RATING: [rating stars="3″]
Read the original article at TheLondonPaper.