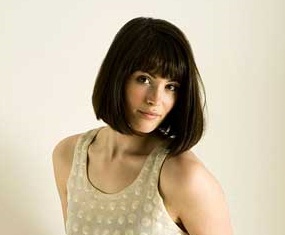 Reviews for Prince Of Persia and Clash Of The Titans weren't great. How do you feel when that happens?
The worst thing is when you're in stonkingly bad flops and they're all in the same year and you think, 'Oh well, that's my career over.' You never know.
How come you're in so many movies this year?
It's just sort of worked out that way, even though we finished Prince Of Persia in 2008. Someone said to me the other day, 'Oh my God, you're everywhere!' And I just thought, 'I don't want this!' I don't want people to think, 'God, not her again!' It's just turned out that way. It's quite nerve-wracking.
Do you think you have more power in Hollywood now?
It's funny. It's not really been these Hollywood movies that have got me these scripts. It's mostly the independent films I did and this TV thing I did, Tess. But Prince Of Persia will hopefully will give me more stock. Although it's not a given. I remember watching I Am Legend, there was that girl in it, and then thinking, 'Where is she now? That was one of biggest movies of that year.' Just because you're in a big movie, it doesn't mean everyone is going to remember you.
Do you do your own stunts?
I did a horse-riding stunt in Prince Of Persia that I spend four weeks learning. I knew everyone would think it was the stunt woman so I made sure I looked over my shoulder! I was so pleased with that bit. But there are some things that are too risky and you're not allowed to do. I had to jump out of a window on a wire. But I love it. My mum said to me when I was 10 years old, 'You'll be a stunt woman.' And I have done a lot of action movies.
Do you see yourself an something different to Hollywood's formulaic sexy actresses?
I've never thought about it really… I can't visualise myself as that! Every time I approach a role, even with the Bond one, I always think, 'I'm just the interesting one, Olga's the sexy one.' But in this one, I'm the only girl in it, so they must want me to be hot. I thought, 'I'm not hot enough… They should get Natalie Portman…' But Mike Newell was rooting for me because he wanted someone who could deliver the banter.
Did you have to call Ben Kingsley, "Sir Ben"?
Well, I didn't know… I was always like, 'I'm not going to call him Sir Ben.' And anyway, my agent also looks after Ben and she said, 'He doesn't really make you do that. It's a rumour so that people kind of stay away from him.' So when I met him, I thought, 'Okay, what shall I say?' And he went, 'Hi, I'm Ben!' Oh brilliant! You're Ben.
Which filmmakers would you love to work with?
It's funny, I'm really into my dark movies. Like Haneke, Von Trier…
You know, everyone says Von Trier…
Because he gives women really good roles. Even though they're quite repressed. Emily Watson is one of my favourite performances ever. Bjork's performance in Dancer In The Dark inspired me to become an actress. It's this inner turmoil. And then also, Andrea Arnold, who is like those kind of directors but British.
We interviewed Olga Kurylenko recently and she said she wanted to work with Von Trier too…
Did she say Von Trier?! Maybe me and Olga should do a Von Trier together! Oh no. We've fucked it by playing Bond girls. Now he's never going to work with us…
Publication: Fotogramas