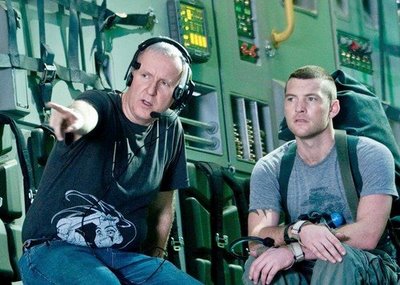 Why James Cameron's 3-D sci-fier is the most important movie of your lifetime…
James Cameron has not made a film since Titanic
. That was 1997. That was 12 years. What has he been doing? Taking the movies to another dimension. Having pioneered visual effects in The Abyss
(the first photorealistic CG character), Terminator 2
(CG plus human actors) and True Lies
(composite technology), Cameron is convinced the future is 3-D. And when you're the King Of The World, you don't wait for the future. You invent it.
Amazingly, Cameron first wrote the treatment for his groundbreaking 3-D sci-fi actioner Avatar in 1995. Unfolding in the distant future on an exotic alien planet called Pandora, it's the story of  paraplegic ex-Marine Jake Sully. After undergoing an experiment to exist in the alien world as an avatar- a 10ft blue genetically engineered biological body, controlled by his human mind – Sully finds himself torn in fight for his own survival and that of Pandora's indigenous people, the Na'vi. Cameron's script sets up an epic war between the native race of an incredible world and the human who want to exploit it.
Problem: the technology just didn't exist. People were still getting 3-D glasses on cereal boxes. So he started by working with Microsoft, researching the way people see. He teamed with WETA  to develop new motion-capture techniques and photorealistic CG. He made seven deep-ocean expeditions in five years (along with two 3-D IMAX docs) to develop a new 3-D camera technology.
It allows Cameron to do something no one has ever done: shoot in live 3-D. Not poke-your-eye-out 3-D, but a totally immersive environment. You don't see a screen. You see a window. "Sharing a reality," Cameron calls it. "You're there. A scene in the snow with two people talking? You're in the snow. You feel the snow." Unlike motion-captured, digitally designed characters (like Gollum) or actors motoring animated images (The Polar Express
), Avatar's process merges a full live-action shoot (real actors, real locations like New Zealand and Hawaii) with an entirely photorealistic CG world (greenscreen in LA), populated by "synthespians" who convey emotion as authentically as humans.
"The audience has no idea which they're looking at," says Cameron. "'Avatar will make people truly experience something," said Cameron."One more layer of the suspension of disbelief will be removed. All the synthespians are photo-realistic. Now that we've achieved it, we discovered CG characters in 3-D look more real than in 2-D. Your brain is cued it's a real thing not a picture and discounting part of image that makes it look fake. "I can say with absolute certainty that you will see stuff you've never imagined."
What's really special about Cameron's new filmmaking tools is that he can move freely inside this world using his "Virtual Production Studio". The system can track every blade of CGI grass in the film. "It's like a big, powerful game engine," he explained. "If I want to fly through space, or change my perspective, I can. I can turn the whole scene into a living miniature and go through it on a 50 to 1 scale. It's pretty exciting."
But as ever with Cameron's movies, there's a beating human heart under the flashing lights and shiny surfaces. As Jake Sully, unknown (at least, until Terminator: Salvation) Aussie beefcake Sam Worthington continues Cameron's avoidance of megastars. Zoe Saldana, next up as Star Trek's Uhura, plays his alien love interest. JC fave Sigourney Weaver dyes her hair red to play a botanist who mentors Sully. Michelle Rodriguez, who Cameron has been keen on since seeing Girlfight, is a retired Marine pilot. Support star Matt Gerald (Choke
, Magnolia, T3
) plays the movie's villain, while ace character actors Giovanni Ribisi (Michael Mann's Public Enemies) and CCH Pounder (The Shield) pack out a high-impact, low-cost cast.
So what exactly does it cost to invent the future today? Avatar's budget is rumoured at $300m, but no one will confirm. No one will confirm a thing. VIP guests including Steven Spielberg, Peter Jackson, Steven Soderbergh and, bizarrely, even shock-rocker turned filmmaker Marilyn Manson have all visited the set. They, like the cast and crew, won't say anything. Except: 'Wow.' "Yeah, I went to the set," said Steven Soderbergh, when Total Film quizzed him recently. "I can tell you that the shit was mindblowing. The shit I saw, was crazy. Like, craaaazy. I think it's gonna be gigantic. It's gonna be another one of those benchmarks. There's gonna be Before that movie and After."
Believe it: the implications are huge. "This will launch an entire new way of seeing and exhibiting movies," says Fox co-chairman Jim Gianopulos, given Cameron as long as he wants to finished the movie (four years in total). Cameron says he will never make another movie in 2-D. DreamWorks CEO Jeffrey Katzenberg predicts, one day soon, no one will. Avatar has already changed the distribution landscape: the film's release date was pushed back months to allow 3-D projectors to be installed in cinemas around the world. Potentially? It's not just a movie, it's a revolution.
DreamWorks has announced that, starting with Monsters Vs Aliens, all its animated films will be made in 3-D. "What you're seeing today in film in the 2-D image is actually the equivalent of listening to vinyl," says Katzenberg. "These are great, but they actually don't capture the essence of being there. 3-D really does. Most importantly, I think 3-D can reenergise in a big way what it means to go to the movie cinema."
Soderbergh is planning a 3-D musical remake of Cleopatra. George Lucas is working on 3-D version of Star Wars. The most powerful filmmakers in the world are sharing the technology and spurring each other on. You can already buy TVs that are 3-D-enabled without the need for glasses. Gaming and even advertising will changed by 3-D. "This is the ultimate immersive media," says Cameron. "It's my fundamental belief that when you're viewing media in stereo, more neurons are firing, learning rates are higher. Engagement levels are higher. Advertisers  need to think about how you're going to use this new dimension. How will you use the deeper levels of engagement?"
For Cameron, current filmmaking is now like "riding a bicycle" compared to sitting in pilot's seat of his new technology. And if it flies, Avatar will clear the path for back-to-back sequels  and a second three-film franchise called Battle Angel about a 26th-century female cyborg.
Sure, it's about aliens. But really, Avatar is about one man's dream of the future – and how he's hauled technology into the next century to realise that vision. He began 12 years ago. He's halfway through the longest post-production period in cinema history. He's apparently still working seven-day weeks. And loving it.
Publication: Total Film.