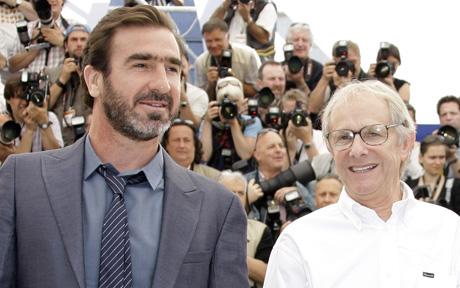 CANTONA AND SNOW IN CANNES…
Cannes is developing a weird and very excellent penchant for footy flicks, with cosmic documentary Zidane: A 21st Century Potrait tackling the mercurial nutter and Maradona By Kusturica playing in Argentina's cheat-genius coke-fiend. But no one has ever sent Cannes wild like Eric Cantona did this week. Starring as himself ("lui-meme") in Ken Loach's enjoyable-but-slimline comedy Looking For Eric, Man Utd's seagull-loving French talisman had the audience cheering, laughing and applauding all the way to full time.
If it was a popularity contest, Looking For Eric would have its name chiselled into the Palme d'Or already. But clocked with clear eyes, Loach's movie never adds up to much and miskicks up trying to beef up its sweet, slender fantasy with a grim subplot about thugs, guns and revenge. Whatever, it's really all about Loach's knack for sweary street-humour and Cantona's knack for being, well, Cantona.
Dishing out amusing mantras ("Ee oo is afraid to throw the dice will never throw a six") and goal montages (gotta love that chip against Sunderland), he magically appearing in the life of postman called Eric (Steve Evets) who struggling with a failed marriage and a pair of unruly stepsons. Swapping logic for laughs, the crowdpleasing finale also serves up the best merchandising opportunity of Loach's career. You'll see.
Hard to believe it, but what happened next was even more unlikely than this writer resisting the temptation to type "Cannes-tona" at some point in the previous three paragraphs.
It started snowing. Rigging up a set of feisty snowflake-pumpers, the makers of Robert Zemeckis' upcoming 3D A Christmas Carol put on a surreal winter-show to introduce the world's first peek at some footage from the motion-captured adap of Dickens' classic.
We saw the footage. We were blown away. Having pioneered digital 3D technology with The Polar Express and Beowulf, Zemeckis looks to have raised the bar even further. Motion-captured with an incredible level of detail, Jim Carrey transforms first into the wizened, bitter Scrooge and then into each one of the three ghosts that haunt him. This is stereoscopic cinema right at the bleeding edge: not only are the animated characters alive with startling human nuances but Zemeckis' has amped up the fantasy-adventure elements of Dickens' tale with eye-roasting style.
Obviously, Avatar is still the 3D movie we'd sell our grandmothers to see. But A Christmas Carol could be the surprise jaw-dropper of 2009.
Read the original article at Little White Lies.