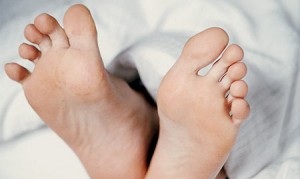 Sun, sea and sand mean one thing: sandals. Trouble is, 56% of woman don't like the look of those toes, according to research by Scholl. Time to clean up your cuticles and fix your feet for summer with this 15-minute self-pedicure…
1. Soften your step
First up, fill a basin with warm water, bung in a tablespoon of baking soda and a splash of bath oil. Now soak your feet for 20 minutes. "This will soften any calluses or corns and prep your feet for pedicuring," says Philip Green, of the College of Foot Health Practitioners.. If you're feeling flash, invest in an Aromatherapy Footspa
to soften your hooves professionally. "While they're soaking, grab an old toothbrush and gently brush down the sides of your toenails to remove any debris," says podiatrist Ian Griffiths of The City Of London Medical Centre. Yes, an old toothbrush. Not your flatmate's one.
2. Bring out your dead (skin)
Dry off your nicely soaked feet. "Now gently file
off hard, dead skin from your heels, the balls of your feet, and around your big toes," says Griffiths. If you don't do this, your crusty zombie-skin not only looks and feels gross, but can layer up into calluses and corns. Notice a big cone of rock-hard skin that won't budge? Don't admire it – you've found a corn. Get a chiropodist to slice it off. Ask nicely and he'll give it to you in jar.
3. Toe-to-toe combat
Now you're done filing, take a look at the warm, squidgy gaps between your toes: they're like a swingers party for breeding fungus. If you play sports, you'll probably recognise soggy-white-skin syndrome – the alarm bell for athletes foot. "Swab in-between all your toes with a cotton-wool ball soaked in surgical spirit," says Griffiths. "Do this at least 3-4 times a week." It helps dry and clean the area, ruining Mr and Mrs Fungus' naughty time. Left alone, the infection can spread all over your feet, mutating into painful, raw, cracked lesions. Mmm, sexy.
4. Nail it down
All swabbed? Grab a sturdy pair of stainless steel clippers
and trim those nails. "Best technique is to follow the curve of the toe and not to cut the nail too short, to avoid in-growing toenails," says Griffiths. Aim for about a millimetre or two of the white still showing. Finish up by smoothing your rough edges, always filing in one direction. Remember, biting your toenails is impressive but disgusting.
5. Be a smooth operator
Your next step is to rub in a rich foot moisturiser
. It's absorbed quickly after a soak'n'scrub and helps to minimise the return of the rough skin you've just worked so hard to destroy. "Do this every day until the end of summer to get nice smooth skin," says Griffiths. Follow up with cracked heel repair cream
. "It helps prevent fissures appearing in your heels when they get too dry, which can be painful and even get infected," says Green. Only a good look if going to a fancy-dress party as a leper.
6. The classy finish
Okay, you're just seconds away from fantastic feet. Use a cuticle stick
to minimise your cuticles – the strip of white skin at the top of your nails – by pushing the skin back gently. "Don't force it or you'll injure yourself in a small but bloody way," warns Green. Give a big 'Sod Off' to the 250,000 sweat glands on your feet by spraying on a foot antiperspirant
before donning your flip-flops. Goodbye stinky feet. And remember: if the hair on your toes is longer than the hair on your hands, you should be in a zoo. Trim 'em, Wolfman.
Read the original article at Men's Health