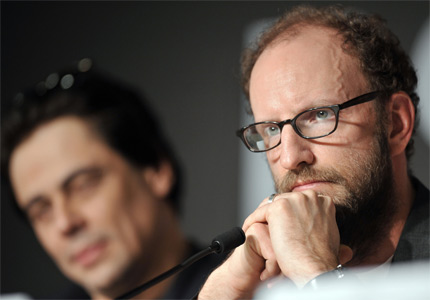 Che's commandante discusses the movie that nearly killed him…
Four and a half hours. Two parts. Lots and lots of questions. Steven Soderbergh's most unusual, extraordinary biopic of revolutionary icon Ernesto 'Che' Guevara is a movie that demands to be talked about. In fact, let's back up. Calling it a biopic doesn't even fit squarely. "Oh, absolutely," nods Soderbergh, straightening his jacket as his sits down with LWLies for a lengthy chat.
 "I had a longer list of what I didn't want to do than what I did want to do. I remember saying at one point, 'I want the scene before and the scene after the scene that's normally in a movie. That's how I wanted us to start thinking.'
Figuring Soderbergh's thinking is a fascinating process. Because Che – chopped into Part One and Part Two – is not only one of the best movies in recently memory, but also one of the most elusive. It doesn't just hurdle the clichés of the Hollywood biopic or war movie. It dodges whole chunks of narrative, a radical tactic that left many viewers wrong-footed. Where were the emotional money-punches? The key pause-button moments that defined the man and the myth? This, says Soderbergh, is entirely the point. "Like I say, I knew I didn't want the scene where a guy goes, 'Hey, why do they call you Che?' Or his hat coming off and somebody handing him the beret," he explains. "So I was chopping away at this piece of stone. Know what the problem is? There's a lot of material on the guy."
Understatement of the year, there. For Soderbergh and co-writer Peter Buchman (whose previous credits, bizarrely, include Jurassic Park III and Eragon) the making of Che has been fully eight years, beginning during Traffic when they began the quagmire research process. Drawing from Guevara's Bolivian diaries
, a groaning shelf of books about the revolutionary and interviews with people who knew the man, they began shaping a portrait of their subject.
Which is what, exactly?  Soderbergh says nothing. Several seconds pass. What does Che mean to him? The pause continues… "I don't know…. Is the honest answer," he says finally. "Mostly because my interest in him is sort of removed. My interest in him is that he's interesting to so many people. You know what I mean? Had my producer Laura Bickford and Benicio not approached me during Traffic, it never would have occurred to me to make a movie about him. He wasn't really on my radar. So part of my involvement was driven by this superficial understand of him combined with a belief that if you were ever going to make a movie about this guy, Benicio's the only guy who can pull this off."
Which, in truth, is not really much of an answer. There must have been something that snared Soderbergh's attention. "Well, his level of commitment is pretty extraordinary," says the filmmaker. "That's what I was really drawn to. His will. We all have to make decisions every day whether on a personal level, a local level, a global level, about how to what extent are we going to engage. And his level of engagement was total. And he was able to sustain it. So it was interesting. It was interesting."
It was interesting. It is interesting. Because "Che" is a hall of mirrors: doctor, soldier, politician, hero, criminal, father, T-shirt of the century… How do you portray a man who means something different to so many people? "Well, 'And here's mine' is all I can say to that." says Soderbergh, straight up. "There are millions of Ches. Everybody's got their own Che and it literally is, in this case, well this is our version of him. If you got yours, then great, go raise the money and go make it."
And here's the thing that's genuinely puzzling about Soderbergh's Che. We walk out the other side his multi-hour opus knowing not much more than we did when we walked in. Try pushing Soderbegh to explain what he want to say about this 20th-century icon and you hit a brick wall. "The film is the statement. That's it. That's my statement." Can you put it into words? "If I could put it into words, I would have written a book. I mean, that's what's great about movies. The movie is the end result of my exposure to everything I could get my hands on and everybody I could talk to. This is where I ended up with it."
After eight years of research, Soderbergh did discover one thing about Che for certain. "He was kind of a pain in the ass," nods the filmmaker. "He never dropped the sort of, I don't want to say ideology, but the code of how you're supposed to conduct yourself if you're a revolutionary. He was real pain in the ass! A lot of people found him difficult to be around. Once I started to get that sense talking to people, I started looking for things that played to that. You can find people who hate him, but you can't find anybody who ever said he took advantage of his position to get out of doing something. It never happened, I'm telling you."
Question is, where did this extraordinary triumph of the will come from? That, surely, is what a biopic – no matter how bold and different – should be aiming to answer. "I don't know. I think you just have that or you don't. I think you're born with that, I guess is the answer. You either are that or you aren't." Seriously, is that really a good enough answer? "But do you really need to answer the question why somebody feels that it's wrong for countries to be used as money-making machines for the United States?" responds Soderbergh. "When you talk about the conditions that existed in Cuba, I don't think you need to explain why somebody would feel that should be changed."
Sure, but we don't all devote our lives to doing something about it. That word ideology popped up a minute ago. But Soderbergh insists that it's not relevant to movie he's created. "No, I hope not. I don't have a vested interest in building him up or tearing him down. I'm a sort of disinterested third party, in that regard. Again, this is sort of the result of everything that I was exposed to." Che-haters have flamed Soderbergh for skipping huge, dirty chunks of his blackest days, where he presided over brutal executions after the heroic Cuban revolution. "I would have addressed that had that section of the story been interesting to me," says Soderbergh. "I mean, look, there's a famous Chinese proverb: to portray is to glorify'. But the point is, I am on the side of everyone who appears on screen. Whether they're good or bad or whatever. Again, we all act believing we're acting the way we should act. In life, people are all walking around doing what they feel justified doing. I have to give them both feet. I can't have one in and one out. So this was a real, again, sort of a test of that way of looking. I wanted to make duelling war movies. A lot of people are bureaucrats in political positions, but not a lot of them go out and pick up a gun and go live in the jungle for a year or two."
Which is exactly where Soderbergh took his cast once he and Buchanan had finished their screenplay. Even before cameras rolled, Soderbergh knew he was taking on the biggest challenge of his career. "Actually, I didn't know what I was getting into," he admits. "I knew, even in the year 2000, that I was saying yes to something really going to be trouble. But I felt like, you know, well, you're a clown if you don't say yes to this. He's the guy to do it and it's an interesting subject so what else are you gonna with your ability if not this?"
Soderbergh's decision to go guerrilla himself is what makes the movie – and what nearly broke everyone involved in it. Which every way you swing at it, it's easy to read Che as the chronicle of the psychological and physical ardours of moviemaking itself. "I don't know how to describe what that experience was," sighs Soderbergh. "Because I'm not anxious to repeat it…" He stares at the wall, contemplating. "It was a test. Is what it was. For everyone. And it was… You know, I saw people break. I just saw people who couldn't take it." In what way? "Just became zombies. Just… Yeah. I mean, it was just a little petri dish of how people deal with pressure. So that was interesting. And relevant. It was a really fascinating thing to witness. Every day on these movies was like the hardest day we'd ever had on any movie. Every day. Eventually I just embraced how fucking insane it was. Because the alternative was falling apart or panicking. And I can't do that. I have to drive this thing. I mean, that's the good news. I didn't get killed."
Watching Soderbergh talk about it, you can almost see the strain on his face as he casts his mind back. Think Martin Sheen's Willard in Apocalypse Now: "Saigon… Shit. I'm still only in Saigon." "Yeah, it really is like that!" he admits. "I still have to remind myself I'm not shooting that. Yeah. It's still there. I still wake up in the morning and there's that moment of, 'Am I still shooting that fucking movie?' And then a relief, like, 'No, I'm not.' I've just shot The Informant and I think it's gonna take one more movie to really get it out of my system."
What did emerge from Soderbergh's jungle war was a captivating sense of organic, sensory reality. Something far removed from the staged, stagey re-enactments of most biopics. "No, there are no clip moments. So it has this strange… like, you know you're watching a movie but it has this very naturalistic quality.  Like nobody seems to be doing acting shit! So my hope that was over the course of 4 hours and 22 minutes, the cumulative effect of that would really be that you felt like somebody was dying. That you felt that somebody was killed. I mean, emotionally, you felt the impact of a human being losing his life, whoever that human being was."
And here we come to it: what makes Soderbergh achieved and what makes Che such a uniquely special movie. "I really just wanted as best I could for you to feel what it like to be around him," says the filmmaker. "That's really what it was. I don't think I can figure out how to show what it's like be him. But I felt I could show what it was like to hang out with him. And that's something. Or at least it was enough for me."
Another Communist icon, Mao Zedong, once declared that revolution "is not a dinner party, not an essay, nor a painting". But is it a film? What would Ernest 'Che' Guevara himself have thought of Soderbergh's movie, had he stayed alive to see it? Soderbergh laughs. "Oh, I, God… I think he would have found it beyond silly. He would find me beyond beyond silly. In everything that he wrote and published, I could only find one – totally desultory – mention of movies in a passage from Socialism And Man In Cuba
. And he says, 'The Imperialists use children's stories, novels and movies to sell capitalist message.' So I think he didn't have much use for them. I don't think he had much use for art, actually. So there's where he and I start to drift." He pauses again for a second. "Plus the fact that I couldn't wear a military uniform day in and day out with no sense of irony. It would be impossible for me. The boots and the suit and everything? I don't know how you do that. Literally, I've thought about that a lot. The whole thing is very weird to me…" Jonathan Crocker
Publication: Little White Lies.