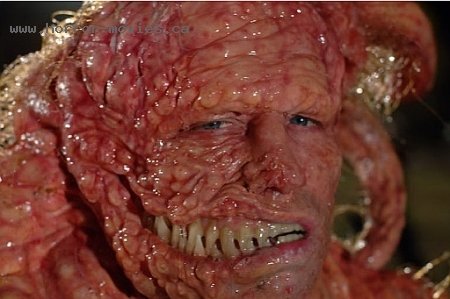 "That is some fucked-up shit." Slither
's hero Nathan Fillion eloquently sums up this gooey B-movie horror pastiche, in which man-eating worms from outerspace (stay with us) invade Michael Rooker's body (stay…) and transmogrify redneck townsfolk into symbiotic zombie cannibals (okay, you can go now).
Space-slugs launch themselves down victims' throats. Tentacles penetrate stomachs. Fillion has a fight with a mutant deer. And debut director James Gunn (the Troma grue-meister who inked Zack Snyder's Dawn Of The Dead remake) re-animates gross-out genre tropes from Society, Alien, Shivers, The Fly and just about every '80s splatter-schlocker you can think of. With in-jokes squirming from every frame, Slither never melds its influences into a personality of its own, but the effects are a riot and Gunn's wit and affection bounce his film well clear of the post-Scream meta-horror dirge. More yuks and yucks arrive in a ton of Making Of featurettes, plus an enthused commentary from Gunn.
RATING: [rating stars="3″]
Read the original article at Total Film.