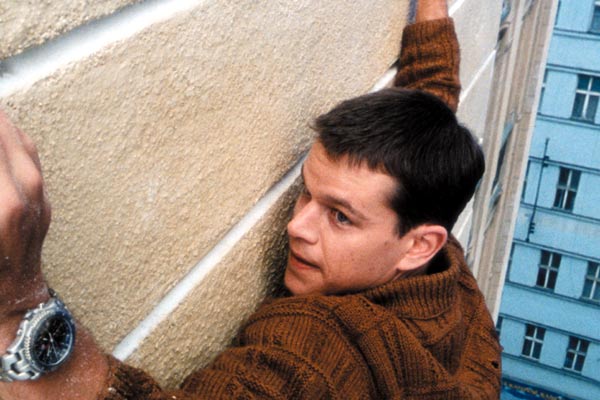 When Jason Bourne was first hooked out of the Mediterranean sea with bullet-holes in his body and plot-holes in his brain, few would have wagered that a) Matt Damon could convince as an amnesiac action-man and b) that The Bourne Identity
could convince as a sleek spy thriller. But convince they do, with blistering unarmed combat, screeching chases and moral mugginess unfolding against a vivid European backdrop.
Buddying with Franke Potente's punky traveller to find out why scowly CIA bosses Brian Cox and Chris Cooper are out to finish him off, Damon makes for a gratifyingly human super-agent. Of course, doesn't hurt one bit that he can rag a Mini like Charlie Croker and crack skulls like Jet Li, while hip-flick helmer Doug Liman's kinetic lensing gives the action a fresh, frosty realism that feels distinctly anti-Hollywood. What a downer,  then, to find the script steadily leaking momentum as it chugs through final-third convolutions that fail to camouflage the fact that Bourne Identity simply runs out of ideas. The film, like its befuddled protagonist, winds up with killer qualities but nowhere to run with them. 
EXTRAS 
Featuring a new set of extras to the previous Bourne DVD, this Special Edition looks the biz but fails to satisfy. Things start interestingly enough, with scripter Tony Gilroy explaining the alternate opening and closing scenes, shot as a cautionary measure in the wake of 9/11. The majority of the disc, though, comprises of six frustratingly brief (three to six minutes each) featurettes covering author Robert Ludlum, the scripting process, the real CIA, amnesiac trauma and meagre Making Of footage from the sequel. More imaginative is the interactive sound editing-suite that breaks down the effects used in the car chase. And if the deleted scenes from the old disc are here, why isn't Liman's commentary? Jonathan Crocker
FYI
Robert Ludlum was 40 when his first novel was published. He'd already spent a career acting in theatre  and commercials.
Ludlum never used a typewriter , preferring instead to jot all his novels entirely in longhand used a No2 pencil.
Scripter Tony Gilroy says the Bourne role wasn't written for Damon and that, initially, he was convinced that the actor was completely wrong for the part.
According to UCLA shrink Dr Reef Karim, Bourne's mental fog is called a "disassociative amnesiac state" by the men in white coats.
The meaty growl of Bourne's Mini Cooper was created by combining the sounds of a pitched-down motorcycle and an old Cadillac with the spark plugs ripped out.
Damon had around three months of boxing, martial arts and weapons training to limber up for the film's stunning fight scenes.
Read the original article at Total Film.