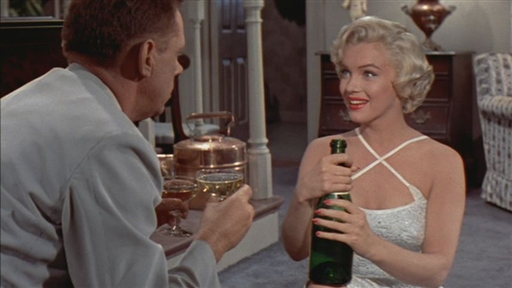 In showbiz, they say you've only achieved true fame when you're known simply by your first name. By 1955, Marilyn Monroe was so famous her screen character no longer needed a name at all. In Billy Wilder's midsummer-night's sex comedy, she is simply The Girl – a ditzy, curvaceous bombshell who lives upstairs from neurotic publishing-house everyman Richard Sherman (Tom Ewell).
That title? The twang of temptation that apparently kicks in after seven years of marriage. With the missus and nipper away, would-be adulterer Sherman wrestles with his bad self as Monroe parades a series of naughty outfits in the hot, hot heat of a New York summer.
Coming after the Oscar-winning The Lost Weekend, this is minor Wilder – cheeky, charming, overlong and now showing its age. Bottom line? It's all about Monroe. This is the immortal screen icon packaged as the ultimate fantasy figure – a "living doll" who drinks like a fish and keeps her undies in the icebox. Indeed, it's entirely likely that Seven Year Itch's Girl is a product of the publishing exec's throbbing imagination. The film unfolds through a series of fantasy vignettes as the frazzled Sherman – hopeless immersed in the world of pulp fiction – slots Monroe's character into his pent-up daydreams. His multi-referencing topical malady is the film's freshest conceit, riffing on movies (From Here To Eternity, The Creature From The Black Lagoon), novels (Little Women, The Picture Of Dorian Grey) and music (Rachmaninoff).
Wilder's big challenge here was to create a sex comedy at a time when no one was allowed to talk about sex. Cooled down by the Hays Code (which stated that adultery must never be the subject of comedy or laughter), Wilder's amusing script is still teasy, sly and surprisingly literate. As Wilder biographer Kevin Lally notes on the commentary, how many sex comedies pack a Stravinsky joke? But more than this, of course, Wilder had Monroe, the celluloid century's greatest sex symbol. The director, who called her special quality "flesh impact", duly gave her the most famous scene of her career and one of the most famous scene in cinema history: that ivory sundress billowing around her thighs above a subway grill. Seven years after The Seven Year Itch, Monroe would be gone but never forgotten.
Breezy, affectionate and incredibly detailed, Lally's excellent chat-track paves the way for Disc Two's triple-whammy of documentaries. Weighing in at nearly two hours, The Final Days makes satisfying work of recounting the mystery behind Monroe's death from an overdose in 1962. Happily, there's only minor overlap with the also-smart The Legend Of Marilyn Monroe which takes a wide-shot of the actress' career and legend. One final, shorter doc provides a brief backstory to Seven Year Itch and there are also two extended scenes: an extended fantasy sequence with Monroe in the bath and an alternative take of the subway scene. Puffed out by a restoration comparison, a poster gallery and vintage preview, it's a ripe, rewarding package.
FILM: [rating stars="3″]
EXTRAS: [rating stars="4″]
//Certificate//
PG
Director: Billy Wilder
Starring: Marilyn Monroe
Number of discs: Two
Distributor: Twentieth Century Fox Home Entertainment
Year of theatrical release: 1955
Length (film only): 140 mins
SPECIAL FEATURES
Commentary by Billy Wilder biographer Kevin Lally
Marilyn Monroe: The Final Days (114 mins)
The Legend Of Marilyn Monroe (91 mins)
Back Story documentary (23 mins)
Two deleted scenes (3 mins)
Movietone News Sneak Preview (30 secs)
Restoration Comparison footage (3 mins)
Posters gallery
FYI
1. Marilyn Monroe frequently forgot her lines, sometimes needing as many as 40 takes before nailing scenes.
2. Ironically, Monroe's nine-month-old marriage to Joe DiMaggio ended during the shoot.
3. The film's entire story was an elaboration of the first scene in Wilder's directorial debut The Major And The Minor (1942).
Publication: DVD & Blu-ray Review