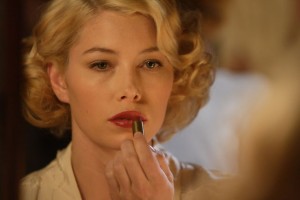 Screaming in bloody-rinsed slashers, witty in drawing-room comedy and stripping for Powder Blue…
Does Easy Virtue
mean you're a fan of witty English comedies?
I do really like that kind of machinegun fire dialogue. Although sometimes I can't understand it. There a few scenes in Atonement
where I was like, 'Wait wait wait… Rewind…' It wasn't even the accent, it's like a mumbling quality. I sometimes put the subtitles on!
Is it harder than doing an action film like Texas Chainsaw Massacre
?
Here, I kill 'em with a smile. But running around screaming with no dialogue was probably one of the hardest things I've ever done.
What was so tough?
Maintaining that kind of emotion, once my friends started getting killed off and this guy is chasing me with this thing. You get to work at 9am, you're feeling great, you look great, you've just breakfast and a coffee… and then you have to go, 'AAAAAAAHH!'
In Easy Virtue you're learning the Can-Can instead…
I loved doing the Can-Can. I got such a kick out of that scene. And I got to keep my pants on…
Actually, don't you kill a dog in Easy Virtue? With your bum?
I do! That's bad… That's a really bad way to go. I'm not a person who would ever want to kill an animal, let alone a dog. So, it was a very devastating scene to have to shoot! [laughs]
Aren't you a member of PETA?
I'm a huge animal lover and I work with a lot of animal charities and excotic animal rescues and things like that. But I'm not actually a member of PETA. I don't know how those rumours get started.
Be honest: have you ever killed an animal?
I think I was in the car when a bird was run over . But I was not driving at that time, so I was an accessory to the murder. It's very, very sad…
Do you think you have more credibility as an actress now?
I do. But I still feel there's a preconception about me out there. Because not a lot of people saw The Illusionist
. A lot of people saw I Now Pronounce You Chuck And Larry
. So people think, 'Oh, yeah, well, she's not like those good actresses, she's just that actress.' So that's still the problem, I think, and I'm, really trying to make the right choices to change that.
What's your next film?
A crazy satire about the American health-care system called Nailed. I play a young waitress who this nail shot into her head and it's changing her personality. It's like playing three or four different people. She's full of rage, then very inspired, then really horny and sexually deviant…
You've used body doubles in the past. How do you feel about nudity on screen now?
I've just done it, in a film called Powder Blue
. It was a really cathartic experience to explore that idea of being exposed on screen like that. It's something that in the past, I wasn't interested in doing at all. But I feel totally justified about it.
Do you get paid more?
No, I got paid nothing! That's the thing with those parts – they're usually in a script that's a tiny little miniscule dark independent thing and you'll get paid nothing for it.
Do you still keep in shape?
Yeah, very normal, nothing outrageous, like two or three days a week. It's kind of more mental for me. Working out in the morning gives me so much energy. I feel strong all day at work instead of hitting a low after lunch. When I'm training for something, then it's five days a week.
Have you ever missed out on any big roles?
I auditioned to be a Bond girl in Quantum Of Solace
. I actually had a really good audition. It was kind of that sexy, 'I'm super cool and I'm gonna pretend like I really don't like you at all but I'm definitely going to sleep with you in the next scene.' Maybe next time… We'll see.
Publication: TheLondonPaper.