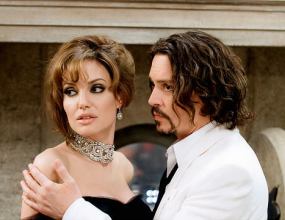 On paper, it really couldn't look much better. A romantic thriller from The Lives Of Others director Florian Henckel von Donnersmarck. A script inked by him, Christopher McQuarrie (The Usual Suspects) and Julian Fellowes (Gosford Park). A first ever on-screen pairing of Hollywood super-idols Angelina Jolie and Johnny Depp. Oscar-winners, every one of them.
In an opening scene that rewires The Lives Of Others' surveillance suspense, von Donnersmarck proves his fascination with watching and listening is still ticking. A French police crew observes their target: Elise Clifton Ward (Jolie), a ridiculously elegant Englishwoman who's being trailed by Scotland Yard because her elusive lover Alexander Pearce has stolen billions from a gangster. Jolie receives a secret note. She's to take a train from Paris to Venice, pick an average tourist and fool her pursuers into thinking that this stranger is Pearce.
And already the problems have started. Johnny Depp isn't an average tourist. He's Johnny Depp. And Depp, being Depp, just can't resist adding bizarre affectations to the character of widowed Wisconsin maths teacher Frank Tupelo. So instead of a bland everyman like Cary Grant or James Stewart in Hitchcock's wrong-men thrillers, we get an eccentric goofball who smokes an electronic cigarette, wears granddad pyjamas in bed and seems to be fighting the urge to put on an Brit accent.
Worst still, as we pull into Venice, it rapidly becomes clear there's zero chemistry between him and Jolie. We shouldn't be surprised – Depp hasn't worked as a romantic lead since he stuck knives on the end of his arms – but this is like watching siblings make out. There's one very sweet, funny exchange – Tupelo can't stop himself dropping the F-bomb when he claps eyes on Jolie – but otherwise the script proves much too light on wit and tension. With the police (led by Paul Bettany) and Russian thugs (led by Steven Berkoff) hunting down the hapless Frank, chases and shootouts keep the plot freewheeling, but not quite quick enough to distract from the fact that nothing makes any sense at all.
Stumbling over three genres – spy thriller, love story, romantic comedy – en route to a patience-snapping final twist, The Tourist has little except its good looks. Oscar-winning cinematographer John Seale (The English Patient) lays on endless gorgeous views of the Venetian scenery, expensive hotel suites and Jolie's slaloming rear end. Dolled up like Sophia Loren, she swaggers through the movie like it's one long imaginary catwalk. She's half-right: there's not much to care about here beyond the wardrobe.
Previously passed around between numerous directors and actors, The Tourist finally got the greenlight when Jolie wanted to film somewhere nice while Brad Pitt waited for Moneyball to start shooting. Von Donnersmarck needed a break after spending weeks in a monk's cell writing a new script about suicide. Depp had a couple of months to kill before jetting to the Caribbean. Let's not kid ourselves: this was a holiday and we just got sent the postcard.
RATING: [rating stars="2″]
Publication: IGN.