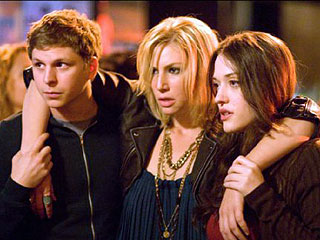 Meet Nick (Michael Cera): he's a smart, sensitive nerd with a quirky car, a broken heart, who plays bass guitar in an alt-rock band with his gay best buddies. Meet Nora (Kat Dennings): she's a beautiful, clever, funny girl who can't get a boyfriend. For sure, they've got problems. But Nick and Nora's biggest problem? They don't exist. They're movie characters, whisked up in a test-tube of clichés. 
And that's the big problem with hipster teen rom-com Nick & Nora's Infinite Playlist. It's so busy trying to be cool, it forgets to be real. Like a kid whose just wandered out of a Cameron Crowe movie, love-sick Nick spends his days cutting custom CDs for mean girl Tris (Alexis Dziena), the petit blonde minx who just dumped him. But when Nora meets Nick at one of his gigs, they jump in his car to drive around the New York night in search of her drunk girlfriend (Ari Gaynor) and a secret gig by a hot band called Where's Fluffy.
Already, there's plenty wrong here. With the face of a middle-aged woman and the body of a 12-year-old, Dziena makes for a frightening unsexy heartbreaker. Nerds like Nick don't date hotties (even weird-looking ones like this) or play in bands (even queercore ones called The Jerk Offs). And Cera needs to be careful. Starring as his third shy-guy Romeo after Superbad and Juno, he's on a one-way road to Typecast City. But it's Cera's nervous chemistry with the lovely Dennings (The 40-Year-Old Virgin, The House Bunny) that keeps Nick & Nora's Infinite Playlist spinning. Tentatively bickering and flirting, they conjure a disarming, witty naturalness that doesn't exist anywhere else in the movie.
In fact, it's almost as if director Peter Sollet shot the first draft of the script – before the really good bits were written in and the stereotypes were hacked out.  Shame that, because Sollet's last movie was Raising Victor Vargas
, an ace indie coming-of-ager with a real sense of youth's magical uncertainty.
Pimping itself with an oh-so-indie soundtrack (Vampire Weekend
, Band Of Horses
, We Are Scientists
) and throwaway hipster cameos (Devendra Banhart
, John Cho, Seth Meyers), Nick & Nora's Infinite Playlist is like the boring teen who wears skinny jeans and listens to underground bands simply because they think that's what gets you cred.
Shallow, directionless and unconvincing, the film gets thinner the longer it drags out. And by sunrise, there's almost nothing there. Ironically, the names Nick and Nora are actually a nod to terrific '30s sleuth-comedy The Thin Man. That Nick and Nora are a wise-cracking couple who solve murders. Nick is an irritable alcoholic. Nora is a razor-tongued rich-girl. Sounds like a lot more fun, right?
Cue another irony: with Cera and Denning's characters both being tee-totallers, the funniest moments stumble into the movie via the one character who spends the entire time blind-drunk. Newcomer Ari Gaynor nails her support role as Nora's hopelessly hammered BFF: staggering, giggling, crying, verping… but never letting go of her favourite piece of gum. Even when it drops into the toilet she just vomited into. Mmm…
RATING: [rating stars="2″] Nothing is less cool than a movie that's desperately trying to be.
Read the original article at MSN Movies.