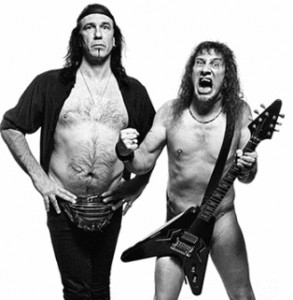 Dressed in S&M gear, playing a guitar with a sex-toy and driving a huge festival crowd wild with pure metal-rock. That was Anvil and frontman Steve 'Lips' Kudlow in the early '80s, practically inventing the metal scene that would take the decade by storm.
And then? Nothing…  As Metallica's Lars Ulrich and Guns N' Roses' Slash explain on longtime fan Sasha Gervasi's documentary, Anvil! The Story of Anvil
, the band's first album Metal On Metal
was ripped off by everyone on the scene. "You've gotta be at the right place at the right time," growls Motorhead's Lemmy. Anvil weren't. Somehow, fame and fortune just never happened.
Thing is, that didn't stop them. Lips and lifelong friend Robb Reiner (drums) simply kept on chasing the dream they'd had since they were 14 years old. Even in their 50s. Even while delivering frozen children's meals for a living.
This is the pumping heartbeat of Gervasi's painful, funny, inspiring doc – Lips and Reiners' refusal to give up despite the battering of poverty, passing years and crushing failures. Suddenly This Is Spinal Tap doesn't look so far-fetched – in some bizarre twist of cosmic coincidence, Anvil's drummer even shares his name with Spinal Tap's director.
Following the band as they leave their jobs and families for five weeks to embark on a disastrous European tour, Gervasi's doc makes Tap's ludicrous US adventures look like a success. The band turn up at 2,000 capacity venues and play to 174 bored-looking people. Flea-pit promoters attempt to pay them with goulash. They miss their trains and end up stuck in deepest, darkest Eastern Europe.
But Lips ragged battle to hold the band together through it all, Anvil! becomes an incredibly touching tale of true friendship. Footage of the frizzy-mopped singer's clinging on to his friendship with Reiner, who at one point is on the verge of walking out, is genuinely heartbreaking.
Even when failing miserably telemarketing job as he attempts to claw together the thousands of dollars they need to cut their 13th album This Is 13, Lips' seemingly limitless – and frankly insane – optimism makes him a fascinating character.
Once a 15-year-old roadie for the band's 1985 tour, Gervasi (who gratifyingly keeps himself off-screen) has a clear affection for his hapless subjects and refuses to mock them. There's nothing here that you haven't seen other rock docs and metal movies, from DiG! to Metallica: Some Kind Of Monster, but this tiny, loveable movie pulls extra emotion from its most unlikely happy ending.
Gervasi's doc has finally handed Anvil the success they've spent their lives believing in and proves bullet-proof passion can trump three decades of life's hard knocks.
RATING: ¬¬¬¬ A true underdog story that refuses to stop rocking. Funny, surprising, inspiring.
Read the original article at MSN Movies.