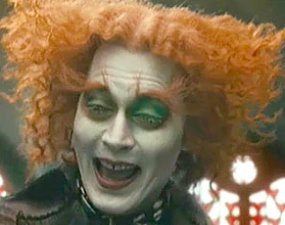 Grim, bilious and maddeningly unsurprising, Tim Burton's journey down the rabbit-hole Frankensteins together severed portions of two Alice books and Lewis Carroll's epic poem Jabberwocky but ends up missing… what? Its "muchness"? Dodging a corset and a snooty suitor in the tedious intro, Alice (Defiance starlet Mia Wasikowska) is now a 19-year-old runaway bride who grapples with her own bodily changes and ill-fitting clothes before donning a suit of armour, decapitating a dragon and drinking its blood. This isn't Uncle Walt's Wonderland, for sure.
Slyly renaming Wonderland as "Underland", veteran Disney scripter Linda Woolverton (Mulan, The Lion King, Beauty And The Beast) has tried to spin Carroll's tales into a metaphor-world of womanhood. Nice idea, except Burton doesn't seem interested in it at all. Underland's freaky inhabitants certainly think she's "the wrong Alice". Indeed, everything is here but nothing quite fits.
The Brit all-star cast is near perfect: Stephen Fry's unnerving Cheshire Cat and Timothy Spall's Bloodhound out-freak Matt Lucas' Tweedle-Dum/Dee, Alan Rickman's Blue Caterpillar and Christopher Lee's Jabberwocky. As this awkward reunion tumbles forward, they have little to do except chatter inanely about whether Alice has "lost her muchness" since her last visit. Curiouser and curiouser, it's Burton's film that seems to be lacking something.
Like the dreadful Clash Of The Titans, Alice In Wonderland was shot in 2D then stereoscoped in post-production for an 'Eat Me'-style box-office boost. As a cinematic event that went through the looking-glass, it didn't even attempt to reach out and touch James Cameron's Avatar or even Robert Zemeckis' A Christmas Carol. Small-screen shrinkage reveals just how oddly flat it is. Why? Alice's dreamworld isn't convincing because it isn't anchored to her psyche or Burton's.
Pimped out like a poisoned dandy (green mega-eyes, an orange shock-wig and indulgent riffle of accents), Johnny Depp's Mad Hatter feels much like Burton's movie: entertaining but forgettable. Both of them have done this kind of thing so many times – this is their seventh collaboration – that it's starting to feel derivative even when they do it themselves.
Luckily, this tale of girl-power gone mad finally takes some shape when Alice is sucked into a battle of two sisters: Helena Bonham Carter's Red Queen (barbaric, bobble-headed) and Anne Hathaway's White Queen (whose deathly skin and black lipstick make her almost as frightening). Perhaps channelling Miranda Richardson's petulent Elizabeth I in Blackadder II, Bonham Carter almost storms away with the entire film.
Unlike Depp's Hatter, her jealous uber-bitch is a uniquely freaky creation that lodges in your mind like a tumour. She's witty, perverse and hugely funny, whether demanding decapitations ("How would you like your head hacked off?") or fresh squealers ("I love a warm pig belly for my aching feet"). Her bulbous head, Depp's saucer eyes and Crispin Glover's spidery limbs are some of the few touches that sync clearly with Burton's true inner-oddball – he's been sketching characters this way since his teens.
But as soon as Bonham Carter stomps off-screen, Alice In Wonderland is left with its garish surfaces and empty quirks. Surrounded by so many busy nightmare-nothings, there's little that Wasikowska can do to add a sense of wonder (sorry, under). By the time a shonky CG battle climax and Avril Lavigne's ear-stabbing theme song arrive, her director simply seems to be cranking the handle and waiting for the credits. Not bad, just frustratingly impersonal. How long has it been now since a Burton film carried a beating heart in its gaudily smocked chest?
RATING: [rating stars="2″]