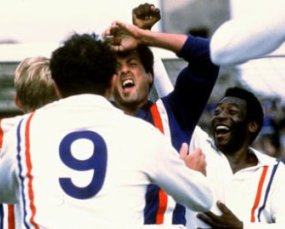 You might have heard about it already, but there's some sort of international football tournament being played in South Africa this month. To celebrate England's impending victory in the World Cup, we could have given you a list of the greatest football movies ever. But we're better than that. So here, lacing up their boots in dreamland, are the movie characters who'd make our starting eleven.
1. GOALKEEPER: Elastigirl (Holly Hunter, The Incredibles)
Despite Uma Thurman's giant hands pushing hard for a start between the sticks, The Incredibles' Elastigirl grabs the yellow jersey thanks to her superhuman extendable reach. No ball escapes her outstretched fingertips – she can claim corners without even jumping.
2. RIGHTBACK: Rocky Balboa (Sly Stallone, Rocky)
Anyone who's seen Rocky in action knows he just can't get out of the way of opponents' shots. Not only is Rocky a born shot-blocker, he's strong as an ox and not afraid to keep moving forward (out of defence) right to the final bell/whistle.
3. LEFTBACK: Mitch McDeere (Tom Cruise, The Firm)
Having once trained in law, Mitch is great in defence. While keeping things tight at the back, he's got the youth and ambition to go on a run when the team's under pressure. A real player, this boy.
4. SWEEPER: Bert (Dick Van Dyke, Mary Poppins)
A jack-of-all-trades who came from the street, this mockney utility player is the best sweeper in the game. Just take a look at that footwork: he dances effortlessly out of defence with the ball. Some call Bert a dirty player – in truth, he does needs a bath. Luckily, his WAG is a nanny.
5. CENTREBACK: Hulk (Edward Norton, The Incredible Hulk)
Try getting past this smashing defender. Named after Brazil's imposing striker, Hulk looms in the centre of the back four with his incredible size and strength. Disciplinary record is appalling, unfortunately. He'll always see red.
6. HOLDING MIDFIELDER: T-800 (Arnold Schwarzenegger, The Terminator)
Always scanning the pitch, he's the team's engine in the middle of the park and a real machine. He can't be bargained, can't be reasoned with, he doesn't feel pity or remorse, and he absolutely will not stop, ever, until you are fed with the ball.
7. RIGHT WINGER: Robin Hood (Brian Bedford, Walt Disney's Robin Hood)
The quintessential swashbuckling winger and a real fox in the box. Stealing in around the back to pick defender's pockets with arrowing runs, this energetic, agile marauder is also a deadly marksmen. If you're caught in possession, he's never afraid to shoot from distance.
8. ATTACKING MIDFIELDER: Tony Manero (John Travolta, Saturday Night Fever)
Always living for the weekend, Manero comes alive on the pitch, unleashing the kind of breathtaking footwork that has the crowd chanting his name. His silky moves and ladykiller looks make him the Cristiano Ronaldo of Hollywood. When he's on the ball, you can't look the other way.
9. STRIKER: Neo (Keanu Reeves, The Matrix)
He is the nine. An unparalleled ability the read the game, great at striking with both feet, can shoot from any angle and he's good in the air too. Neo's incredible reactions often makes opponents look like they're playing in slow-motion.
10. CENTRE FORWARD: James Bond (Daniel Craig, Casino Royale)
A hitman who always scores. Physical but cultured, Bond is the result of a government training program that's developed him into a ruthless finisher. Shoots on sight and, after learning a hard lesson early in his career, never lets his emotions get the better of him.
11. LEFT WINGER: John Reed (Warren Beatty, Reds)
They don't come more left wing than Reedy, the radical journalist who tried to bring the Communist Revolution to the US and the only American to be buried next to the Kremlin wall. Always looking for freedom out on the left and a true team player.
MANAGER: John Keating (Robin Williams, Dead Poets Society)
Father figure and master motivational speaker, Keating inspires his boys to suck the marrow out of every match with the help of Assistant Manager Walt Whitman. Treating football as a game of life, he's affectionately (and somewhat confusingly, in footy terms) referred to as "Captain" by the team. Carpe Diem!
Publication: MSN Movies