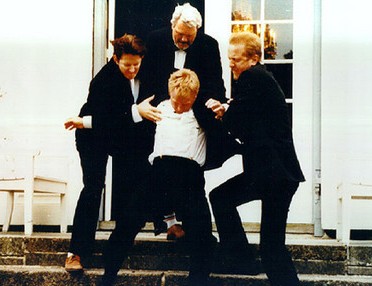 Goodbye cake and balloons. Hello suicide and paedogeddon. Probably the worst birthday party of the 20th century, Danish bad-boy Thomas Vinterberg's riveting family-meltdown drama is also the first, truest and best Dogma 95 film ever made.
Exploding inside a country inn, it sees various spouses, relations and friends gathered to celebrate patriarch Helge's 60th. But the veneer of civility shatters like glass as the families deepest, darkest secrets spew out onto the table. Chekhov, Ibsen and Bergman would have eaten it up.
But as good as the tale is, the hook is Vinterberg's telling of it. Shooting crazy angles on the tiniest hand-held digital camera available and jump-cutting furiously, Vinterberg marshals the drinking, shouting, crying and sex with breathtaking assurance. Amped by gripping performances and a streak of bitter farce, his grainy storytelling mutates with thrilling agility for the most catastrophic home-movie imaginable. Fresh, surprising, risky as hell and – above of all – incredibly watchable.
Cast and crew look back on the making of the film in Festen In Retrospective, a great doc that avoids overlap with talking-heads featurette The Making Of Festen and fails completely to disguise the fact Vinterberg's Region One commentary is AWOL. Gone too are the deleted scenes, but at least there's the 10-minute Disclosure Of Festen nugget from the director, in which he explains the fascinating 'true' story behind the film. "I actually wrote Festen based on a radio programme," begins Vinterberg. "It's a bloody good story…" And so it is.
RATING: [rating stars="4″]
EXTRAS: [rating stars="2″]