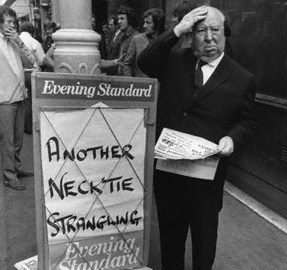 Alfred Hitchcock should have been selling cabbages. But no. At just 27, the greengrocer's son was already Britain's finest director. Wedged between his breakthrough box-office smash The Lodger (1926) and the mould-setting late-'30s trio of The Man Who Knew Too Much, The 39 Steps and The Lady Vanishes, this fascinating nine-disc snapshot
of his Brit period tracks a genius in genesis.
Masterpieces? Barely. But massively influential – for Hitch and for cinema itself. Film was an infant art-form in Britain when Hitchcock made The Ring (1927), a love triangle between two boxers and a beautiful ticket-seller. The only Hitchcock movie written solely by the director from his own original idea, it sees Hitch test-driving the stylish visual storytelling he'd learnt first-hand from German master FW Murnau. He called Murnau's razzle-dazzle drama The Last Laugh "pure cinema". Flimsy comedy Champagne (1928), unfortunately, was "the lowest ebb of my output". And as Hitchcockian New Waver Claude Chabrol helpfully notes on the boxset's 52-minute documentary, The Farmer's Wife (1928) is also "not very good".
Along with Chabrol's insights, the doc boasts audio recordings of Hitchcock's conversations with Cahier fanboy Francois Truffaut and there are thoughtful intros on each disc. Better still, the DVD also includes a delicious piece of footage shows a smitten Hitch (with hair!) saucily screen-testing a pretty young actress. "Stand in your place or it won't come out right," he smiles. "As the girl said to the soldier…"
Thanks to Anny Ondra, Hitch's first blonde bombshell, the fat man was starting to find his mojo. Cue love-triangle The Manxman (1929), a silent triumph to sit beside The Lodger, and Blackmail (1929), one of the most groundbreaking thrillers in Brit cinema history. "There was one thing missing from the silent pictures," said Hitch, thoughtfully. "And that was sound." Sex and violence hit boiling point in Blackmail, as Hitchcock seizes the new sonic medium with startling virtuosity. Sound becomes psychology: at one point Hitch's distorted audio-track rattles the word "Knife!" in the murderer's tormented mind. Promoted as Britain's first full-length talkie, this giddy thriller of rape, murder, secrets, suspicion and love climaxes in a helter-skelter chase through the British Museum – Hitch's first use of a famous landmark.
His experimentation continued with Murder! (1930): a three-minute take, overlapping dialogue and more inventive use of music (at one point, hiding a 30-piece orchestra behind a bathroom wall). Murder!'s transvestite trapeze artist Handel Fane also debuts a Hitch's run of sexually ambiguous villains – and their thrillingly nasty ends. What Ondra was to Grace Kelly and Tippi Hepren, Fane was to Bruno Granger and Norman Bates.
Two terrific films, then, but his Brit CV (and this boxset) keeps producing duffers. "I didn't make it by choice," Hitchcock told Truffaut of The Skin Game (1931), "and there isn't much to be said about it." Nor is there much to say about Number 17 (1932), Hitch's "quota quickie" whose spaghetti plotline (hobo discovers corpse in abandoned house) twists around an early MacGuffin (a stolen necklace). Hitch's formidable wife Alma Reville helped ink the screenplay, which evolved through late-night writing sessions juiced by Hitch's favourite cocktail: the White Lady (gin, egg whites, light cream, superfine sugar).
Marrying him in the same year he made The Lodger, Alma worked (often uncredited) with Hitch on every one of his films. His early work is filled with scantily clad dancing girls, yet his marriage to Alma Reville was an unashamedly sterile one. Gay actor/screenwriter Rodney Ackland claims Hitch once declared, "You know, if I hadn't met Alma at the right time, I could have become a poof."
But without Alma, there would be no Hitchcock. And the boxset ends on their most intriguing early collaboration. Rich And Strange (1932), about a childless couple frolicking on a cruise-liner, wriggles with another classic Hitchcockian trait: ludic humour masking grave tragedy. "It's very rich," chuckles Chabrol. "And very strange…"
FILMS: [rating stars="3″]
EXTRAS: [rating stars="3″]
Read the original article at Total Film.