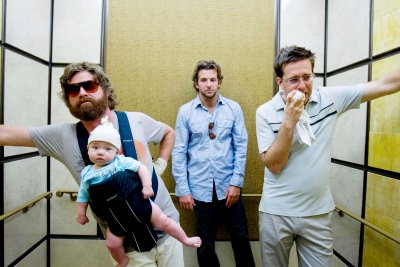 It's like Memento. Only drunk. In Vegas. On a stag-do. Three men wake up in a ransacked hotel suite. One of them is naked from the waist down. One of them is missing a tooth. One of them is wearing a hospital bracelet. None of them can remember what the hell happened. Apart from the fact there were four of them the night before. Dude, where's my groom?
We forgot to mention there's a tiger locked in the bathroom. There's more, too. Much more. Old School director Todd Phillips borrows a trick from film noir by twisting the buddy comedy into a race-against-the-clock mystery, as the guys follow their insane clues backwards to figure out what actually happened in Vegas and find bridegroom (Justin Bartha) in time for his wedding.
It's the movie that happens after the movie. And even before Mike Tyson starts singing a Phil Collins song (really) or one of them gets tasered in the face by a fat kid (really), The Hangover is crude, anarchic and very funny indeed.
After directing Road Trip, Old School and Starsky & Hutch – not to mention bagging an Oscar nom for co-writing Borat – Phillips continues as the master of the man-child: his movies dig into the theme of grown men who just don't want to grow up. Cleverly, these flabby, uncool thirtysomethings all undercut their clichéd movie-roles. Bradley Cooper is the smartass jock who runs out of answers. Stu (Ed Helms) is the nerdy dentist who becomes a ladies' man.
And Zach Galifianakis is the bride's fat, mentally dented brother who… Well, he might be some kind of genius. Stealing the entire movie wandering around with a abandoned baby strapped to his chest, Galifianakas himself makes like some giant, bearded infant. A hilarious mix of innocence and hedonism, he's a Vegas Gremlin. Don't let him drink. Don't let him gamble. Oh, and don't let him teach the baby how to do that…
Of course, they do. But as good as it is for the first hour, The Hangover steadily – and inevitably – runs out of ideas as the guys fill in the blanks one by one. Phillips' trademarks are all there: upsetting shots of men's naked buttocks, sweary wedding-singer Dan Finnerty and some less-than-generous roles for the women. As ever, they're either the lovely bride (Sasha Barrese), the ball-breaking power-bitch (Rachel Harris) or the happy hooker (Heather Graham).
But Phillips is just trying to be honest. That's why his movies work. This is a man's world – it's about drinking, swearing, being an idiot and not talking about your feelings or what happened last night. Especially when it involved Jagermeister, Rohypnol and a chicken.
VERDICT: [rating stars="3″]
Another smart, funny man-child comedy from Todd Phillips. and packing a genius turn from Zach Galifianakas. Remember the name. Learn how to pronounce it.
Read the original article at MSN Movies.