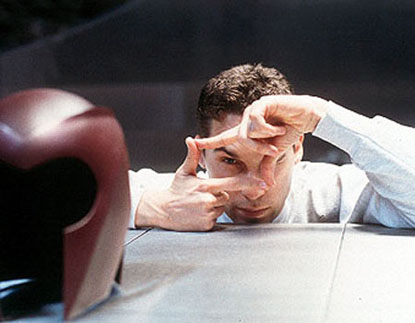 Someone broke Bryan Singer's heart. He was 16, just a boy from New Jersey. They were much older, from way out of town. He still hasn't recovered. He still hasn't forgotten. "Maybe because I was an only child and I was always looking for that kind of thing," he remembers. "I was completely blown away by ET
. Absolute genius…"
Aliens and alienation, movies and misfits, it was a love affair that lasted. But Singer didn't read comic-books. Definitely not X-Men comics. With high-school friend and screenwriter Christopher McQuarrie, he immediately emerged as a striking new director of dark, adult thrillers. His dark debut Public Access won the Grand Jury Prize at Sundance. His follow-up The Usual Suspects
won two Oscars and instant cult-classic status.
So, in some ways, it isn't hard to believe he initially turned down the movie that would define his career so far. "Absolutely," he agrees. "But I'm eternally intertwined with X-Men
now. What takes an audience four hours to watch the first two X-Men movies took six years of my life. And so to not be part of it…" He fades off. "It's a shame."
Most fans would agree. Back in 2000, Singer's X-Men cut a new template for superhero movies and mutated into Hollywood's longest running modern comic-book franchise. Singer even broke the sequel curse by deepened X2 into an even more textured, emotional triumph. But during jagged negotiations over X-Men: The Last Stand, Singer left to rejuvenate Superman Returns
, leaving Rush Hour
director Brett Ratner to churn out a very Hollywood X-threequel: noisier, clunkier and less heartfelt.
You can't help wondering if Singer sat there watching X3 wishing he could have directed it himself. "Before I was watching it, during watching it, after watching it," he admits freely. "It's weird for me to watch it, because I'm close to that universe. You know, and also Brett is a good friend of mine. But of course, I would love to return to that universe."
Of course, there's still time. When we spoke, Singer hadn't catch an early screening of Wolverine ("I made the choice to wait till it's finished!") but Magneto is next on the Origins conveyor-belt. Tempting? "Um, possibly," he says, tentatively. "The only thing that concerns me about Magneto is that if the prequel were to follow the track that I used in X-Men, which is Magneto's history in the concentration camp, I've lived in that universe. Apt Pupil, the sequence in X-Men and now Valkyrie
, I've lived in that Nazi universe for quite a while!" Which surely means he's the guy… "I know!" laughs Singer. "I might need to take a little break before I do something like that."
That "little break" was supposed to be a tight, true-life drama about a man who tried to kill Hitler. No groundbreaking special-effects. No $200 budget. No one wearing their pants outside their trousers. "Chris McQuarrie and I always imagined Valkyrie would be a pretty small film," smiles Singer. Only there's no such thing as a small Tom Cruise movie. "This was kind of a running joke. Tom always says, 'How did you expect to make it small?'"
Controversy and Cruise-power helped Valkyrie storm to a $200 million box-office haul, but many critics attacked the film's attention to history as snoozy slavishness. Unhurried, serious and tensely underplayed, it was perhaps not the thriller many had hoped for from the Usual Suspects dream-team. "You have to realise I don't really read my reviews so I'm the last person to ask about that," says Singer. "Valkyrie was actually little closer to an X-Men film than anything else. It was an ensemble cast, there were characters you had to respect and represent accurately. You know, it was the first time I've made a film about real people who really existed."
But this is what make Singer's movies kick: people. He's something special, an actor's director disguised as a blockbuster maestro. He's drawn Oscar-winning performances from classy thesps (Kevin Spacey in The Usual Suspects), turned unknown character actors into iconic superstars (Hugh Jackman in X-Men) and moulded rookie TV actors into blockbuster heroes (Brandon Routh in Superman Returns).
Few remember that Singer almost directed Confessions Of A Dangerous Mind
with Johnny Depp. Or that he directed the pilot for US TV's hit medical-drama House
. Or that an exhausted Peter Jackson asked him fly to New Zealand to direct the final few shots of King Kong
.
"It's about whatever speaks to me," he explains. "It doesn't matter whether it's a big sci-fi fantasy or a medical drama. There's something about House that I understand, something about Wolverine that I understand, something about Superman that I understand, something about von Stauffenberg that I understand. These characters all have issues with their identity. They're all swimming up-stream. The world is very often against them. And their modus operandi is always unconventional."
Claims that Singer craves a return to his roots miss the point. Every movie has been personal. Every movie has been about characters who've lost their roots. Not least Superman, whose tale of a lost orphan chimed with the director just as ET had so many years ago. With Valkyrie finally finished, Singer was meant to jump directly on to his eagerly awaited Supes sequel. The story was locked down. Filming was slated to start in 2008. Singer was raring to "go all Wrath Of Khan
on it". Then… nothing.
Ask Singer what's happening and you won't get far. "I don't know, I don't know…" he says, haltingly. "There's a film I may do in January." That must be Prisoners. The kidnap thriller starring Christian Bale and Mark Wahlberg as men who find themselves tailspinning into things they never thought they'd be capable of. "Well, I don't talk about it because it's just all 'may'. It's something I could possibly do. Then there's something else in the sci-fi fantasy realm that might be on the other side of that. Which I can't talk about."
Which is fair enough. So what is the deal with the Superman sequel? "I don't know…" he repeats. Long, painful pause. "There are still issues… I just… I just don't know. I don't necessarily… I don't know. It's one of those things where… It's so weird talking about stuff unless I'm about to ramp up and shoot it. But theoretically, I will do this other film. It's been talked about. It's a film with Mark Wahlberg called Prisoners." With Christian Bale? "Well… Not yet. Because there's another film that Christian Bale and Wahlberg may be doing which is called The Fighter."
Sounds exciting. Because Prisoners could be Singer's most personal movie yet. "Um, yeah, yeah… Ahhh… I've not spoken about this yet…" Singer take another agonising pause, as if wrestling with something extremely awkward. "We're talking about a movie that I'm not even making yet!" he exclaims. "The main character…" Singer stops again. "I haven't even talked about this…" Finally: "That movie is about something VERY important to me. Which is human potential under adversity – and not always the good part of human potential. The corrupt part. Fear. Unusual pressures. Threat. But we'll see what's going to happen…"
Publication: Total Film