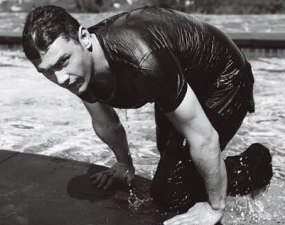 It was like capturing a picture of the Yeti or the end of a rainbow. But in the middle of a lecture at Columbia university in March 2009, one student with a camera-phone finally snapped it: James Franco asleep. Head hung back on his shoulders. Jaw gently unlatched. Hands folded over his notebook.
So this dynamo actor/student/artist/writer/model/ joker was human, after all. But Franco wasn't sleeping. He was busy. Busy answering the question, the same question he would keep asking Danny Boyle. Trapped down a hole, unable to move, 12 hours a day, six days a week, for five weeks, James Franco would often turn to his director and declare: "What do you want from Franco?" That was the question.
Oscar-tilting survival drama 127 Hours might have been the story of climber Aaron Ralston, but it was also Franco's story. You could tell he loved the metaphorical kick – he'd been here before. Wedged, frustrated and stuck with the only question that mattered. What did they want from Franco? No, what did he want from Franco?
And which Franco? Blockbuster Star Franco, jetting around on a hoverboard dressed as a goblin in the box-office-smashing Spider-Man trilogy. Student Franco, taking planes from movie sets to study (and snooze) through postgrad university seminars and poetry classes. Experimental Franco, guest-starring in TV series General Hospital as a performance artist named Franco. Performance Artist Franco, creating poetry, paintings and video installations in which he wanders around Paris with a prosthetic penis on his nose. Viral Comedian Franco, recording self-mocking acting-lessons with his kid brother for Judd Apatow's FunnyOrDie.com.
"Sorry, I'm just going to relax a little bit," he says, with a chuckle. "I'm just a little tired. I just flew in this morning. Anyway…" Reclining back on a sofa in a baggy knit, check shirt, jeans and beaten-up trainers, James Franco is thinking about it. We're in a room in London's Soho hotel, it's lunch time, but Franco's just sipping from a glass of coke. For a man with a hyperbolic life-pace, Franco really likes pauses. For a second, you wonder if he's learned to sleep with his eyes open. Then he grins. It's a big grin. Big, lopsided, squinty and irresistibly knowing. It won Franco "Student with the best smile" back at high school and at 32 years old, crinkling his handsome face gently at the edges, it's like an invitation and a dare.
If the pauses hold you off, the grin pulls you in. Like all real movie stars, Franco can keep you simultaneously close and at a distance. There's a lot going on. He rubs chin. He pauses. He sighs. He says, "Hmmmm." He laughs, often to himself. But if you feel it's a private joke, Franco wants you to be in on it. "So I realised…" he begins, finally sitting up. "My role as an actor is frankly limited. I'm one piece in a larger puzzle."
And to think, right at the start, it all looked so simple. Ditching school to start acting lessons, Franco won a breakout role in Judd Apatow's cult TV series Freaks And Geeks alongside future star Seth Rogen. One year later, he won a Golden Globe for a remarkable impersonation of James Dean in a made-for-TV-biopic, taking up smoking and shutting himself off ("I got it into my head that I needed to be isolated and so told my girlfriend at the time that I wouldn't be talking to her for four months," he recalled. "It did not go down well."). Next year, Hollywood came calling. After losing the lead to Tobey Maguire, Franco signed on as Spider-Man's rival Harry Osborne in the Spider-Man blockbuster trilogy. When Robert De Niro cast him as his on-screen son in City By The Sea, Franco was being touted as the intense young heir to the Method master's throne. And sure, he bought it. "I try and emulate that," he said earnestly at the time. "I will try to bring as much of myself into these roles because I think it gives it a more genuine feel, that's what people are into."
The problem was, they weren't. In the rear-view mirror, Franco's career arc shares a fascinating symmetry with that of Hollywood's other handsome boy-king brooder Heath Ledger. Both played teen idols, knights in armour, junkies, supervillains. But where the doomed Australian was going stratospheric, Franco seemed to be disappearing into the void. While Ledger was winning an Oscar nomination for Brokeback Mountain, Franco was killing himself for films that nobody liked.
He earned a pilot's license for his role in feeble WWII drama Flyboys (he didn't get to fly in the film) and spent eight months learning dangerous horse-riding stunts for medieval flop Tristan & Isolde (his big battle scene was cut). When De Niro cast him as a drug-addict, he hung out with users and sleeping rough ("I gave myself no money, so I had to beg," he told one interviewer. "I made signs on the freeway , I met up with some people who showed me how to sleep with cardboard boxes.").
There was, of course, a problem: Franco Worse of all, he didn't like them. But he took them seriously. Very seriously. Too seriously. "Oh, I did…" he says, raising his eyebrows dramatically. "I did take myself too seriously before. And I shouldn't have." He smiles, squinting sideways. "I hadn't done anything that merited that seriousness! You could look at it from the outside and say, 'Well, comparatively everything is going great,'" says Franco. "But I couldn't deny that I was just really unhappy." He sighs. "It was a lot of things. I was making films that I worked hard at but I didn't believe in. And I had other interests that I wasn't giving time to. I was driving myself crazy."
Intentions, intention, in tension. Franco was spinning his wheels in the mud and, to his credit, he knew it. So to the bafflement of everyone in Hollywood, he took a pause, one of those long ones, and then made some changes. "I realised, I had to kinda let go…"
Re-enrolling at UCLA almost a decade after he'd dropped out to become an actor aged 19, Franco studied literature and creative writing. He completed the three-year course in two years. "I was almost 10 years older than the other students," he says. "And I knew that it gonna be a little weird, but I just bit the bullet. In turns out it wasn't too late. Actually, it was the perfect time." From there, the "projects" never stopped. Moving to New York to simultaneously take more post-graduate courses (writing, filmmaking, fiction writing), the Gucci campaigns, the art installations. the painting, the poetry. "But I always had these interests," explains Franco, cracking out the grin. "I had just always done them on my own. I wanted to go to art school and my parents wouldn't let me apply. By doing what seems to be expanding my interests, it's really just taking my interests that I've had all along more seriously. In my life, I do a lot because I have a lot that I'm interested in." Until that photo at Columbia went viral, rumours began churning that Franco never slept.
In reality, he'd just woken up. The energy that he'd poured into pointless films, Franco now poured into things he cared about. And with gratifying irony, the moment he stopped trying to create a great acting career, Franco got one. Seemingly cruising as a dreamy pot-smoker, he effortlessly stole stoner-bromance Pineapple Express from co-star Seth Rogen. Then he beautifully underplayed a touching mini-role as a soldier in Paul Haggis' bracing Iraq war drama In The Valley Of Elah before casually pulling a revelatory performance in Gus Van Sant's biopic Milk, going lip-to-lip with Sean Penn and reminding everyone something they'd long forgotten. This boy could really act. But the bemusement of his co-stars, he never stopped studying: Shakespeare, Milton and Chaucer on the set of Spider-Man 3, 16th-century Jacobean drama during Pineapple Express and Thomas Pynchon on the set of Milk. "We used to laugh because in between takes he'd be reading The Iliad on set," joked Pinepple Express producer Judd Apatow. "We still haven't read The Iliad. It was a very difficult book…"
"When I first went back to university, nobody understood," says Franco, cranking his eyebrows again. "People would literally say, 'Well, do you want to be a movie star or a student?' But I suddenly started getting opportunities to work with my favourite directors. And it's not coincidental, because I think a lot of that came out of core changes I made in my life." There's the grin again. He leans forward. "And actually, you know what? That's a little advice that Barack Obama gave me." True story? "True story. I asked him, 'What do you do when you get all this criticism?' And he said, 'Humour. Basically, humour.' And that's how you get through these situations."
Take Eat Pray Love, not Joyce or Dostoevsky but a travel-porn fantasy for middle-aged women in which Franco plays a dilettante actor. (You can imagine his delight). "You know, Eat Pray Love, not the story I've been dying to tell my whole life," he grins, leaning forward conspiratorially. "But it was only a week out of my life. I'm not gonna say, 'Well, Eat Pray Love is silly, I'm not gonna tell that story…' I sign on and I get my experience with Julia Roberts." Five years ago, Franco would have read Eat Pray Love, twice, then gone on a pilgrimage to Bali.
Take Franco's role as the face of Gucci, He was immaculate and beautiful, throwing slo-mo noir glances in the ad campaign for Gucci's first men's fragrance Gucci by Gucci Pour Homme. Then, just in case anyone thought he was taking it seriously, he recorded a four-minute spoof-skit of his attempts to film voiceovers of the commercials. Possibly not exactly what Gucci's creative director Frida Giannini meant when he talked about Franco's "nonchalance" and "unforced appeal".
But when Franco returned, muscular and wet-through in a black v-neck, for the brand's Gucci Sport Pour Homme fragrance, his looks proved essentially too good to puncture with parody. Clean-cut, sporty, stubble-rugged. Franco just works. And three years ago, science proved it. A picture of the actor was fed into the "beautification engine" of a new computer program that used an algorithm to take one photo and digitally alter it into a more traditionally attractive face. The 'before' and 'after' shots of Franco were identical. Basically, he was born perfect.
The DNA of Franco's beauty is a Portuguese-Swedish father (shipping-container company owner) who wanted his son to pursue mathematics and a Russian-Jewish mother (poet, author, editor) who fuelled his love of art. Neither of his parents, who met each other at Stanford University, wanted him to drop out of UCLA in his freshman year to pursue an acting career. Despite the Jimmy Dean looks, Franco will claim to being a shy teenager unable to notch up girlfriends ("Sure, girls told me I was cute or whatever, but I was so shy I could never really make anything happen or cash in").
Not that you'll ever hear him talk about his private life. After dating co-star Marla Sokoloff at the start of his career, he's been in a oh-so-quiet relationship with actress Ahna O'Reilly since 2006. It infuriates the tabloid media, who've attempted to link him to everyone from Sienna Miller to Agyness Deyn. When they're not trying to out him, that is. "There are lots of other reasons to be interested in gay characters than wanting myself to go out and have sex with guys," said Franco during an interview with Entertainment Weekly. "Part of what I'm interested in is how these people who were living anti-normative lifestyles contended with opposition." Franco, being Franco, couldn't leave without a satirical kiss-off: "Or, you know what? Maybe I'm just gay."
It was bromantic comedy Pineapple Express that led director Danny Boyle to cast Franco in 127 Hours, a one-man blockbuster stage play in the mountains. Now, suddenly, he's is everywhere. He's playing Allen Ginsberg in Beat biopic Howl, resparking his comedy cool in the Pineapple Express team's medieval romp Your Highness, then heading back to Hollywood to star in the Planet Of The Apes prequel. After hosting the Oscars with Anne Hathaway – a night when nerves defeated him and he retreated behind his looks – he's now working on not one directorial debut but three: adaps of William Faulkner's As I Lay Dying, Cormac McCarthy's Blood Meridian and a biopic of serial-killer Richard Ramirez.
Franco is burning, awake and, best of all, free. He's out of the hole and running. "I don't necessarily need to the best, whatever that means," he shrugs. "But I don't want to just dabble. I want to engage. To me, that is inspiring. And I guess what I'm saying is: getting inspired is the best you can ask for and working hard. Those are the things you can control."
In tension, intention, intentions. "I feel like… Um." He sighs, surely more punctuation than fatigue. "It's hard for me, and I think this is just part of my personality, it's hard for me to have just 'hobbies'." He thinks again. Another… long… pause… "I'd say I have a couple of hobbies," he offers. "You know, playing ping pong. When I play ping pong, I don't have the need to go to the Olympics." He says that now. Just don't rule it out.
Publication: GQ Style