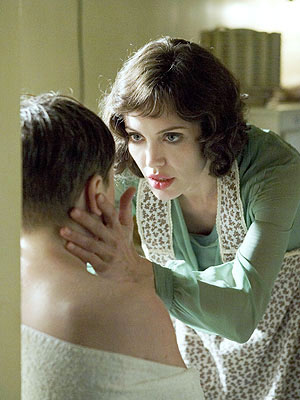 Kidnap, murder, madness, corruption and another missing child… Changeling
's true-story of '20s single-mum Christine Collins is so good/shocking that if it hadn't actually happened, some smart screenwriter would have dreamed it anyway.
Christine's ordinary neighbourhood life is shattered when her 10-year-old son Walter (Gattlin Griffith) suddenly vanishes from the house. Gone. Five months pass. The Police inform Christine that they've found Walter. The media gather, flash-bulbs popping, and the boy steps off the train to be reunited with his mother. Except: Christine knows that this is not her son.
Behind the camera for the 28th time,  Clint Eastwood unfolds this riveting setup with real assurance, with DoP Tom Stern faultlessly recreating period LA with composed beauty and Angelina Jolie heating up a superb lead performance. But from here, as Changeling starts spreading into deeper, denser, darker territory, the drama starts to thin out and clichés grow like mould on old bread.
Refusing to accept Jolie's claims, despite overwhelming physical evidence, the police chief throws her in the psychiatric ward. Enter John Malkovich as a QUITE SHOUTY radio-evangelist crusader who goes on a mission to expose the corrupt LAPD, save Jolie, find her kid and uncover the horrific truth at the heart of Changeling's mystery: the infamous 'Wineville Chicken Murders'.
Despite Jolie's powerfully committed performance, despite the scope and subtlety of Babylon 5 creator J Michael Straczynski's screenplay, Clint just can't help tilting into melodrama – whether holding up his swelling score like an emotional cue-card, or holding the camera on Jolie's aching face just a few seconds too long each time.
Don't get us wrong: it's a perfectly watchable mystery-drama. But it could and should have been more: a gripping epic that evolves into a damning indictment of corruption and bureaucracy in late'20s LA (read: America in general). Instead, it's been sandbagged by glossy clichés at every turn and populated by characters instead of people. It might have been an LA story to sit with Chinatown or LA Confidential. Instead, it's been pulped into pure Hollywood product. It's the kind of movie Ron Howard would have made. And, oh look: there's Howard and Brian Grazer in the credits as producers.
Along with terrific support performances (look out for Gone Baby Gone's Amy Ryan), Jolie's powerfully committed central turn anchors the movie. But even she can't beat the teeth-grinding final scene. "I do have one thing," glows Christine, bravely. "What's that?" asks the generic cop. "Hope," she smiles, before walking away across the street as the camera pans high above her. Taxi! Jonathan Crocker
Anticipation. Clint directs Angie in a true-life murder mystery. [rating stars="4″]
Enjoyment. Um… All very nice. But why are we feeling nothing? [rating stars="3″]
In Retrospect. Too glossy, too cliched, too bad. [rating stars="2″]
Read the original article at Little White Lies.