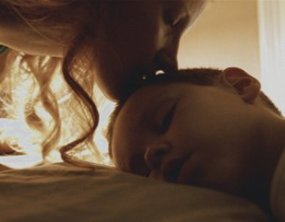 Two things before we start on Terrence Malick's philosophical, spiritual, experimental, transcendent, cosmic odyssey. One: it's shorter than Transformers 3. Two: it has dinosaurs in it. But really, where on earth do we start? Not on Earth. Not at the start. Further back. In The Beginning…
Over four films in as many decades, near-mystical US director Malick has conjured huge arthouse-blockbuster tone-poems about seismic periods of human existence like the Great Depression (Days Of Heaven, starring Richard Gere), World War Two (The Thin Red Line, starring everyone) and the discovery of America (The New World, starring Colin Farrell and Christian Bale).
The Tree Of Life makes them look like crayon scribbles on the back of a napkin.
A philosophy lecturer turned visionary filmmaker, Malick has finally gone for the big one, unpacking his massive butterfly net and setting out on a quest to capture the existence of God in Nature, the meaning of human life and the mysteries of the universe. Whoa.
In terms of crazy ambition, there's nothing like it. Right from the start, Malick stretches out his arms and attempts to pull together the awesome and the intimate. But at first, it seems like business as usual: some lovely, drifting shots of a beautiful woman (Jessica Chastain) receiving a telegram telling her that one of her sons has died. She asks, "Why?" and Malick's mission begins. He hits the warp button, beaming us into the cosmos and back to the dawn of Creation itself. We just lost cabin pressure…
Wondrous, mindblowing images immerse us for the best part of an astonishing opening hour. We see the universe being born. Heavenly Hubble-visions of distant galaxies. Gases, light, matter. Cells splitting. Volcanoes splurging. Jellyfish drifting. Dinosaurs. Yes, dinosaurs! Asteroids crashing. An embryo's eye. A child being birthed.
Like we said: whoa. Created with the help of 2001: A Space Odyssey's special-effects legend Douglas Trumbull, it might be the most audacious sequence of cinema since Kubrick's jump-cutting giant leap from the rise of the apes to the 21st century. And to be honest, The Tree Of Life never quite touches those heights again.
Malick's Genesis ends in the Eden of '50s Texas, in the town where he grew up, and where strict father Brad Pitt and angelic mother Jessica Chastain raise their three boys. This is where The Tree Of Life lays roots, as Children Of Men cinematographer Emmanuel Lubezki watches Pitt and Chastain's young son Jack (Hunter McCracken) coming of age in a series of drifting life-fragments. Very little happens, but the 67-year-old auteur's touch for evoking the strange, magical, half-forgotten, half-understood sensations of childhood is extraordinary.
Drenched in grandiose classic music, Chastain wanders around looking at trees while Malick tries to make her look like a living angel (she even dances on air at one point) and gives her murmuring lines like, "In what shape did you come to us? What disguise? What are we to you?" Meanwhile, Brad Pitt scowls imperiously and the kids scamper around.
The Tree Of Life is beautiful. Ridiculously, rapturously beautiful. You could press 'pause' at any point and hang it on your wall. But you soon get the feeling that Malick could have made his film 30 minutes shorter or 30 hours longer and it would have made no difference.
His goal here is to connect the tensions within this little family (Pitt's stern Nature versus Chastain's loving Grace) with the giant forces of the universe. Oh, this isn't us being clever. Malick tells us exactly this in one of the hushed voiceovers that float over what we're seeing. There's no story, no dialogue, no direction home.
Weighed down by its own ambitions, The Tree Of Life feels more solemn and vague the longer it goes on. We're regularly teleported to the 21st century – for the first time in Malick's career – where grown-up Jack is now Sean Penn, looking angsty, wandering around, not saying much, and staring at rocks.
Even if much of the movie does take place in Jack's mind, it doesn't really come together. However gorgeous it is, you're often left waiting for attention-grabbing scenes (a toddler staring at a baby, kids tying a frog to a rocket) that don't arrive often enough. You'll feel amazed, confused, preached to, ignored, lost, found… and still Malick's camera keeps searching.
And then it ends. But not before a fumbled finale in which everyone from Jack's past steps out of time to hug each other on a beach like some sort of Thomson's holiday advert.
But if Malick (and the small army of four editors who worked in the cutting room on 600,000 metres of film for three years) never wins his struggle with the film's impossible ambitions, maybe that's half the point. Much of The Tree Of Life's beauty is in its yearning and wonder. It's a magnificent grasping stretch – across space and time – to touch something that will always just out of our reach. However close it gets, it's a captivating experience. And, you know, makes a whole lot more sense than Transformers 3.
VERDICT: To infinity and beyond… Terrence Malick's spiritual odyssey is mystifying, unique and overspilling with wonder. Don't wait for the DVD.
RATING: [rating stars="4″]
Published: Total Film