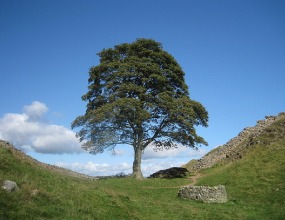 1. Hadrian's Wall National Trail
WHERE: Cumbria, Northumberland and Tyneside
AS SEEN IN: The tree at Sycamore Gap in Hadrian's Wall is the one that Kevin Costner walloped Norman soldiers under in the film Robin Hood: Prince Of Thieves.
BEST FOOTAGE: Costner was supposed to be rambling from Dover to Nottingham, so quite how he ended up at Hadrian's Wall is anyone's guess. Taking 10 years and £6 million to create, Hadrian's Wall National Trail follows the 84-mile line of the Roman monument from coast to coast – but you can see Sycamore Gap by tackling a 7-mile stretch starting at Cawfields Quarry. Don't be alarmed if you see giant black frogs in The Quarry Pond – frequently used for scuba training. This challenging walk will take you across rugged terrain climbing to 345 metres at Winshields Crag, the highest point of Hadrian's Wall, before continuing to Steel Rigg. Head past Crag Lough on your way to the end of the walk at Housesteads.
ESSENTIAL PROP: A Muslim friend who's willing to let you call him "Azeem" for the day. Failing that, sling a longbow over your shoulder.
FURTHER INFO: nationaltrail.co.uk/hadrianswall
2. Sleddale
WHERE: Lake District, Cumbria.
AS SEEN IN: Cult Brit comedy Withnail And I. Squalid, struggling London actors Richard E Grant and Paul McGann go "on holiday by mistake" in Cumbria – only to encounter Withnail's predatory gay Uncle Monty.
BEST FOOTAGE: This relaxing 7km (4.3 mile) walk begins at Wet Sleddale Reservoir car park and offers you some spectacular views across the Lake District Fells. There's a bit of climbing involved to get you to the run-down Sleddale Hall – named Crow Cragg in the film – where Uncle Monty forces himself on Paul McGann's I. Just before reaching Sleddale Hall, you'll cross the ancient stone bridge where the booze-blurred Withnail jumped into the water and tried fishing with a shotgun. Finish at The Greyhound Pub at the gateway to the Northern Fells in Shap village. Don't ask for "the finest wines known to humanity".
ESSENTIAL PROP: A grubby trenchcoat. Useful for protecting you from the elements. And deviant uncles.
FURTHER INFO: visitcumbria.com
3. The Saxon Shore Way
WHERE: Cliffe, Kent.
AS SEEN IN: Stanley Kubrick's Vietnam war opus Full Metal Jacket, in which green US army recruits are transformed into mean killing-machines. Remarkably, 'Nam was created in the English countryside.
BEST FOOTAGE: Starting on Gravesend Town Pier, the oldest remaining cast-iron pier in the world, you make your way alongside the River Thames. Heading up Cliffe Creek via the Cliffe pools – a series of old flooded gravel pits – you'll see the Cliffe Marshes on your left. These doubled for paddy fields, where Private Joker and his platoon stalked the Viet Cong in the second half of Kubrick's film. You'll finish at St James' Church on Cooling Road.  The children's gravestones here are what inspired Charles Dickens to write the opening of Great Expectations.
ESSENTIAL PROP: Replica M16 assault rifle. While marching, chant: "This is my rifle, this is my gun, this is for fight and this is for fun."
FURTHER INFO: rspb.org.uk/reserves/guide/c/cliffepools/index.aspx
4. Methyr Mawr
WHERE: Mid Glamorgan, West Glamorgan.
AS SEEN IN: Laurence Of Arabia, David Lean's spectacular, sweeping epic about a British Lieutenant's who becomes an Arabian freedom fighter in World War One. It was originally intended to be shoot entirely in Jordan, until director David Lean discovered this unique environment was once part of the largest dune system in Europe. Lawrence Of Wales didn't quite have the same ring to it, mind.
BEST FOOTAGE: Careful, you can easily get lost in the epic sand dunes. Remember to save your energy for the 'big dipper'. This giant sand dune, the second highest in Europe, is what many athletes (including the Welsh rugby team) visit Merthyr Mawr specifically to run up. Starting in Candlestone Car Park, this 7-miler takes you all the way around the coast from Merthyr Mawr to finish at Southerndown. Crossing the River Ewenny – there are 52 stepping stones –will also take you to Ogmore Castle. Be sure to fill your lungs with the salty sea air while you take in the dramatic coastal views in the second half of the walk.
ESSENTIAL PROP: Wrap a white table cloth round your head, a la Larry.
FURTHER INFO: bridgend.gov.uk
5. The South West Coast Path
WHERE: Lyme Regis, Undercliff, Dorset-Devon border. SY 340914
AS SEEN IN: Heartbreaking romantic tragedy The French Lieutenant's Woman, based on John Fowles novel and set in the coastal town of Lyme. Meryl Streep plays the woman jilted by a French Naval officer, who spends her time at the Cobb, staring mysteriously out to sea. As the sea crashes against the stone wall, she's captivates moustachioed gentleman Jeremy Irons and begins a tempestuous affair.
BEST FOOTAGE: A huge breakwater that dominates the seashore in the beautiful town of Lyme, the Cobb is one of England's most iconic structures. It's here that you'll start, before taking path marked "Coast Path — West" to Seaton. This steep, winding path is tougher than it looks – no sidepaths, lots of steps – but you'll be rewarded with breathtaking views over Lyme Bay. You'll need 4-5 hours for the 8 miles walk, which runs through the nearest thing to a British rainforest: the Undercliff, a wildly overgrown savage-land created by a series of landslips and one of the first of Britain's National Nature Reserves. A lonely, isolated, suitably captivating walk.
ESSENTIAL PROP: A big, black hooded cape that billows in the sea breeze. Men should grow a moustache and large sideburns.
FURTHER INFO: lymeregis.org
6. The West Highland Way
WHERE: Appin, Argyll, Scotland
AS SEEN IN: Monty Python And The Holy Grail. While the other castle scenes were filmed in Doune Castle, the iconic Castle Stalker appears in the final scene as Castle Aaaaarrrrrrggghhh. Frenchman John Cleese(!) taunts King Arthur (Graham Chapman) from its battlements, goading him into a massive attack on the castle – which comes to a bizarre end when police arrest everyone.
BEST FOOTAGE: Perched alone on a tiny island and viewed by appointment only, the 16th-century Castle Stalker is one of Scotland's most photographed castles. Start at Appin and follow the old railway line that heads for Lock Laich. Crossing a pretty wooden bridge here will give you a great close-up view of Stalker. Once you've finished hurling insults ("I fart in your general direction!") at Stalker, follow the coastal path west until the road curves away from Loch Laich for the final mile to Port Appin. This is one of the most beautiful places in Scotland. Serving as a ferry point for the island of Lismore, the views are stunning.
ESSENTIAL PROP: A pair of cocoanut shells to clip-clop during the walk. They're not really coconuts. They're your mighty steed, see.
FURTHER INFO: westhighlandway.co.uk
7. Alnwick Castle to Hulne Park
WHERE: Northumberland. NU 185 136
AS SEEN IN: The Harry Potter Saga. Alnwick's stunning medieval castle is better known as Hogwarts School of Witches and Wizardry. Well, the outside of it anyway. BlackAdder (1983) and even The Fast Show (1995), have also used it as a (comic) backdrop.
BEST FOOTAGE: For a relaxing three-hour walk sure to please Harry Potter fans of any age, start on the road in front of Alnwick Castle and take a good look at Hogwarts. Now follow the path all the way into the peaceful Hulne Park to end with a visit to the remains of 13th century Hulne Priory. Well worth stopping off at Alnwick Garden, a multi-million-pound garden that boasts the UK's largest cascading fountain: the Grand Cascade pipes out 7,260 gallons of water every minute. If the weather is just as wet, duck into Alnwick Garden's giant wooden treehouse, linked by suspended walkways, or go for a pint at dubiously named pub the Hairy Lemon.
ESSENTIAL PROP: Fashion your own magic wand from a fallen tree-branch.
FURTHER INFO: alnwickcastle.com
8. Carsaig Bay
WHERE: Isle Of Mull.
AS SEEN IN: Michael Powell and Emeric Pressburger's I Know Where I'm Going,  a metaphysical romance and wonderful love-letter to the landscape. A young woman heads to the Isle Of Mull where she plans to marry for his money. But when bad weather halts her journey, she finds herself falling for a local man.
BEST FOOTAGE: During this long walk (8 miles, including your return), you'll discover that the telephone box next to the waterfall seen in the movie was not a prop and still exists half down Carsaig Pier, where you'll start you walk. Just as in I Know Where I'm Going, The picturesque bay of Carsaig is grassy amphitheatre of 700ft cliffs, spectacular seaviews and varying wildlife.. Follow the shoreline all the way to Carsaig Arches, an impressive sight on the jagged skyline. in roughly an hour you'll arrive at a break in the cliffs, known as the "Nuns' Pass", and the "Nuns' Cave". Return via the same route – but take care, especially in wet conditions.
ESSENTIAL PROP: A coat. You'll thank us when you get there.
FURTHER INFO: holidaymull.co.uk
Publication: Walk