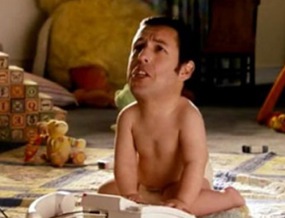 When asked to speak at a convention of cinema-owners in Las Vegas, the star of Big Daddy and Little Nicky addressed the crowd with the following words: "My name is Adam Sandler. I'm not particularly talented. I'm not particularly good-looking. And yet I'm a multi-millionaire." Everyone laughed.
It summed up the baffling, phenomenal nature of Adam Sandler's entire career. Like it or not, for the past decade, this clowning buffoon has been one of the most powerful men in Hollywood. He's one of the few actors who can command $25 million per movie. And, according to the numbers, he's worth it. In 2007, his movies averaged $9 of gross income for each dollar he got paid. The two movies he put out 2008 – Bedtime Stories and You Don't Mess With The Zohan – were critically obliterated but raked in more than $200m each at the box-office. They helped Sandler climb to No2 on Forbes' list of Hollywood's highest earning stars in 2009. Only Harrison Ford – thanks to Indiana Jones And The Aliens – earned more than Sandler's $54.9m. Blockbuster heroes Will Smith, Tom Cruise and Tom Hanks can't touch him.
People love Adam Sandler. The Hollywood producers who greenlight every script he buys. The actors who keep on calling. The Oscar-winning directors desperate to cast him. It's just that no one knows why. "That's Adam Sandler, who's just fucking funny, you know?" shrugs Paul Thomas Anderson. "I don't know what it is about him and I spent two years with him."
What's really incredible is that Sandler has done it all himself. Goon goldmines like Billy Madison, The Waterboy, Happy Gilmore and Zohan are all Sandler's own character creations. But people don't turn up to see Madison or Gilmore. They turn up to see Sandler. And each time, he's the same: an idiotic man-child who learns – usually via slapstick, shouting and scat-gags – to be a better person. It's a genius combination. Teenage boys (the most powerful demographic at the box-office) like the slap and scat. (Weirdly, this could also be the secret to Sandler's global success. Like Jerry Lewis – who was loved by the French – he represents, in part, the ugly American.) But more importantly, Mom and Dad like the message. This second part of "The Sandler Effect", as it's been dubbed, is the most powerful key to unpacked the secret to his success.
"I like how vulnerable Adam is even when he's at his craziest," says Mike Binder, who cast Sandler straight in post-9/11 drama Reign Over Me. "When you get to know Adam, you don't think, 'Boy, this guy got lucky' or 'This guy's been smart.' There's a humanity to this guy that people are smelling and seeing coming off the film."
The trick at the heart of stardom is the ability to make an audience feel two things simultaneously about a star: that this person is way out of your reach and yet also your next door neighbour. Like Hanks and James Stewart before him, Sandler is an American everyman. He's not cleverer than you. His body isn't better than yours. He never has a better job than you. But neither Hanks, Stewart or perhaps any actor in history has embodied the American Everyman so completely. With his close-cropped hair, smooth skin and crumpled t-shirt, he's an action-man figure come to life. If K-Mart sold an Average American doll, it would look like Adam Sandler.
ENTER SAND-MAN
Like most people, Sandler wasn't born rich. His mother was a nursery-school teacher and his father was an electrical engineer. He graduated from watching Caddyshack at home to clowning in class to stand-up in New York to MTV to Saturday Night Live to Hollywood in just over a decade. His movie career began with roles in cult comedies Shakes The Clown and Airheads. But from Billy Madison, which Sander wrote, produced and starred in, The Sandler Effect began. He played the fully grown man attempting to repeat grades 1–12 to earn his father's respect – and his father's multi-million-dollar inheritance. It set the template for his career: BAD reviews, BIG box-office.
Adam Sandler had accidentally created his own genre. But what's even more special about Sandler is that he recognised it – and harnessed it. Forming his own production company Happy Madison, Sandler has written, produced or exec-produced nearly every one of his films since The Waterboy. He's also backed features by his old SNL alumnus, such as Rob Scheider's brain-child Deuce Bigalow: Male Gigolo.
He could do it because people kept watching. People you wouldn't even think. While he was editing Magnolia, the masterpiece that would cementing his rep as the cosmic lovechild of Martin Scorsese and Robert Altman, Paul Thomas Anderson watched Adam Sandler movies to relax. "I can't stand any more cancer. I can't stand any more sadness," remembers Anderson. "At the time, the chicken-noodle soup to that was Adam's movies. Just really like, 'I want a piece of /that/. I want to learn how to do that. I was in a good mood. Feeling happy."
Anderson wrote Punch-Drunk Love specifically for Sandler, who was subverted and showcased by blue-suited powerkeg Barry Egan. Forcing him deep into his own angsty, angry persona, the movie brought raves for Sandler's performance. How did Anderson know it was there? What make him think Sandler could actually act? "I think I was just paying attention," says the There Will Be Blood director. "It's weird, because part of me wants to be mad that there are those kind of questions, but I can see that other people refer to his movies a different way than I do. I really love them and they shouldn't be so easily dismissed."
Both Stewart (via Hitchcock) and Hanks (via Sam Mendes) hinted at the darkness that rages under their happy-apple-pie surfaces. Sandler, in his own clumsy way, has been doing that from day one. "There are two kinds of angry people – explosive and implosive," explains Jack Nicholson in Anger Management. "Explosive is the type of individual you see screaming at the cashier for not taking his coupon. Implosive is the cashier who remains quiet day after day and then finally shoots everyone in the store. You're the cashier." Sandler shakes his head: "No, no, no. I'm the guy in the frozen food section dialing 911. I swear." Do we believe him? In Punch-Drunk Love, he and Emily Watson pillow talk about how they'd like to chew each other's eyeballs. In Spanglish, he wants to "set my hair on fire and punch myself in the face."
Where does Sandler's buried rage come from? His life looks like a greetings card: happily married to actress Jacqueline Samantha Titone, with two daughters called Sadie and Sunny. But Sandler never really talks in-depth about his own parents and upbringing, despite occasional hints towards a tough father to win over. "I don't come from a place of where I was tortured and needed to let something out," he said once. "I came from a very happy home. I liked it the most when my father laughed at my stuff. Going into this business, my mother was very encouraging, but my father was more like, 'I think you're going to have to be a funny salesman.' But my career wasn't about getting his approval. I was just happy to make some cash and let my father rest."
Wherever it came from, Hollywood's hottest filmmakers have all found The Sandler Effect irresistible. Tim Burton tried to cast him as Willy Wonka in Charlie And The Chocolate Factory, while Martin Scorsese considered him to play Joey Bishop in his undeveloped Dean Martin biopic Dino. Michael Mann wanted him to take on Tom Cruise in Collateral but Sandler backed out to make Spanglish, allowing Jamie Foxx to pick up an Oscar-nomination. Tarantino wanted Sandler, a lifelong baseball fan, to play Jewish skull-smasher Sgt Donnie Donowitz in Inglourious Basterds, but the comedian was already contracted to Judd Apatow's Funny People. Sandler walking out of that cave, bat in hand, would have been an infinitely more delirious sight than that of Eli Roth. Fascinating to imagine what might have been.
PLAYING DUMB
It fast became apparent that Sandler wasn't as dumb as he was acting. But neither did he seem ambitious or energetic or interested. Adam Sandler was clearly best when he wasn't in Adam Sandler movies – and he did seem to try more serious work after Punch-Drunk Love. Rags-to-riches remake Mr Deeds confirmed his Capra-esque status, but Reign Over Me's post-9/11 drama and bromance I Now Pronounce You Chuck And Larry left audiences confused. Why wasn't he hitting someone with a golf club and yelling, "The price is wrong, bitch!"?
Perhaps Sander had been stuck in arrest development too long. How old was he now? Click (another Capra redux) and 50 First Dates (another phone call from Wedding Singer co-star Drew Barrymore) both teasingly played on Sandler's spin-cycle career.
Meanwhile, comic legend Albert Brooks compared Sandler to cancer in a comedy panel discussion held in Los Angeles. "Let's do what else America likes!" he exclaimed. "How about cancer? They all seem to get that. Must be good! People keep getting it!" Dumb, lazy, unoriginal, rude, annoying. Sandler infuriates his critics. This, after all, is a millionaire actor whose pet dog Meatball was best man at his wedding – dressed in a tux with a yarmulka on his head.
But the funnyman's finest hour came six weeks after 9/11. Dressed as an opera singer, he sang the week's news – throwing in random Italian words – at a historic concert in Madison Square Garden arranged by Sir Paul McCartney and headlined the likes of  David Bowie and Mick Jagger. He sang about New York and about Osama bin Laden shitting in a cave and he made the crowd of emergency workers, survivors, and mourning families laugh – perhaps for the first time since the tragedy. Ben Stiller had refused to host Saturday Night Live that month, claiming it was "impossible to be funny at times like this". Sandler proved otherwise.
Judd Apatow has known Sandler for years, shared a room with him when they were both struggling stand-ups in LA. He's still the only filmmaker other than PTA to successfully harness Sandler for deeper means. Having helped "punch up" the dialogue on The Wedding Singer and Happy Gilmore – still Sandler's two best comedies – Apatow had been recruited to help salvage something from Sandler's latest creation: Israeli hitman turned New York hairdresser Zohan. Even Hollywood's reigning comedy kingpin couldn't do much with it. But, like so many other filmmakers, Apatow found The Sandler Effect impossible to resist. But once again, the role of a jaded former stand-up with terminal illness in Funny People was Sandler essentially playing himself.
Apatow disagrees: "I think Adam is a brave artist. He said to me, 'I'm going to do whatever you ask me to do and I'm not going to question it. I want you to make the movie you're going to make.' And there's nobody in show business who will do that! That was during the writing process, shooting and editing. He never came into editing and said, 'Don't do that – it makes me look like a jerk.' Adam has shown over and over in his career that he's willing to commit fully to what he's doing. I love what he did in Reign Over Me and he has this side to his work that is very vulnerable – and that was what I think was most exciting about working with him."
…AND THE WORLD LAUGHS WITH YOU
Sandler isn't just big – he's getting bigger. Last year's Bedtime Stories was Sandler's first family film (PG, no swearing) and, more significantly, his first under the Walt Disney banner. "Scary Madison" is a new horror genre label under the Happy Madison umbrella, producing thriller The Shortcut next year. Under his deal with studio Sony, he'll also produce Richard Pryor biopic Is It Something I Said? Written by Bill Condon and starring Marlon Wayans, it will be Happy Madison's first major dramatic production.
Obviously, despite pushing out in new directions, Sandler is still sticking to what he knows. Like voicing a monkey. But 'toon comedy Zookeeper just marks time until Grown Ups, a high-school-reunion comedy that reteams him with Sand-men Kevin James, Chris Rock, Rob Schneider and David Spade. Jennifer Aniston will becoming his highest-profile leading lady in rom-com Just Go With It, which will test how far Sandler's mainstream appeal is stretching.
But there are no more PT Anderson movies on the horizon right now. Unlike Jim Carrey or Robin Williams, Sandler never seems in pursuit of darker, more interesting roles. They just happen. He's just… happy. "I'm not looking to get away from anything," says Sandler. "I like what I've done, I enjoy working with my friends and I love those movies." That simple. And really, there's no obvious reason to doubt him. There's no career strategy here. No blueprint for his next five movies. "I don't know any formulas, but I do know that I don't know," he says with typically deflective simplicity. "I can't tell you what works and doesn't work, but it's nice to see a crowd of people having an experience like that."
Is that really all these is to earning $25m per movie? "My mother saw Judd do the Re-Do 'My Head on a Baby'," he remembers, suddenly. "I was at dinner, going, 'Ma, check this out' on the iPhone. And she was looking at it, going: 'You have a very cute face.'"
Maybe that's it.
Publication: Total Film