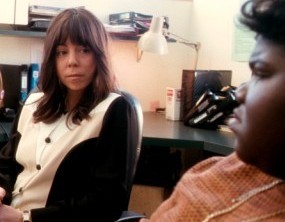 Does Glitter
feel like a long time ago now?
So why are we still talking about it? Here's the thing that a lot of people don't know. Glitter was released on 9/11. Could there be a worse day for that movie to come out? I don't think so. I don't even know that many people saws the movie. I don't think it's the worst thing ever done. I don't think it's best thing ever done. If I could go back in time and not do it, yes, I would definitely not do it.
Why did that film turn out so badly for you?
It was a mess. I didn't have representation or anyone to tell me, 'What you need is a great director, don't ever embark on something like this without somebody who's way smarter than me.' And especially at the time, it was a lot to take on. And it was an unfinished script when we started shooting that thing.
What kind of actress did you want to be?
I was auditioning for a smaller roles and wanting to do more independent things. But everyone was like, 'No, she's too well known, she's going to take everyone out of the movie.' And nobody until Lee really gave me the chance to shed every single layer of me, the singer, the personality, whatever, and go in and really be a completely different person in a character.
Why did you agree to star in Precious?
The book
changed my life when I read it. I'm very close friends with the director Lee Daniels and he asked me to be a part of it.
How did you tackle your character so well?
My character is kind of the audience. She represents someone taking in this information that this woman has been being abused since she was three years old. There wasn't much preparation that I had to do other than the physical stuff. And changing the walk and changing the look. And also I wanted to have a different accent so I worked on that. But emotionally, I feel like we were all there together. And it didn't require that much, because anybody hearing that stuff for the first time is gonna be hit unless you're heartless.
Did the physical transformation help you get inside the character?
I felt like I had to make her voice… it just had to be really calm, because in that job you would experience so much hectic behaviour and so many things are gonna get thrown at you that would floor somebody. People are walking in with stories not too dissimilar to Precious, about being pregnant by their family members, the drug abuse. The intensity of what happens, what a person who works as a social worker would go through. So I couldn't just be like, 'Oh hi! How are you today? What's going on today, Precious? Are you good??' That would have been really out of character for this woman.
What was the toughest part of the role?
It was really difficult to strip away all the glamour and all that kind of stuff and just go for it, really purely from trying to help the story in whatever way I could serve the work as an actress.
Were you shocked to see yourself in the mirror looking like that?
I knew what Lee was going for. He really is smart about that. Because it wouldn't have worked if had been any other way. Do you know what I mean? It really couldn't even have been, 'Okay, don't wear makeup and have your hair to the side. That wouldn't have even looked the way he wanted. He wanted it to be a complete shedding of skins and just going into this other place and becoming this other person.
What did your friends say?
I have a friend, Brett Ratner, he directed all the Rush Hour movies
, he's done about five of my videos. He went to see the movie and he was just like, 'It's amazing, it's incredible. But you broke like every Mariah rule that there is! You have her in fluorescent lighting with the worst angles…
Do you think people don't see the real Mariah Carey?
A lot of people just look at me and see one thing. I come from an interracial background. My father's black, my mother's white. So I've always felt like an outsider. I do have this whole side of my family that we weren't even allow to know or talk to because they were literally shooting each other. People don't know that part of who I am. And I don't even want to talk about it because it's going to be 'Mariah Carey says her family were shooting each other!' So I related to the Harlem aspect of Precious because my family and most of my friends live in either Harlem or Brooklyn.
Where does this desire to act come from?
To me, it comes from the desire to express a different side of my creative self. Writing songs is one side, singing and everything. Doing this is something else that I'm just grateful to have. To do for the first time, really. Because I do consider this the first time.
Do you think it's risky starring in a low-budget movie about abuse?
It's not risky in my opinion, because I'm not the star of the film, I'm a supporting actress. So I feel like it's a freeing experience. It wasn't about like 'Let me try and be the world's biggest actress.' It was about 'let me participate in a creative ensemble piece.' That is something I'm obsessed with because I love the book and to participate in the movie was really amazing.
Mo'Nique is also phenomenal in the film. What was it like acting opposite her?
I had to stay strong, because she's such a strong actress. And her role is so incredible powerful and so to stay toe-to-toe with her in that scene without breaking down or allowing that woman to get to me – as Miss Weiss – was my challenge.
What was it like filming that incredible final scene?
It was very, very intense, that scene. Because I love Mo'Nique and we'd joke for hours and just be laughing. But I really had to avoid her between takes, just to keep up with what was going on. At the end we just hugged each other and cried.
Publications: i-D / Total Film.