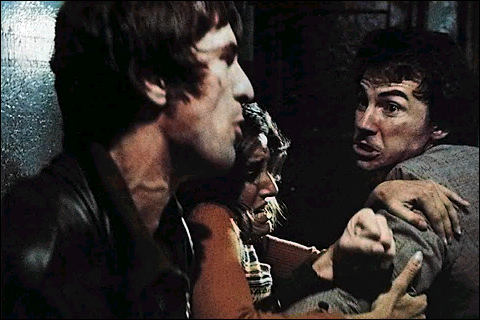 Shot for half The Aviator's lunch budget, Scorsese's breakout gangster movie reminds us why the former-would-be priest is, and always will be, the patron saint of American cinema. In 1973, it helped ignite the New Hollywood mojo and three decades later, Mean Streets
still blazes with raw, kicky exuberance. Still the definitive New York movie. Still the vital blueprint for Scorsese's entire career.
Popping the cap on the rituals and ruckuses of life in Little Italy, Harvey Keitel is small-time wiseguy Charlie, the Bronx's very own St Francis of Assisi and Scorsese's damnation-obsessed alter-ego. Torn between guilty loyalties – to his loony, self-destructive cousin Johnny Boy (Robert De Niro), the Mob, his epileptic girlfriend (Amy Robinson), not to mention JC – Charlie's learning that you can't keep you soul clean from the grit of the street. His personal penance to protect Johnny Boy puts him on a collision course with terrible redemption, the sacrificial climax in front of a baptismal burst fire-hydrant among Scorsese's most vital images.
And there is the young director, the assassin at the film's pay-off, like Polanski gleefully sniffing blood in Chinatown or Hitchcock chopping away in Psycho. But, then, Scorsese is everywhere: discovering his kinetic fusion of docu-verite realism (hand-held judder-cam, elastic tracking shots,) and feverish psychoscape (impressionist lighting, crackjacker edits, skewed film speed and camera angles); capturing the street-level texture of Little Italy (his very own sin city) with a native's grasp; riding the rhythms of fast-talk ("What the fuck is a mook?"), noise, neon and violence with breathless energy; dipping into his own LP collection to wake Keitel with The Ronettes and send De Niro jiving up the street to 'Mickey's Monkey'.
And how about De Niro? The young Method-man is electrifying as reckless disaster-zone Johnny Boy – Mean Streets' holy fool stealing the film from Keitel, whose role he'd wanted to play himself. Crazy to think that, just a year later, De Niro would be winning an Oscar as Vito Corleone in The Godfather Part II. The polar-opposites don't stop there: if fellow film-school brat Francis Ford Coppola's Mob epic puffed Hollywood's gangsters into metaphorical titans, Scorsese dragged the genre in the opposite direction, down to the hard, grit-flecked level of the street. As Marty flatly states in the opening voice-over, "The rest is just bullshit and you know it."
EXTRAS
The fleshy cut-and-shut commentary from Scorsese and Amy Robinson is the big pull here. Not much scene-specific but tons of background info from the director, mulling over his childhood in the 'hood, his time with Roger Corman and John Cassavetes as well as wading into Mean Streets' themes. For her part, Robinson breaks up the chatter with some enjoyable anecdotal chip-ins. But that's your lot as far as supplements of substance, with vintage featurette Back On The Block just a brief promo piece following Scorsese round the block with a couple of his childhood buddies.
FILM: [rating stars="5″]
RXTRAS: [rating stars="3″]
EXTRA VALUE
Marty talks (and talks and talks) on the Mean Streets commentary…
Watch And Learn…
"I was spurred on by some of the Italian films like Pasolini's Accatone – the way the street ruffians talk in quotes or declarations. These lines are like prayers."
Real Time…
"Out of Hawks and Ford came an appreciation of what seemed like improv. I though this impov scene between Keitel and De Niro was the definitive portrait of the life I knew."
Hi, Mom!
"My mother said, "You have enough – a close shot, a medium, a wide…' I said, 'What are you, the director? Get in the corner, keep your mouth shut, we're doing another take!'"
Hit Man…
"I'm in the film for the same reason as my mother – we all had to pitch in. I though to myself, 'So, what's the least damage I can do?'"
Read the original article at Total Film.