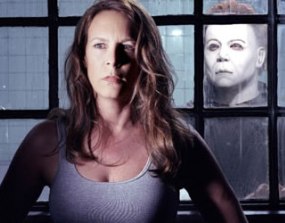 1. Jamie Lee Curtis
Arise, your Majesty. Graced with a killer combo of legs and lungs, Curtis ran screaming through the genre. Debuting in Halloween, she survived six slashers in five years (including The Fog, Prom Night and Terror Train). Tender yet tough, Curtis redefined horror heroines forever. Her mother must have been proud…
2. Janet Leigh
Like mother, like daughter. Janet Leigh gave birth to a) Jamie Lee Curtis and b) the greatest scream in cinema history. Between screeching violins and slashing edits, her scheming bitch was sliced to naked ribbons in the shower in Hitchcock's Psycho. Legend has it, she only took baths after that.
3. Fay Wray
Grabbing a blonde wig and a $10,000 paycheque, 5ft 3ins Fay Wray went iconic versus 50ft King Kong. She'd warmed up her vocals in '30s Technicolor horrors like Doctor X and The Vampire Bat, but becoming the beauty that killed the beast would seal her rep as cinema's very first "Queen of Scream".
4. Neve Campbell
Sharp as a knife. Campbell became postmodern horror's belle du jour in the hipster Scream trilogy, surviving by wising up to the rules of the genre. While cleavage-heaving bimbos were put to the sword, she played horror at its own game – and won. She even grabbed an extra slice of The Ghostface Killer in Scream 4.
5. Debbie Rochon
Don't recognise her? Hardcore horror fans worship her. Once voted "Scream Queen Of The Decade", Rochon is the cult star of more than 100 B-movie fear-flicks, including Troma classics Tromeo And Juliet and Terror Firmer. Even a prop machete that nearly severed her right hand couldn't stop her.
6. Asia Argento
Italian scaremonger Dario Argento used to read his daughter horror scripts as bedtime stories. No wonder little Asia grew into a tough-grrrl for the Suicide Girls generation: raven-haired, tattooed, naked. Dad put her through the ringer in Trauma and The Stendahl Syndrome before she kicked zombie ass in George A Romero's Land Of The Dead. More than just sweet meat on the slab.
7. Sarah Michelle Gellar
Surviving her role in Scream 2, Gellar became the face of I Know What You Did Last Summer and J-horror remakes The Grudge and The Grudge 2. Buffy the Vampire Slayer. She also played Daphne in the Scooby Doo movies. Horrors, in both senses of the word.
8. Naomi Watts
Surprised? Think again. With The Ring, King Kong and Funny Games, Watts has completed the unholy trilogy of horror opponents: ghost, monster and psycho. She's not done yet. Apparently, Watts is first in the queue to star as the new Tippi Hepdren in a remake of Hitchcock's The Birds.
9. Danielle Harris
Not even Jamie Lee Curtis as appear in as Halloweens as Harris, who has also starring in everything from Urban Legend to Cheerleaders Must Die!. As if that wasn't enough, she even had a real-life stalker experience, when an obsessed fan rocked up at her house armed with a teddy bear and a shotgun.
10. Adrienne Barbeau
Cheekily nicknamed "Adrienne Barboobs", the former Broadway star turned lung-busting lovely thanks to a role in husband John Carpenter's The Fog. She went on to channel (literally) naked fear in in Wes Craven's Swamp Thing and George Romero/Stephen King's Creepshow. Recognise her sultry voice? She's Catwoman in Batman: The Animated Series.
Published: MSN HIM