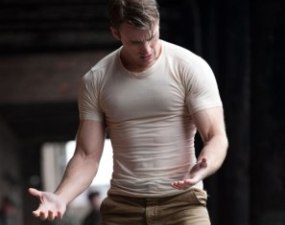 Captain America: First Avenger ends with the saddest last line in blockbuster history. Chris Evans delivers it beautifully: unexpected, gentle, agonisingly poignant. But the movie doesn't seem to notice. It triumphantly roll the credits, you walk out of the cinema wondering why your heart just decompressed inside your chest, and off we zoom to next year's superhero-a-thon The Avengers.
Is that what this was all about? Having apprenticed in Fantastic Four, Push and Scott Pilgrim, 30-year-old Evans has waited a long time for his first franchise starring role. But in Captain American, he finds himself playing Marvel's dullest superhero in a movie that might be a two-hour prologue for another movie.
First seen socking Hitler in the mouth on the cover of a comic-book in 1941, skinny-runt turned WWII super-soldier Steve Rogers was more of a 2D piece of US propaganda than complex characters like pre-Pearl-Harbor crusaders Bruce Wayne and Clark Kent. But right from his opening scene, Evans underplays him with quiet, surprising shades of pathos and personality.
Thanks to an amazing digital effect, Evans transforms with utter believability into a short, scrawny New York kid whose weakling health means he'll never pass an army medical. It's Evans performance, though, that makes us believe Rogers' feeble body packs a mighty heart. He's the kind of humble, earnest ordinary hero you just never see in this kind of movie – good but not goody-goody, masculine but not macho – and he's massively likeable.
Ironically, the movie starts losing its powers when Steve gains his. Injected with a top-secret military serum that gives him huge strength, agility and healing speed, he emerges – muscular, glistening, amusingly Aryan – as Captain America. And it rapidly becomes clear that beefing-up the Cap means losing all the meat on his character. This all-American action-figure doesn't have the powers (strength, speed, healing, a magic shield), the weaknesses (er, he can't get drunk) or the inner pain (his problems just vanished) of the greatest supermen.
Which is partly why screenwriters Christopher Markus and Stephen McFeely (Chronicles Of Narnia) aren't sure what to do with him next. Suffering a similar dipping arc, director Joe Johnson once looked like an exciting junior Spielberg with the inventive charm of Honey, I Shrunk The Kids and the retro-pop of The Rocketeer. Twenty years later, he's the journeyman who directed Jurassic Park III and The Wolfman with the same vanilla style on show here.
Embracing the pulpy vibe, Johnson keeps things old-fashioned and square – there's no Tool on the soundtrack, like in the trailer – although dusty sepia-toned colours and deco-modern production design invokes just the right kind of nostalgia. And, in a lovely nod to Cap's origins as a '40s propaganda weapon, the smartest sequence sees Steve touring America in a silly costume with a troupe of chorus girls and appearing in a line of comic-books.
Those nice early touches – Rogers busting into a superhuman sprint for the first time, misjudging a corner and crashing through a shop window – soon give way to a series of repetitive action montages in which Cap (joined by an irrelevant multi-ethnic band of soldiers) never really seems in danger from retro-techno Nazis with glowing laser-guns.
Luckily, Evans has serious reinforcements in the shape of a near-perfect support cast. Stanley Tucci can scientifically do no wrong on screen (even viz ze Jur-man ak-zent, ja?). Tommy Lee Jones probably brushes his teeth like a gruff military man. Brit new-girl Hayley Atwell feels fresh in a love-interest role that doesn't. Dominic Cooper has fun as Howard 'father of Tony' Stark, as Marvel desperately synergises. Toby Jones is another class act.
But it's Hugo Weaving who pulls the masterstroke, channelling his megalomaniac Nazi freak The Red Skull through – of all things – a magnificent Werner Herzog accent! Well played, sir. Despite a ludicrous backstory (some sort of all-powerful magical – what?), Weaving's fiery menace gives Captain America a proper villain.
Juicy hero/villain contrasts and parallel-histories are ignored, though, and it isn't until that tragic dying second of the movie that Captain America gets interesting. What happens when a superhero whose real power is his heart has it broken? But then it's over and Evan's Cap is briskly shuffled into the pack with Marvel's box-office top trumps Thor, Iron Man and The Hulk. Oh well. See you next year…
RATING: [rating stars="3″]
Publication: MSN Movies.