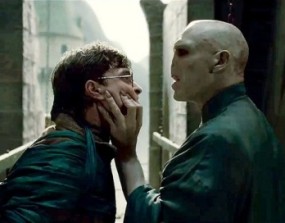 For you, it's been nearly 20 hours of cinema. For them, it's been a lifetime. After 10 years, seven movies, four directors and a truckload of exposition, the Harry Potter's saga finally matures into the spectacular, propulsive and emotionally satisfying blockbuster it should have been from the start.
Better still? At 131 minutes, it's also the shortest. Chopping JK Rowling's overwritten final book into two movies might be the smartest decision anyone on the franchise has made: Death Hallows Part 1 soaked up about 500 of Rowling's 759 pages, freeing screenwriter Steven Kloves and director David Yates to deftly knot the subplots and emotions that have been sprawling for the last decade.
Cut loose from the expository jibber-babber that quagmired all previous Potter films, Deathly Hallows Part 2 strides forward like never before into a battle-royale which sees Voldemort's (Ralph Fiennes) evil hordes attempting to destroy Harry (Daniel Radcliffe) before he can discover the final Horcruxes and the key to his own fate. Within minutes, we're gripped by a bank heist at Bellatrix Lestrange's (Helena Bonham Carter) goblin vault that's as tense, exciting and imaginative as anything in the franchise.
A rollercoaster set-piece predicts the inevitable Harry Potter theme park, golden treasures that multiply every time Potter touches them are a cute metaphor for the highest-grossing franchise in movie history and a remarkable CG dragon is a crashing, soaring, fire-belching warning that this final Potter film is a Brit benchmark for visual-effects.
More compact than Lord Of The Rings' gargantuan castle rampages, Deathly Hallows' epic siege is still a fantastic triumph of scale and detail. Hordes of Death Eaters, Dementors, giants and spiders pour into Hogwarts, which darkens from a quirky boarding school to a living fortress where stone statues thunder into life, bloodied students stumble through desperate fire-fights and a beautiful, shivering protective skin peels over the sky above as burning attacks rain down. Subtly employed for depth not distraction, 3D gives the spectacle a gentle push, but it's Alexandre Desplat's excellent score and Eduardo Serra's brooding cinematography that seal the spell.
As adolescence reaches apocalypse, several shocking, macabre moments remind us that this is no longer really a children's story at all: Severus Snape attacked by the giant snake Nagini, the glimpse of a foetal Voldemort and a bloodthirsty creature feeding off a throat of a dead Gryffindor.
But the most frightening, magical, unforgettable sight in Death Hallows is something money couldn't buy: a heartstopping flashback to Daniel Radcliffe, Emma Watson and Rupert Grint as 11-year-old mites in the very first Potter film. Suddenly, we remember how long it's been, how quickly the time has gone and what a unique phenomenon this is. We've seen three children transform into adults in front of our eyes – and it's now impossible not to feel genuine affection for them.
With performances that make up in sincerity for what they lack in skill, the try-hard trio give it everything they've got: Radcliffe clenches his jaw like a clubber at 5am (he's a natural for light wit, not heavy drama), Watson furrows her brown (gently teased by Bonham Carter in an early scene) and Grint even gets to have a cry (possibly mourning the end of his acting career). Every character, in fact, feels weightier. Ralph Fiennes now gives Voldemort full shades of madness and vulnerability, Matthew Lewis' Neville Longbottom levels-up from weakling to warrior and the marvellous Alan Rickman uncloaks Severus Snape in a stirring blast of flashbacks that changes everything.
Grand ideas of life, death and rebirth are still a bit much for Harry Potter to wrestle with, but the gentle double-throb of lost youth and eternal friendship are the keepers here. If Death Hallows doesn't quite know how to say goodbye – it never finds the perfect moment to fade out – any kind of ending for this saga is a poignant one.
VERDICT: [rating stars="4″]
Publication: MSN Movies.