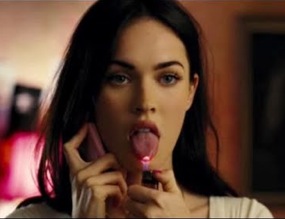 It sounded like one salty morsel: hottest girl on the planet stars as flesh-eating cheerleader in hipster horror-comedy written by Oscar-winning tattooed ex-stripper who can turn an indie comedy into a blockbuster. It sounded satirical, sexy, scary. So why did Jennifer's Body end being none of those things? Why did audiences end up seeing 2012 and New Moon instead?
Not for lack of X-factor. Megan Fox is the high-school superhottie with a body tighter than an elastic band who's mistakenly sacrificed as a virgin (hmm…) and becomes a literal man-eater whose undead beauty can only be kept alive by feeding off the weak flesh of men.
Maybe we should have said estroGen-X-factor. Or not. Sounds a bit too much like the kind of thing Cody would write. Cody knows she's clever. She should do. She is. But despite sinking its teeth through all the high-school cliches – the jock, the goth and the nerd are actually pretty nice guys – Jennifer's Body is too focused on its own attempts at cleverness to be truly subversive.
Kicking off with a riff on Sartre ("Hell is other people" becomes "Hell is a teenage girl", dontcha know) and shamelessly desperate to be quoted back to her, Cody's script overloads on patented slanguage that goes from genius ("You give me such a wettie") to tedious ("freaktarded"). Each line is declared with such relish you can imagine Cody writing her favourite ones with a different-coloured pens. Unlike her breakout triumph Juno, the teenspeak here packs more affectation than affection.
You couldn't get confused about Juno. It was a teen comedy. But genre-blurring is tricksy business: while horror and comedy are box-office gold, horror-comedies rarely ker-ching. As if groping for familiar handholds, girl-power director Karyn Kusama (Girlfight, Aeon Flux) nods blankly at anything from Carrie to Heathers but never gets a grip on whether she's making a slasher, a comedy or a teen drama – and her movie ends up slipping between the cracks.
Hard to blame her, mind. Cody wrote the movie for a female audience (apparently 51% of punters were women) while the studio marketed it to Fox-hunting males who discovered the kill-scenes are coy (Jennifer's gut-ripping is scare-free and gore-free), the sex is timid (the gratuitous girl-on-girl moment, not present in Cody's original script, just makes Cruel Intentions look even sexier) and sly smirks displace fat laughs (9/11 gag? Whatevs).
Jennifer's Body's wittest moment arrives when an amoral emo band frontman (The OC's Adam Brody, aceing the eyeliner and the sarky vibe) reveals why he's burning down roadhouses and slaughtering virgins for Satan. "Do you know how hard it is for an indie band to make it?" he despairs, as one of the band members winces at the sight of his knife. "Do you want to be rich and awesome, like that guy from Maroon 5?"
But as for the movie's true mantra? "Sandbox love never dies." Jennifer's Body is actually Cody's very smart attempt at using the horror genre to explore the darker depths of teen angst, female sexuality and the weird world of female friendship. Mean Girls already nailed this more squarely and Heathers was blacker and bolder. Cody wants to push further… but can't. Which is a shame, because she really might have had something here. This is a scary story of two little girls who transformed into an insatiable brunette and a timid blonde. An adolescent horror in which Woman is the victim, the monster and the hero.
Arguably given even less to do here than in Transformers, Fox is just a glossy cipher. Maybe we're giving too much credit, but her wry sense of comedy suggests she could even be in on the joke. It might be disguised as a vehicle for Megan's body, but Jennifer's Body is actually about her obedient lifelong BFF Anita "Needy" Lesnicki (Amanda Seyfried, glasses, ponytail, natch), a mousy, lovely nerd-girl with a nice boyfriend and a lot of patience. Seyfriend, of course, is a Mean Girls alumini and tries hard to provide a much-needed emotional centre to the movie. Trouble is, she looks as confused as the audiences did.
After a massively underwhelming finale, you wonder if Cody's only half-kidding when she sets up a Buffy-style sequel. Either way, no chance of that happening. Pulled loose by the contradictions that make it so interesting, Jennifer's Body leaves us with a jumble of shapely metaphors, wiseass one-liners and fleeting emotional insights. And maybe a cautionary tale on the dangers of getting in vans with hot guys.
Given the backlash suffered by the screenwriter, a commentary track like the one she recorded for Juno would have been a no-brainer. Both DVD and Blu-ray are vanilla-flavoured, sadly.
RATING: [rating stars="3″]
DISC: [rating stars="1″]